I am guessing that Max and Ella asked Seth and I to take them to Universal Studios for at least a year. It was probably longer than that. Max and Ella love Harry Potter. My family watched all the movies together. Seth and I read the books but I'm not sure if Max got through all of them. At this point Ella is not enjoying the books but I think she will in a couple of years. We heard about the Harry Potter Wizarding Worlds at Universal over and over again from our kids and they begged us to take them. This was the perfect time to go there while they love Harry Potter!
We counted down for Spring Break. I learned so many things during this trip. The first lesson was that sometimes you really need to take a break from your normal routine and go on vacation. It was a very needed break. The second lesson is that I forgot how much the sun affects my mood. I love the sun and I literally soak it into my bones for vitamin D. I smiled a lot in Florida, and I don't think I complained once that it was too hot. My third lesson was that I forgot how much my family dislikes the heat. My dream of living in Orlando and working at Disney World is just not going to happen. Maybe when I am older? Max hates the heat and loves the cold snowy winter we get in Buffalo. Lillie complained non stop that it was too hot and constantly begged us to take her to the pool. Ella was easy as usual, and Seth wrapped himself in a cooling towel the entire trip. Ella did make sure to tell me a few times that she was never moving to Florida. My family knows me well. I would like to pack up my family and friends and move us all to warmer weather.
Seth always flies with Delta. Thankfully our flights were all smooth, easy, on time, and are you ready for this? My kids were easy on the plane! The best flights were the ones with movie screens where they could pick from at least a hundred movies to watch. I had a great time enjoying the movie Solo, while Ella and Lillie giggled away watching Minions and Seth and Max enjoyed Ready Player One. One of our flights didn't have movie screens but Seth thankfully was prepared and had us all download movies to our phones and ipads ahead of time. I was most thankful that on the four total flights that we took that no one asked me to go to the bathroom. I didn't have to deal with those tiny claustrophobic plane bathrooms!
We grabbed our first of many Ubers and headed to our resort. Seth joked with me that I was going to get to check out every single minivan on all our Uber rides. I do many things for our family but booking travel is not one of those things. Seth travels a lot for work and is very used to booking planes and hotels. I delegated this trip (and others) to him and he took care of the plane, the hotel and the Universal tickets. One of my biggest lessons in life is learning that I do not need to do everything. It is ok to delegate and it is good for me to delegate! Thank you to my wonderful husband Seth for booking and paying for this wonderful vacation for us! When we got taken to our room the kids went crazy. Thankfully each child had their own bed! None of them like sleeping with each other! They all ran to the beautiful screened in porch that overlooked a gorgeous pool. If we were at our resort you could find Max on a lounge chair laying on our patio. That was his favorite spot when he wasn't soaking in the big beautiful tub. When the resort employee was showing us around our room, he showed us the washer and dryer explaining that I could go home with no laundry! He showed us the full kitchen that I could cook in! I was on vacation! I took a week off from laundry and cooking! Laundry, cooking and dishes takes up a ton of my normal daily time. I was not letting any of these things infringe on my vacation! The dryer did come in handy for drying bathing suits and towels!
The plane rides were easy, and the resort was beautiful! My kids were asking to stay at the resort and swim, but I wanted to go to Islands of Adventure and see the night show! I realized that we had plenty of time to do both. I tend to be a "both" girl. What that means is that just like my daughter Lillie I tend to not want to choose between things. I didn't want to choose between swimming and seeing the night show. It was time to throw on suits and head to the pool. The kids absolutely loved it and I was soaking up the sun as Seth found some shade. I know my kids would have stayed and swam for hours but I was pumped and got everyone moving to go check out Islands of Adventure. My family goes to theme parks in the morning and then we never have enough stamina to make it to the night show! It was time to go to Islands of Adventure and see Hogsmeade and the Hogwarts Castle and to stay for the night show! A night show at the Hogwarts Castle sounded amazing to me!
We all got situated in shorts and a T-shirt for the hot Florida weather. None of us had worn shorts in many months. It took hours of organizing to find out what fit all my children to pack for this trip. Ella is my Harry Potter kid and we planned out Harry Potter clothes for her for all five days. We were all dressed, excited, and ready to go. I need to remind myself that they are not in charge and that sometimes it is about what I want! So off we went to Islands of Adventure.
Let's get up at 4:00 AM, go on two plane rides, go swimming and head to Islands of Adventure! Why not? We could sleep in tomorrow! My mother would tell me right now that I should pace myself and that I don't know when to stop. I was too pumped up to chill at the resort! I know I am telling you all that sometimes it is about me and not about the rest of my family. However, I learned yet another lesson on this trip. I need to remember that my family does not have my stamina. All four of them need chill out time and I really forced myself to give them this on our trip! It was also good for me to spend a lot of time relaxing at the pool.
Time to listen to myself more often! We got to Islands of Adventure at 6:30 and it closed at 9:00. It was the perfect amount of time for a first day after traveling and swimming. Sometimes you only need a couple of hours. Universal had an amazing deal of buy two days and get three free so we knew we had five days to enjoy it and we didn't feel like we needed a twelve-hour day!
My husband wants me to help with a marketing presentation that he is doing on Universal so let's start with marketing lesson number one: the excellent idea to advertise a promotion of buy two days and get three free. This gets more people into your parks spending more money. There wasn't a day that we didn't spend money on our children for souvenirs and tons of food. My parents own a health food store and eat extremely healthy. Let's just say my parents didn't enjoy all the junk food posts on Facebook that they saw! My mom said they should rename Universal sugar land. We tried Voodoo Donuts, a huge Simpson donut, amazing milkshakes, Dr. Seuss gummies and more.
Marketing lesson number two: get people talking about your food. My friends had already prepped me that I had to try a Voodoo Donut and a Simpson donut. After no sugar for many months I was certainly on a sugar rush!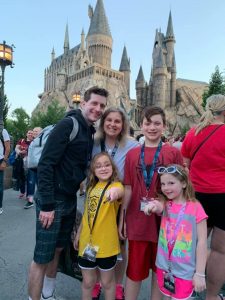 I have mentioned the awesome deal we got, the food we heard about and now it is time for marketing lesson number three: they placed the Harry Potter worlds as far back in their parks as they possibly could. This gets all your guests to walk through the whole park and spend money. My kids kept asking me where Hogsmeade actually was as we walked through the park. I kept reassuring them that we were on the right path and that it was as far back as you could possibly walk. They weren't thrilled with the long walk and we made a mental note that Lillie needed a stroller the rest of the time we were there, so we didn't have to hear her complain about all the walking. Six years old is not the age to ditch having a stroller. We are almost there! I thought we were done with strollers, but we are not quite there yet.
When we finally got there, Max and Ella couldn't believe their eyes. I cannot begin to tell you what an amazing job that they did bringing Harry Potter to life. We felt like we were in the movies and the books. I felt like I had taken my children to a magical Harry Potter World. Our first stop was to try the Butter Beer!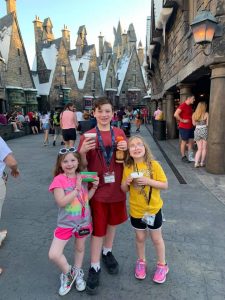 Marketing lesson number four: they did a great job bringing Butter Beer to all the Harry potter Fans. Everyone who knows Harry Potter knows how much Harry and his friends loved drinking Butter Beer and we couldn't wait to try it. Not only did they sell Butter Beer, they also had Butter Beer fudge, Frozen Butter Beer drinks and Butter Beer ice cream. We tried and enjoyed all of it! We had all our Butter Beer goodies.
I knew that first on my children's list was to get them an interactive wand to use at both the Harry Potter Worlds! Word of mouth is a powerful tool and my children's friends had all told them about these wands that they just "had" to have. Ollivander's is the store in Harry Potter where all the students go to get the correct wand for them. You can't possibly "just" buy a wand. You have to buy the wand that is right for you and that will work for the spells. The wand chooses the student! We were second in line at Ollivander's to see the wizard do a show before buying wands. Ella was wearing a yellow Hufflepuff shirt from Harry Potter and her face was glowing. When we walked in, she waved to the wizard doing the show and gave him a huge smile and he came right over to her! He asked her what her name is and then asked her to come forward.
The whole entire show (it wasn't long) was about this wizard finding the correct wand for Ella. Seth and I looked at each other and read each other's mind. This made the whole trip right here! Seeing Ella get to act and enjoy being in a show that was all about picking a wand for her was one of the very best parts of our trip! Max and Lillie loved getting to watch their sister do this too. She is the actress and she is the one who loves Harry Potter the most so she couldn't have been a more perfect choice! She reacted to what the wizard was doing with such animation and joy that everyone kept turning to us and telling us how precious our daughter is. What a special experience for all five of us. The wizard picked the willow wand for Ella and then directed her into the store.
Marketing lesson number 5: they had a room filled with guests watching a performance all about picking wands and then directed the whole audience into the store where you can purchase a wand. You know that the child picked for the show is going to want to purchase the wand chosen for her and you know the rest of the children present were all going to beg their parents to buy them a wand. I would like to know how many parents got out of that store without a wand! One of the employees picked a wand for Max and Lillie and all three children were ecstatic to leave with a wand! Off we went to use their wands throughout Hogsmeade for spells.
I made my family get the perfect spot to watch the night show near the castle and I made them stand there waiting for the show. They were not happy with me, but we all loved the show. I would guess that I loved it the most! I am forever an easily excitable child at heart who loved every minute of the beautiful lights and fireworks. They were going to continue to do the show again and again until close, but I knew my luck had run out and it was time to take my crew back to our suite for some needed rest! I couldn't wait to come back tomorrow! This place was as cool as we thought it would be!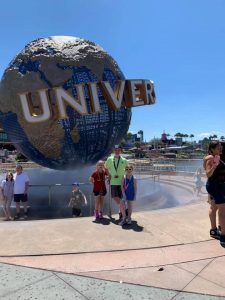 The next day we started at Universal Studios. We know our children very well and we knew what would make all three of them happy. None of my kids like crazy rides. Lillie is the biggest thrill seeker and she may like the big rides as she gets older! We knew that all Ella wanted to do was to ride the Hogwarts Express. This is the train in Harry Potter for those of you who may not know this. If you haven't read the Harry Potter books, go read them all! All Max wanted to do was spells with his wand and all Lillie wanted to do was to get to Seuss land. She loves Dr. Seuss and currently reads all the books over and over again! Her teacher Mrs. Wagner got her into Dr. Seuss, and I heard that they just did a great Dr. Seuss craft that I can't wait to see!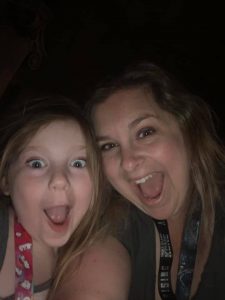 We walked and walked to find Diagon Alley far back in Universal Studios. We were all so excited to see this brought to life! Max and Ella were not interested in riding the Escape from Gringotts ride, so Seth and Lillie were off to check it out! My brave little six year-old was willing to go try a ride so her father could do it. I wanted to go too but we are not at the stage where we can leave Max and Ella and go on a ride. Sweet Lillie went on the ride again with me the next day so that I could get a turn to go. She told me that she didn't want me to go alone and that she is my little buddy. She may give me a run for my money, but Lillie is definitely my little buddy.
Waiting for Seth and Lillie to get back from the ride was the hardest part of my trip! In Diagon Alley there is a really cool dragon statue that breathes fire every ten minutes! I thought it was the coolest thing, but Ella was scared out of her mind. Max didn't have his phone with him and became obsessed with checking my phone every two minutes to see what time it was. My sweet boy was on a mission to protect his sister from the dragon. We escaped into their awesome ice cream shop to get Butter Beer ice cream until I remembered that I had forgotten my purse back at the resort! No money meant that we had to wait for Seth to buy us ice cream. I tried forcing Ella out of the ice cream shop as the dragon was breathing fire! Dumb mommy didn't realize why she was refusing to come out of the store. We finally found an alley far away from the dragon to hide in until Seth and Lillie were done with the ride! Let's just say Ella liked Hogsmeade a lot more then Diagon Alley! We got them their ice cream and then ran to the Hogwarts Express to get Ella her awaited train ride and to get her away from the dragon! On the way to the Hogwarts Express we had to stop and see the Night Bus Driver. He was a riot. Go see him!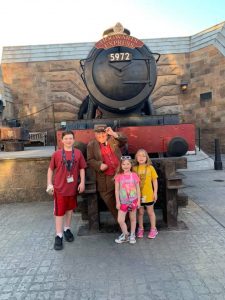 The Hogwarts express takes you from Universal Studios to Islands of Adventure! Marketing lesson number six: make your guests buy more expensive tickets if they want to ride the train. You have to have the correct ticket to ride the train. Your ticket has to let you hop from park to park. I recommend taking the Hogwarts Express to Islands of Adventure and then enjoying a ride from Islands of Adventure to Universal when you have time. Depending on which direction you take the train gives you a completely different experience on the train. My kids all liked the train ride from Islands of Adventure to Universal better then from Universal to Islands of Adventure!
We got off at Islands of Adventure and then let Lillie have a ball exploring Seuss land. We all enjoyed it and Lillie screamed with glee on the ride "one fish, two fish, red fish, blue fish". She told me she was so happy that daddy let her drive. If you let this kid be in charge of doing something, she is so happy. Lillie is my independent capable child!
I know my family so well. If you take them to a theme park in the morning, they will not last until night time and that's ok. They were beginning to expire and were asking to go swimming. The Florida weather was absolutely perfect those five days and we were able to go swimming all five days we were there. Lillie couldn't have been more thrilled!
We swam, rested, and geared up to go back the next day. We knew Ella was going to ask to ride the Hogwarts express every day. We knew Lillie was going to ask to swim every day. We knew Max was going to want to use his wand every day. Max loves scavenger hunts! Give him a map with a purpose and he is off! We all loved Universal.
Last time we went to Orlando my father in law had taken us on a magical trip to Disney. We loved it but my Harry Potter crew was all about Universal. I will tell you that if you love Harry Potter you really need to go see how cool it is. If you don't like Harry Potter, it is still a very awesome place to visit. Super Hero's, Jurassic Park, Dr. Seuss, The Simpsons, and so many more cool themes throughout the parks.
My kids will all tell you that they liked Universal better then Disney. I will tell you the reasons why. First, as you know by now, they LOVE Harry Potter. Second, it is so much less busy then Disney World. Their third reason is that nothing was scheduled. We bought express passes for every day we were there which I do recommend. If there was an hour long wait at a ride, we would only wait a maximum of fifteen minutes. We could use our express pass any time and we didn't have to schedule our rides like we did at Disney. We also could eat meals whenever we wanted to wherever we wanted to. At Disney World I had to book all our dining experiences six months ahead of time. It was all very scheduled and very regimented. My kids told me how much they didn't enjoy that part of our trip when we went to Disney. They loved that we could just pick somewhere to eat when we were hungry. We got to eat at the Three Broomsticks for one of our meals. That is a restaurant from Harry Potter and that was a very neat experience. I couldn't believe our luck that there was no wait at every restaurant that we chose to eat at. I'm not going to tell you that there were never any waits at the restaurants. I am going to tell you that the times we chose to eat worked out really well for us. We tend to be a Linner type of family. What that means is that instead of doing lunch and dinner we tend to do a big Linner as we call it in between the two meals!
I don't want to forget all the very cool Harry Potter merchandise that we saw in the stores. Marketing lesson number 7: Universal sells Harry Potter merchandise that you can't get anywhere else and it isn't cheap. Max got the coolest Gryffindor hoodie and hat. Ella got an awesome Hufflepuff shirt and hat and Lillie got a talking Hedwig owl that we have never seen before. We loved exploring all the stores. I got a very cute Betty Boop shirt. I should have gotten a Hufflepuff shirt too! Next time! For those of you who don't know, the students in Harry Potter are separated into four different houses: Gryffindor, Hufflepuff, Ravenclaw and Slytherin.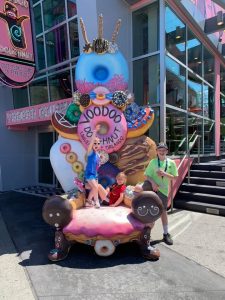 I can't end talking about Universal without mentioning City Walk. Marketing lesson number 8: have your guests have to walk through City Walk to get to Universal Studios or Islands of Adventure. There are a ton of places for them to get you to spend money before you even enter the parks. There were a bunch of quick food places, awesome restaurants, stores, a movie theater and so much more. We stopped at Starbucks daily for me, VooDoo Donuts, Cinnabon, The Chocolate Emporium and Hard Rock Café. The lines were very doable, and we could eat wherever we wanted whenever we wanted to. We had a running joke the entire time we were there about Ella trying chicken fingers at every restaurant we went to. Our absolute favorite place that we ate at our whole trip was at The Chocolate Emporium. Their food is delicious but even if you don't eat a meal there you must go try one of their amazing shakes. Ella picked a cookie one and Lillie picked a red velvet one. We never ended up getting Max a chocolate one and I don't remember why? Maybe it was all the Butter Beer he drank!
We loved Universal Studios, Islands of Adventure, City Walk and our resort Westgate Lakes. On our last day, we skipped our fifth day at Universal and I dragged my family to Disney Springs. This Disney girl needed a dose of Disney World. I am 42 years old and I had never been to Disney Springs. I wanted to check it out so off we went to shop. It was literally just a bunch of Disney stores with a lot of places to eat. I wanted to eat at the TRex Café, but no one was very hungry. I had read that you could take a boat from Disney Springs to a Disney Resort, so I suggested that we go try this! The boat ride was very cool, and I loved getting to see the Disney Resort French Quarters. The pool was awesome, and we all had a "famous" beignet for lunch. Let's just say we all need a major sugar detox now that we are home! I wanted to go check out more Disney Resorts. I have always wanted to see the Polynesian hotel. Next time! I knew my kids wanted to sneak in a swim before the airport so off we went to get our luggage and let our kids swim one last time!
I simply love Orlando! There is so much to do there. I love Disney World and Universal Studios. I remember loving when my parents took me to Sea World as a teenager and I will have to take my kids next time we head to Orlando. My friends went to Legoland and Discovery Cove which also looked very fun. At Discovery Cove you get to swim with dolphins! Discovery Cove is definitely on my bucket list. Orlando is my magical place. I will come back soon!
Some of my traveling with children tips:
1) Keep track of your children at shows. You all become enamored with whatever you are watching, and children wander or move up close so they can see away from you. When they sent Ella into the store after the Ollivander show I ran after her. When we were watching dancers, she sat down on a bench without telling us and we couldn't find her. That was a terrifying minute in my life. Watch your kids and hold their hands. We put a beaded bracelet on Lillie with my phone number on it. She is learning it well, but I wanted it on her.
2) Download movies for your children on their devices before your plane or car rides. Lillie was so happy while she was watching a movie or coloring. Max, Ella and I watched movies. Seth read a lot, but I tend to get motion sick, so I was afraid to read on the plane.
3) Pack for different weather conditions. I brought pants and sweatshirts that we thankfully never needed. I brought rain ponchos that we needed for an hour Friday morning at Disney Springs.
4) Go with the flow every day. You may have a set agenda in your head, but kids may change that agenda. My kids wanted a lot of down time at the pool and it really helped prevent meltdowns.
5) My neighbor told me to bring a cooling towel which really helped Seth and Lillie.
6) A couple of my friends recommended that we wear lanyards. We put our universal passes in our lanyards, and they swiped them for every ride!
7) I recommend spending the money on express passes! We didn't have to wait in any super long lines!
8) If you don't want to spend a lot at the souvenir stores, buy stuff ahead of time to bring with and surprise them with. I'm a sucker who shops at the theme parks and buys stuff there. I did remember to bring their Harry Potter robes, so they didn't ask to buy them there, but it was just too hot to wear robes. There were a lot of people wearing them!
I hope all of this is helpful!
Happy Traveling!
Laughing, Learning, Loving,
Rebecca Greene, LCSW-R