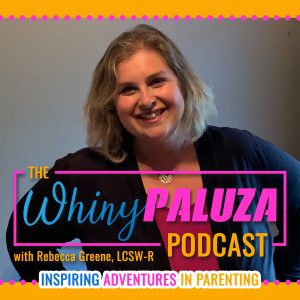 Parenting

Family Life

Mommy
Podcast
Parenting, Family Life
& Mommy Podcast
INSPIRING ADVENTURES IN PARENTING
Parenthood is an adventure! The joys, the frustration, the laughter, and the tears- we all find unique and universal challenges as parents. When one issue resolves, another is waiting in the wings. Our jobs as parents are truly never done. It really is the toughest job you will ever love. The Whinypaluza Podcast is all about inspiring adventures in parenting! Rebecca Greene, LCSW-R and Top 100 Mommy Blogger puts her experience and education in psychology and social work to the test while she shares insightful thoughts on marriage, stay-at-home life, and keeping three energetic kids safe and happy.
On the show, you will hear from bloggers, parenting experts, marriage experts and more as they shed light on tips and tricks to make life with your family better than ever! Find solutions to questions you have and questions you never thought to ask. Whether you are a parenting novice or parenting pro, you are sure to find a valuable source of information and support in the Whinypaluza community.
Explore some recent episodes.