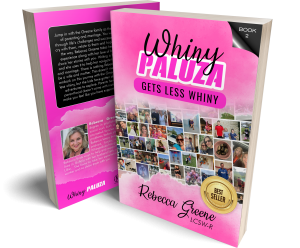 BUY NOW
Whiny Paluza Gets Less Whiny
AMAZON BEST SELLER
Jump in with the Greene family as they navigate through the days of parenting and marriage. You will follow them as they go through life's challenges and successes. You will laugh with them, cry with them, relate to them and hopefully learn something along the way. Rebecca Greene takes her social work training and experience along with her love of being a wife and mother to share her stories with you. Writing is her greatest coping strategy, and she uses it to help her navigate through this life of parenting and marriage. There is nothing Rebecca ever wanted more than to be a wife and mother. This doesn't mean that it's easy. Dive in and embark on this journey with the Greene family. It may have gotten less whiny, but the kids have gotten older and there are many new adventures to explore. Parents have often told Rebecca that parenthood doesn't come with instructions. Hopefully this will make you feel like you have support on your parenting journey.
BUY NOW
BUY NOW
Whiny Paluza
AMAZON BEST SELLER
What if you weren't in this parenting thing alone? What if you could learn from pitfalls and successes of a mother of three? What if you could follow trials and tribulations of other parents to prepare yourself for unexpected parenting challenges? Top 100 Mommy Blogger, Rebecca Greene, presents the roller coaster journey of the funny, inspiring, very hectic life of the Greene family. Rebecca received her Bachelor's degree in psychology and her Master's degree in social work both at the University at Buffalo. She counseled families whose children had behavioral problems before she decided to be a stay at home mom.
In Whiny Paluza Rebecca documented her children's lives sharing her successes and challenges with other parents.
BUY NOW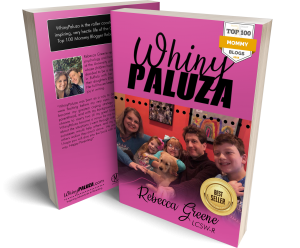 What Makes Up My Whiny Paluza Life
There is never a dull moment in the Greene household. Check out the rest of our Whiny Paluza!