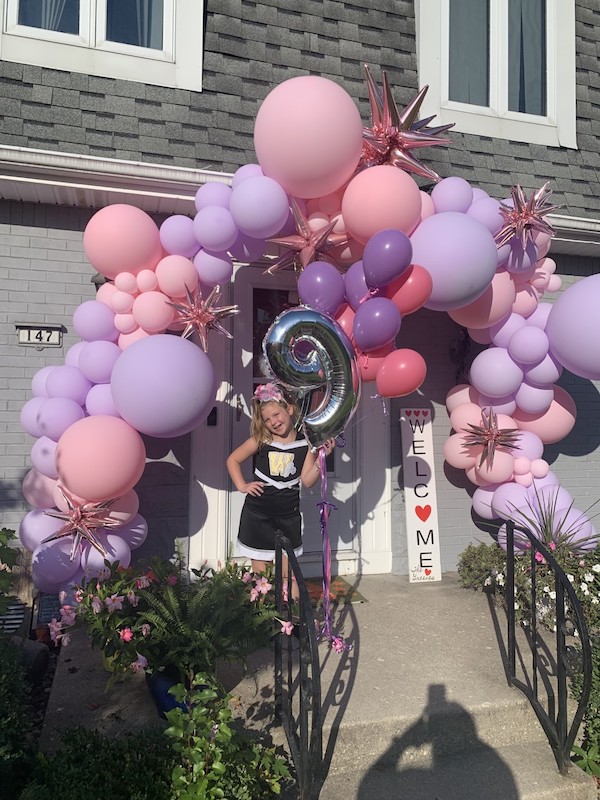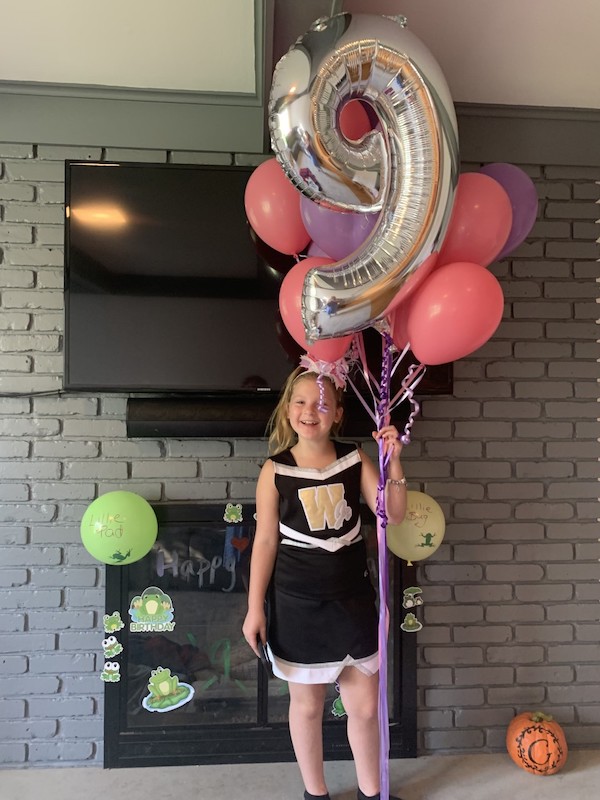 My daughter Lillie turned 9 years old. I learned so many lessons along the way and I thought I would share with you!
We Do too much. Do less.
We do TOO much for our children's birthdays! Birthday parties, decorations, cake, cupcakes, presents, balloons. Why do we do SO much? My son Max asked for a good dinner. Lillie on the other hand had a busy yes day full of activities, too many presents, too many cupcakes, a balloon arch, decorations and a birthday party. Do less. I will keep saying that we all need to do less. Are we trying to prove that we love our child? My little scavenger hunt was enough. Birthdays are fun. I'm glad she had a good weekend. I stand by the fact that we do too much and that we need to do less! Lillie better feel loved after that weekend.
We spend too much! Spend less!
Spend less money! Why do we spend so much money? I had presents for Lillie waiting for her at every clue. She had 9 clues to find her presents through the house. Birthday parties, the cake, the party, the presents, the meals, balloons, and more. It all adds up. We don't need to go all out. I am happy with the memories that I created with Lillie, but I am aggravated with how much money I spent. I need to learn from this and try to do less next time. If you've gotten away with a small party at home that didn't cost a lot, then you are my woman, and we need to talk. Even when I have had parties at home, I end up spending too much. I think I am the opposite of frugal. What would that be? An overspender?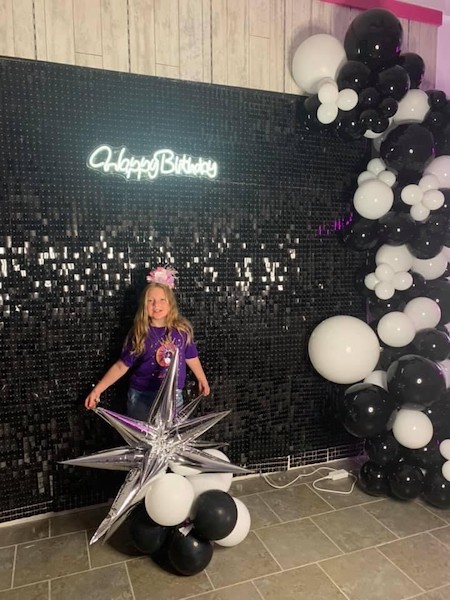 We need to go with the flow!
Learn to go with the flow. I wanted to have a little party at home with Lillie with some fun stuff that I planned outside for them. As the day got closer, the weather prediction got worse and worse. It ended up raining the entire day. There was no party going to happen outside. I was majorly bummed for days before the party. I wasted so much energy being upset. It is what it is. I can't make it stop raining, so I had to move to a back up plan. I didn't have one. You can make outdoor plans, but you need to have a back up plan. My friend came up with my back up plan and off to Selfie World we went. Lillie was still surprised and happy and it all worked out. Go with the flow and stop resisting. I am talking to myself. I also can't control Covid so let's move on to the next lesson about Covid.
Get over it!
Get over the fact that my kids need Covid tests to return to school. Lillie was all stuffed up after her birthday weekend. I knew that a cold was going around the schools. You can't have a stomachache. You can't have a headache. You can't have a stuffed nose. They could all be symptoms of Covid. When I get aggravated, I try to remember that when I had Covid, it was a little stuffed nose. I remind myself of that many times. I'm wasting my energy being aggravated and it's not working for me. It is what it is, so I need to put on my big girl pants and get my kids Covid tests when necessary. She got her test and thankfully it came back negative.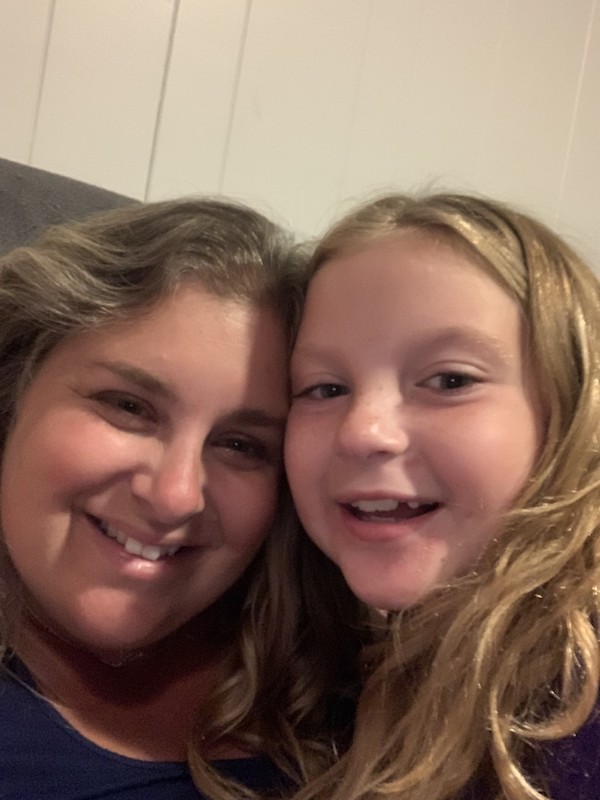 What can you control?
Focus on what I can control. This is a big one for me this week. I can't control the weather and I can't control Covid. I can control me. I gave myself a lot of stress this week. I chose to do that. I stressed about the weather, and I stressed about Lillie's symptoms. I'm not proud of all the stress I caused myself. However, I can learn from this. I can learn how to cause myself less stress. I can roll with the weather, and I can roll with my kids getting symptoms. We lasted until the beginning of October. At least we had no illness in September.
We entered September with my September attitude. I survived September and it's time to be more optimistic in October. October is for a good attitude. I challenge you to turn something around in your life. Whether it is having to get your child a Covid test or dealing with the rain, we can give ourselves stress or we can learn to roll with the punches. I will say that I caused myself too much stress. The stress of what to do about a rainy day. The stress of having to do a Covid test. I am happy to report that both worked out. Lillie had a great party inside. Lillie had a negative result from her Covid test. Now I sit here typing and thinking about all my wasted energy and stress. I think about what I put my body through. When I read the negative test result, I felt my neck release. I didn't' realize how much I was holding in my neck. Our bodies deserve us handling stress better. I will take control of my thoughts. When you are spiraling into the abyss, pause yourself and hit the rewind button. Reset, regroup, refocus, reframe and turn your brain around. I know that we can all do it. Lillie's birthday taught me so much!
Let's spend our days,
Laughing, Learning and Loving,
Rebecca Greene, LCSW-R
Updates:
If you are looking for a supportive community, come join the Whinypaluza Mom Facebook group.  I created this as I wanted us to have a place where we can talk about tips, strengths and challenges we are having.  It is another step I took to help everyone to know that you are not alone.  The October Challenge just ended! Come join us and bring a friend with you! I love to give away prizes!
https://www.facebook.com/groups/whinypaluzamoms
The Whinypaluza Schedule:
Whinypaluza Wednesdays: My weekly blog comes out every Wednesday.  I am always open to your topic requests.  A new Vlog (video blog) also comes out every Wednesday night on Facebook and You Tube live at 9:00 PM to discuss the blog.  If you would rather listen to a podcast than watch a Vlog, you can wait for the following Wednesday and the Vlog is released on my Podcast.
Family Fridays: Every Friday morning a new Podcast is released.  Most of my episodes on Fridays are my discussing parenting and marriage with experts on the topic.  If you would rather watch the Podcast instead of listen, you can watch it on Facebook or You Tube.  If you would like to be on my Podcast or know someone who would like to please message me on Facebook or Instagram or at whinypaluzamom@gmail.com
I would so greatly appreciate it if you would subscribe, rate my Podcast and leave me a five star review.  This leads to it being shown to more people that we can help. I would also love for you to share my blogs, vlogs and podcasts with a friend so that we can build our community and help people one mama at a time.  xoxo