If you have followed me over the years, you probably know that I am not a fan of September. You probably know that I am a summer girl through and through. You may have even heard me trying to embrace September as the crisp Fall blows in. I continue to be unsuccessful in changing my attitude about September. I also never tend to give up. I don't give up on things. My friend labeled the month perfectly as Sucktember.
The excitement in September is seeing the new teachers that my children get. It's the start of a new school year and I do love seeing my children grow and learn so much every year. We have been so blessed in the teacher department. Ironically one of my very favorite teachers has a September birthday and she loves September and Fall and everything that it brings. She even loves school supply shopping. She is wonderful, and also very different from me.  I wonder if your birthday has anything to do with what season you love. I was born on June 25th and I love my birthday and the summer. I love my birthday mostly because it signifies the beginning of summer. I wonder if your favorite season is your birthday month. Let me know. I would love to hear if my theory is true for you. My son, husband and daughter Ella love the winter and they were all born in the winter. Lillie says the Fall is her favorite season and her birthday is in the Fall. Maybe I am on to something here.
So, here I am typing on September 20, 2020. We continue to walk our dog every day and continue to feel the Fall air blowing in. There is no more summer heat during the day. There is no more worrying about what time we walk Tanner so that he isn't hot, and so that he doesn't burn his paws. Summer has left without any warning.
In talking to the parents around me, it seems as though the hybrid option for school being taken away has added to their September Sadness. You see, now some of us feel trapped at home with our children doing remote learning every day. My friend told me that she was taking her kids to the farm on Thursday and I perked up thinking what a good idea that is. Then I remembered that Ella is stuck home on the computer all day. Can she do her classes from the farm? That would certainly be an adventure for her. Doesn't that count as a field trip? Max doesn't mind if I leave, but my sweet little pumpkin still needs me. She still looks for me. She still likes me around. As long as I leave Max a good lunch, he would be fine with me taking off. I did give Ella a mental health day on Lillie's birthday. She asked me for it, and I knew she needed it. Sometimes adults and kids need to give themselves a mental day off. I encourage you to build these in for yourself and for your children. Every so often I notice my husband takes one too.
I was looking through Facebook today and saw so many beautiful family pictures. Families who were spending the day apple picking which I love to do with my family. Families who were at farms posting pony rides, farm animals, apple donuts, hayrides, and more. I love all this Fall fun. I tried to give myself a pep talk that there are so many good things that the Fall brings. I would love to hear your favorite Fall activity. Let us not forget football season. My father, brother and husband are really enjoying the games and the Buffalo Bills are doing great. One of my closest friends is a huge Bills fan and she has a September birthday. I know that she is a happy camper right now.
Fall brings me pumpkin. I love pumpkin everything. I love pumpkin lotion, pumpkin coffee, pumpkin candles, pumpkin muffins, pumpkin cookies, pumpkin bread, pumpkin socks, pumpkin, pumpkin, pumpkin. Some of you are apple lovers. I will make apple stuff for my husband to enjoy. One of the best parts of Fall is driving up to Starbucks and ordering anything with pumpkin. I had a pumpkin cold brew this weekend and it was so good. You can tell I am trying. I am always trying to be positive. I am always trying to look for positives. Pumpkin everything is definitely my favorite part of Fall. In fact, I need to go buy some actual pumpkins to put on my porch.
I was beyond happy to say goodbye to September this week. My husband was questioning me on where his wife had disappeared to. He was wondering when I was going to come back to him. Maybe he will remember next September that Sucktember sucks the life out of me. Maybe he will remember that I struggle every September and he won't wonder where his wife went. Maybe we can make a better plan for next September. How will I do a better job? How will Seth support me? What will we do differently? I'm going to do some predicting and planning next August before my September sadness occurs. Maybe we can take an epic vacation next September!
I told Seth last Wednesday night live on my vlog that I was saying goodbye to September and that I was welcoming in October. I told him that I was resetting and that I knew October was going to be great. I told him that his wife was coming back to him. He couldn't have been happier. I want to tell you one of my secrets. You can do that any time. All you have to do is push your own reset button. If you are yelling at your child and upset with how you are acting just walk away and mentally press reset. If you snap at your husband and you feel badly, apologize and tell him that you are starting over. We can teach our children how to do this too. When you wake up every morning press the reset button. When you go to bed at night, try to focus on what you did right that day. I don't like when I do ten things right and I focus on the one thing I did wrong. How is that okay? When you go to bed reflect on what you did right and give yourself a pep talk that tomorrow will be even better. Reset, restart, and start every day fresh with clear eyes and a good attitude ready to go. I was starting October with a ton of optimism.
The next morning, I felt different on October 1st. I woke up smiling and happy and got ready for a great day. I felt my new energy and I think Seth did too. There was a knock at the door and one of my very best friends Jen was at the door holding pumpkin coffee for me saying "Happy October" to me. I smiled thinking about all the positive thoughts that were in my mind that day. Her dog was in the car and I told her I would grab Tanner my Golden Retriever and that we could walk our dogs together.   I turned around and started walking to get Tanner and there was a shiny penny staring up at me. I picked it up, smiled and put it in my lucky penny cup that my friend Jen had actually given to me as a gift. I put all my lucky pennies in that cup and it's very special to me. We had a wonderful walk together with our dogs and my fate for October was sealed. I knew it was going to be a better month.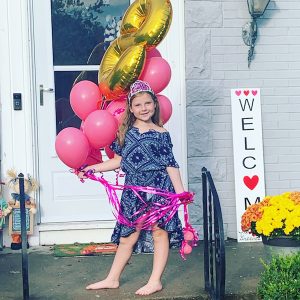 We move into October 2nd and my baby girl turned 8 years old. Somehow my youngest child is now 8. I tease Seth about having a baby (I love babies) and then the reality sets in. I really don't want another baby. I don't want to be pregnant again. I don't want to breastfeed again. I don't want to have another c section. I don't want to deal with sleepless nights again. I will stop teasing my husband and will embrace that our baby is 8 years old. I know, I know, you are thinking that she isn't a baby. I am telling all of you that she is always and forever my baby.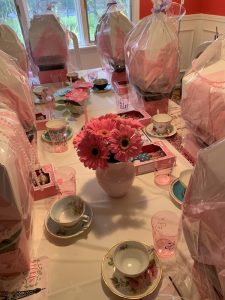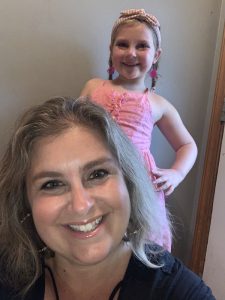 Lillie really wanted a tea party for her birthday. I called around to take her to a fancy tea party and everywhere I called was closed. How sad is that? Covid has really done a number on so many businesses and it makes me sad. I always wanted to take my daughters and my mom to a certain tea room and they had shut their doors. If you have a business, I hope that you are doing well. Trust me when I say that I don't take for granted our being able to work through all of this.
I found a place that would make Lillie tea party boxes that we could pick up to have a little tea party at home. I actually need to give credit to Jen for telling me about this place. I think our mutual friend originally told her about this fabulous place. Word of mouth is a powerful marketing tool! I told her she could invite a few friends. Her first request was to have a roller skating party with a ton of friends. I explained that it wasn't the year to have a big party and that she could do something small with a few of her friends. I want our friends to know how hard that was for Lillie and I. I want you to know that there were more friends that we wanted to include but I just can't do a big group right now. It's the year for small birthday parties. I hate leaving anyone out. I'm hoping that next year I can give her a bigger bash that she wanted. I'm going to enjoy these birthday parties because before I blink, they will all be over.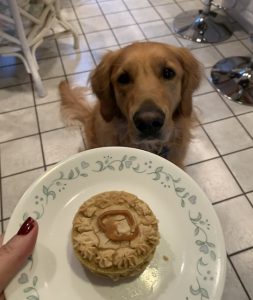 For some reason Lillie loves Paris. She bought Paris themed decorations with me to decorate the dining room. She asked her friends to wear a dress and bring a doll. She picked out a craft and planned out the whole night. I like a girl who knows what she wants. That makes my life a lot easier. Lillie told me I had to go change and put on a dress. I guess my tshirt and leggings didn't qualify for a tea party outfit. Then she told me I also had to do my makeup and do her hair and makeup. She made sure she matched her doll and that her sister also put on a dress and did makeup with us. I hope it's a birthday she always remembers. I think I will always remember this birthday. My favorite part besides Lillie's excitement was that my mom brought over my grandma's fancy teacups for the girls to use. I hope that my grandma got to see all the little girls using her teacups. I like to think that she visits us. My mom and one of my very best friend's Nikki helped me keep the party running smoothly all night. I'm thankful I didn't have to manage that all alone! My husband and my dad were hiding in the other room.
Lillie had an adorable tea party and our puppy Tanner turned 2 years old. We start out October with two special birthdays. Lillie's birthday is October 2nd and Tanner is October 3rd. That's part of how I knew Tanner was supposed to be our dog. Lillie had a special tea party cake and Tanner had his very own peanut butter doggy cake. Optimistic October was turning out to be great.
How will I make October a great month?
I decided it was going to be better. I made the decision. My mind is made up and set on October being better. Our state of mind is so powerful.
I welcome October in with Lillie and Tanner's birthdays. What gets better than that? I got to celebrate both of my babies. It's a great month.
I gave my daughter an adorable little tea party that made me (and her) so happy. I'm still smiling thinking about it. Now I'm going to plan one for my own friends.
Enjoying everything pumpkin. Pumpkin cookies coming up!
Fall fun coming up – apple picking and a pumpkin farm.
Focusing on being a good role model for my children and making the best of things.
Being thankful and appreciative for my wonderful life.
Enjoying every season. Find activities in every season for your family to enjoy together. I am blessed to have all four seasons to enjoy. It means no season will get dull.
Getting into the groove of remote learning. My middle schoolers and I are adjusting to them being home every day and my 8 year old has adjusted to her hybrid schedule. We will continue to adjust when things change. Ella gets to go back to hybrid next week followed by Max the following week. Everyone is learning to be flexible. I am excited for them to get to go to school a couple days a week. Exciting things are ahead!
Plan exciting things to look forward to. When Lillie was sad that her birthday was over, we started to talk about what is next for her to look forward to.
I hope that you will all decide to make October a great month like I did. I hope your family is adjusting to whatever school looks like in your district. I hope your family is healthy and well and enjoying some Fall fun together. I said goodbye to September and I'm opening my arms to October. If you love pumpkin like I do, go enjoy a pumpkin coffee or a pumpkin treat. If you love everything apple in the Fall, I hope that you will go enjoy a homemade apple treat. I wish you all a smooth, healthy, fun and safe October. It's going to be a great month.
Laughing, Learning, Loving,
Rebecca Greene, LCSW-R