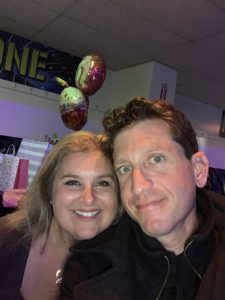 I feel as though I have this permanent event checklist going on throughout the year. It is as if the events in my life take me through every year. It started this summer with getting the PTA Executive Committee all organized for the new school year. It led to getting my presentation ready for open houses and then preparing for my first two PTA meetings. While doing this, I was also planning Max's Bar Mitzvah and Lillie's birthday party. Month by month, I am looking through the calendar to see what event is next to check off my list. Let's not forget the Temple Color Run that I said I would co-chair and picture day at my daughter's Elementary school. Think about trying to check 659 kids and make sure they look nice for their picture. I had two friends helping me, so I really only had to do 1/3 of this but I tried to check every single child that I saw that day. Am I permanently planning events? I forgot to mention both of my daughter's Girl Scout troops that I help co-lead. We just had a successful first meeting last night for Lillie's Brownie Troop. Should my new job title just be Event Planner? Forget Social Work, I think I am going into Event Planning. I am totally kidding! I have joked with my friend that we would have quite the event planning business together!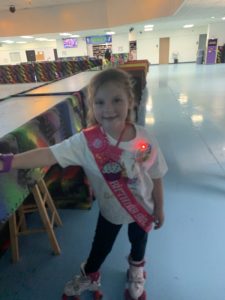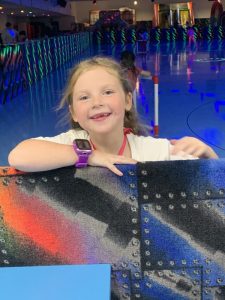 Lillie had her 7th birthday party Sunday night. I am still trying to wrap my brain around my baby being 7 years old. We just gave the Temple three of our strollers for their rummage sale. I am feeling very sad about that today! My baby is not so little anymore! Seth and I took five car loads over to Temple. My kids have outgrown so many things. It's amazing how quickly the time goes. We aren't finished but it feels good to make that big dent! Let our Synagogue benefit from stuff we don't need anymore. Why hold onto things (this is what I told myself as I packed up the cars).
I wanted a small painting party with a few of Lillie's friends for her birthday. Lillie did not like that idea! Lillie is my little social butterfly and she wanted a huge skating party. Being the sucker that I naturally am, I rented out the skating rink and invited all the friends she wanted. Just throw in some friends for Max and Ella too so that they don't drive me crazy. Let's just have a huge bash. Thankfully a lot of Lillie's friends came with older brothers and sisters to make Max and Ella happy!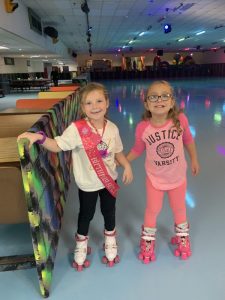 I counted around 40 kids last night skating at Lillie's party. 40 kids skating, enjoying the arcade and the bounce houses and eating pizza and cupcakes. Thank you to every parent who helped me take skates on and off the children who ran from the bounce houses to the skating rink. I love to skate, but I didn't skate last night. I knew my job was to take skates on and off the 40 children. I saw a lot of my friends bending down to take skates off last night. I was just asking my husband why my back hurts so much and I think I just figured it out! It's too hard to do parties without your village. Thank you, Chris and Alanna for taking Max to and from comedy class and bringing him to the party. Thank you, Angela and Dave for showing up early and helping me all night. Thank you to my parents for loading cars and driving gifts home. Thank you, Seth for putting up with me and my party extravaganzas. Thank you, Gramps and Patty for coming and making Lillie feel special. Thank you, Nikki, Mom, Angela, and every other parent that was handing out cupcakes! Thank you, to every friend that showed up last night to make the night so special for Lillie. I am completely touched, and I know Lillie is too!
So here I sit, checking the party off my list of to do's and moving on to finishing the Color Run for Temple. I am in constant checklist mode of trying to accomplish things and check it off my list. I already have it planned that after the Color Run that I have to get some more items completed for Max's Bar Mitzvah. I already have a good chunk completed for him! Six months to go to get it all done! I can do it!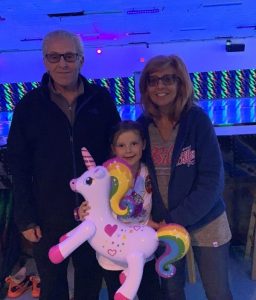 Why am I trying to check it off? Why is the goal to get it done? This doesn't seem right to me. I caught myself counting down to get Lillie's party over. How sad is that? That is simply not ok with me. Aren't we supposed to be enjoying the journey and not just the destination? Isn't life one big journey and we should be enjoying every day and everything that we get to do?
Here is my new goal. My goal is to enjoy every step of planning Max's Bar Mitzvah. My goal is to then enjoy every step of planning Ella's Bat Mitzvah. We all know that I am going to be sad when it is all over. If I enjoy the process, I can savor it longer. This is my new life goal. Let's enjoy the journey and not just checking things off.
My mom is completely and totally different from me. She loves to shop. She enjoys shopping and looking around. I am more of a mission person. I was on a mission to check location, DJ, videographer and photographer off my list. My mission is complete. My mom probably would have shopped around more, gotten better prices, and have enjoyed it more along the way. I am feeling inspired by this right now.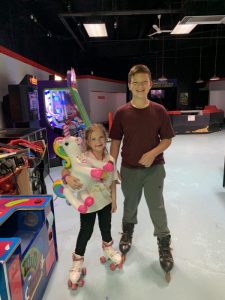 What is next for me and how am I going to change my pattern? Next up is finishing Max's guest list, save the date cards, and starting to buy centerpieces and items to go along with his theme. I am changing my state. I am going to use my creativity and have fun with this. This is not just a checklist. This is going to be a fun experience for me. I need to get Max more involved! I am going to make this a special day and night for my son and our family and friends. I have a friend who is an event planner who has taught me a lot. One of the important statements that she made is that she creates magical experiences and memories for people in their life. It doesn't get better than that. Forget all the gifts that I give my children to open. The events that I create for them including birthday parties, School events, Girl Scouts, Bar and Bat Mitzvahs, and so many more are all the things that are creating special memories that they will have forever. Do you see how writing works for me? I just effectively changed my state of mind.
What am I going to do different?
Enjoy the journey of planning an event!
Be present and not lost in the finish line!
Enjoy using my creativity in my to do's for events.
Involve my friends and family and supports in planning my events. It leads to feeling supported, less overwhelmed and hearing some great ideas that I didn't come up with!
I also need to start celebrating what I accomplish!
Happy Planning!
Laughing, Loving, Learning,
Rebecca Greene, LCSW-R
P.S. I want to give a very special thank you to the amazing Kristin Watt who is reading this blog! She is an amazing graphic designer and makes every single one of my family's events better with her creative expertise!!!