I love Saturdays! It is my favorite day of the week. It is the only day that we don't have to get up and rush around. Max tends to have soccer games Saturday nights which we love. It is so fun (and stressful) to watch him play as the team's goalkeeper. He happened to have a Saturday with no soccer, so he asked us to reserve the day to take him skiing.
I learned from his friend's mom that Max had gotten about three hours of sleep at a sleepover with his friends. This is not good, but I am also glad that he had fun. When I picked him up, he quickly informed me that he didn't want to ski. We all know Max was about to ask for a pajama day gaming at the computer he and Seth built.
Max disappeared upstairs to his computer and I looked at Seth and asked him as nicely as I could to help me get some stuff crossed off my list. The next two months are going to be pretty busy for me before Max's Bar Mitzvah.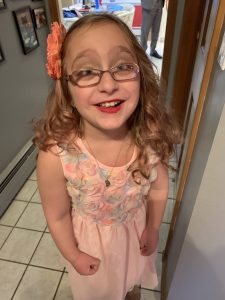 First up was a meeting with Seth and Ella about Ella's birthday. Ella is definitely starting to get hormonal and moody. She is about to turn 11. My sweet little girl is definitely a tween. I keep reminding myself that her behavior is totally normal and to be expected. Sometimes it helps and sometimes I find myself sad but how old and tweenie she is. We had a difficult tween conversation and got through the birthday talk. Check Ella's birthday off my Saturday list! On to Max's Bar Mitzvah project.
Max's Bar Mitzvah is coming up in May. Before his Bar Mitzvah he needs to do a mitzvah project. A mitzvah is a good deed. I initially told Max that we could invite people to try to score on him. We could go to one of our frequented soccer places and have people line up to try to score a goal on my talented goalkeeper. People could make a donation for each shot they take on Max and then the money could be donated to a charity of Max's choice. Max quickly vetoed my idea and came up with a much better plan.
I would love to give credit to my friend Dawn for suggesting a Monopoly theme to me a long time ago for Max's Bar Mitzvah. I wanted to do Maximizer, Maxamillion, Maximum type themes with soccer or money. Max chose the Monopoly theme and we are running with it and having a lot of fun in the process. It is a great theme.
To piggyback on his Bar Mitzvah theme, Max suggested that we do a Monopoly tournament for his project. Our friends and family will come and pay to play in the tournament. Max came up with the idea and I got the invitation and invites out yesterday. Check another Saturday item off my list.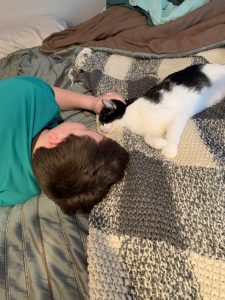 Max has the sweetest heart. I love how good he is with our cats and our dog. He gives them a lot of attention and just loves them up. They are excellent therapy for him. He needs them. He seems to gravitate more to cats then dogs, but he loves our dog too. Max chose the cats he wanted us to adopt and named them the perfect names of Faith and Joy. He knew how hard it was for me to lose my cat Hope and he named them in honor of Hope for me. Max didn't know when he chose those names that I always wanted a cat named Faith.
It made purr-fect sense for Max to donate the money he makes at the tournament to Purr-fect fit rescue and adoption center where we adopted our cats. A place that is near and dear to Max's heart. We had a plan, we had invites out, we were moving along with his project!! If you didn't receive an invitation to the Monopoly tournament and you would like to come, please let me know.
Seth and I had completed Ella's birthday, Max's Bar Mitzvah project planning and he even helped with PTA graphic work I needed done. I have done so much for our Elementary School's PTA, but graphic design is not one of my strengths. I can come up with the ideas, and then Seth and his wonderful graphic designer bring my visions to life. Whether it is a sign, a flyer or a Tshirt, they have helped me with so much over the years with the PTA.
I quickly ran back to my computer to order supplies for Max's Bar Mitzvah centerpieces. I also did work on favors and the menu. My brain was starting to spin out of control. It is time for me to print a Bar Mitzvah list to make sure I cover everything. Back when I planned our wedding, the knot helped me make sure I was getting everything completed. I bet there is a similar website for Bar Mitzvah's. If you know of one let me know! I need a list stat and I need to make sure I am not forgetting anything. My friend who is a fabulous event planner reminded me I need a box for envelopes for the party along with a list of other great suggestions. I am already over the budget that Seth and I had agreed to. Seth was not amused with me that I told him I was adding favors and a dessert table to the Bar Mitzvah.
On that note, in walk my parents. Now mind you, I am already over budget. I still have a list of stuff to order. Don't tell Seth. My parent's hand me a check to help with the Bar Mitzvah. I don't want to ever take money from my parents. I want roles to reverse and I want to pay for things for them. They put me through four years of college, two years of graduate school and paid for a super expensive wedding. That's just to name a few things that they have paid for. Here they stood with a check towards the Bar Mitzvah. They insist and they leave, and Seth turns to me and says, "there are your favors and dessert table." I had to laugh, but he is right.
I order more stuff for the Bar Mitzvah and can feel the meltdown coming. I have done too much today. My brain is on overload. Ella's birthday, the Bar Mitzvah Project and the Bar Mitzvah were too much for me for one day. I had to stop. My brain had enough and was spiraling in that place "I'll never remember everything. Will it all ever get done?"
I'm going to promise you all something – I won't remember everything. There will be something I forget and it's ok. I can say this now in the clear day of Sunday on my couch typing but last night I was not in that place.
Seth came upstairs and found me crying. Sometimes I can't hold it in and that's ok too. I don't have to always be strong.   I don't have to always keep it together. "Wedding stress," I say to Seth as he looks at me super confused. He doesn't know what I mean. I explain to Seth that I am feeling the same stress that I felt planning our wedding. It is a lot resting on my shoulders. I did not hire a Bar Mitzvah planner. I know it would have made things a lot easier for us. I have planned so many events and I can do this. Remember that I am also already over budget! We all knew that was going to happen.
I head to Lillie's room and sit in her rocking chair while she falls asleep. I find myself on the Pura Vida website. I saw their advertisement for an elephant bracelet, and I wanted it. I love that they donate to worthy charities. I order myself a butterfly bracelet, an elephant bracelet and a turtle bracelet. The butterfly is a favorite of my mom's. The elephant was my grandma's favorite, and I am a turtle lover. The turtle reminds me to slow down. I bought myself the three bracelets thinking they would give me strength. A bracelet that represents my mom, my grandma and I together on my wrist will make me feel strong and supported. I pressed the order button and I didn't feel any better. My retail therapy didn't work and the Paula's donuts I bought the family today also didn't help my stress. I sat there rocking and thinking about how my poor coping strategies today weren't working for me.
Seth insists on giving me a massage and I feel so much better. There is a positive coping strategy that actually felt like it helped. I talked to him about my feelings and I felt myself feeling better. I was using two positive coping strategies and I went to bed feeling better.
The next day we had a meeting with our Rabbi as a family. He had Seth and I talk about what we remembered from our Bar and Bat Mitzvah's and I was smiling remembering how important that day was in my life. I remember so many things about that day.
The Rabbi was talking to Max about his Bar Mitzvah project and the speech he needs to write. He went over some important things about the service and I sat in his office feeling my stress melt away. My son's Bar Mitzvah is NOT about the party being perfect. It is about the actual service and tradition of a Bar Mitzvah. No one is going to care about my centerpiece. How have Bar Mitzvah's turned into weddings? Max would have been happy with a party at Buffalo Battleground with his friend's running around with laser guns. We chose to do a traditional party for our families. Max is the first grandchild on both sides to have his Bar Mitzvah. We wanted to celebrate.
The details of the whole weekend can definitely feel overwhelming. There will be more meltdowns. I will do a good job and it will be a magical weekend. I need to keep myself more focused on the special tradition and less focused on all the details for the weekend.
When the next meltdown is coming, what are positive coping strategies I can use?
Get a massage.
Exercise – taking my dog Tanner for a long walk always helps me.
Punching our punching bag always helps.
Running on my treadmill is always helpful.
Reading – escape into a good book.
Take a break from the planning as needed.
Take a bath.
Ask for help. Send help!!!
Talk to someone – husband, mother, friend….
Positive self talk – "I can do this. It will all work out. You have planned many events."
Ask for advice.
Make a list.
Share with me your favorite coping strategy. I would love to hear from you. I hope the next time you or I are feeling stressed we will turn to a positive coping strategy and not turn to buying things or eating donuts.
Laughing, Learning, Loving,
Rebecca Greene, LCSW-R