My birthday is this Friday and I get the privilege of turning 45 years old. Every year is a gift, and we are lucky and blessed every time we get to celebrate a birthday. I don't get upset about my age. I celebrate my age. It is truly a gift every year we get to turn a year older. I hope that you will celebrate your age and never be ashamed of it. I want you to wear it with a badge of honor and be proud of yourself. Every year I learn more. People say that they long to be in their 20's again. Not this lady. This lady right here is happy right where she is. Let's talk about some of the lessons I have learned along the way.
This has been an absolutely crazy year for all of us. The lessons were flying all over the place. No other year has made me slow down like this year did. No other year has made me stop and smell the roses like this year did. We were all home with our families for many months. Many parents were managing their children at home, and school, and working. This year made us treasure our health like we never have before. It wasn't for a good reason, but I enjoyed slowing down and I enjoyed time with my family.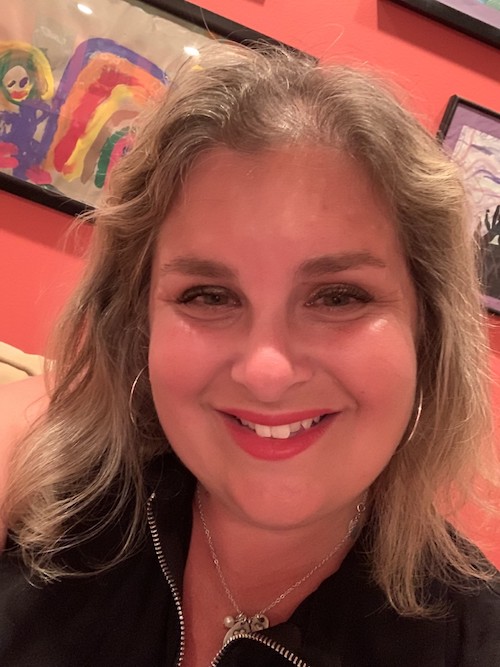 Let's talk about my health at age 45. I just took my dog Tanner for a long walk. I treasure it. It tends to be the morning ritual that I want to do every day with him. If my husband is home, he will come along with us. If my children are home, it is a rare occasion that they will join us too. I admire my legs as I walk. I think about how strong they are and how thankful I am that they allow me to do these long walks. They carry me all day long. As we walked up my driveway today, I realized that I wanted to keep going. I made myself go inside because I have a lot I want to accomplish today. However, I think I need to allow myself to walk longer and just enjoy it. I am able to walk further and further and that is another gift. I look at any type of exercise as contributing to my health. I no longer look at it to go after this body image that I used to have.
My eyes have softened a lot over the years. I want to begin with how I look at myself. I look in the mirror and I usually smile at myself. I speak nicely to myself in the mirror. This is a new one. I think we should all talk to ourselves in the mirror. "You look beautiful today. You are doing such a great job. I am proud of you." Talk to yourself kindly. Talk to yourself how you would talk to your best friend. My eyes scan the mirror and see beauty and grace. I no longer pick myself apart. That was the younger me. The older me appreciates the body that carried and gave birth to three children. The body that holds me up all day as I run around and get my to do list accomplished. My eyes have definitely softened.
My eyes have softened towards others too. I have lowered my expectations of myself and therefore that has led to lowering my expectations of the people around me. I think that I accept people more and appreciate their strengths and weaknesses too. I have realized it is not my job to change anyone but myself. I want to influence my husband, kids, friends and family in a positive manner. That doesn't mean I expect to change them. I think we all need to worry about ourselves. I also know that my changing has a ripple effect on others.
I have talked about this before, but I think the quality of your friendships are so much more important than the quantity of your friendships. Would you rather have four quarters or 100 pennies? I would rather have 4 quarters. I cherish my good friends. I tell them I appreciate them. I put time into the relationships. I am also teaching all of this to my children. I just got my first ever facial. 45 years old and I have never had a facial. The lady doing my facial said she saw something online that said to teach your children lessons sooner than when you learned them. There are lessons that I have learned at 45 years old that I am teaching my children at a much younger age than when I learned them. I hope it doesn't take them 45 years to learn some of the stuff I just learned.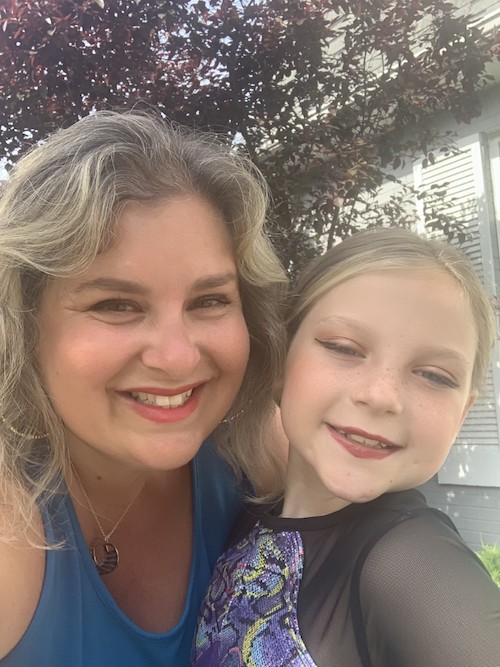 Each year I notice that my reactivity decreases. It isn't gone, but it's so much better. It is something that I consciously work on every day. I screwed up a week ago and was super impatient and reactive with getting my 8 year old to her dance dress rehearsal. I evaluated it and the big theme in our relationship is that when I rush Lillie, things go south. It is a pattern that I have identified. I need to have everything ready and laid out (with her help). I need to give her PLENTY of time to get ready. In fairness, it was pretty tight that day. Doing her hair and make up after school and getting on the road by 4:30ish was super rushed when I didn't get home until almost 4. Sometimes we have to rush. Whenever possible the best thing I can do is give Lillie plenty of time and it prevents conflicts and reactivity.
I also have really focused on myself this year instead of on others. I'm not worried about what Seth or Lillie are doing to contribute to the conflict. I am worried about what I am doing. I know that my control lies with myself and that what steps I take in a situation will make it better or worse. I also know that if at 45 years old I am still working on this daily, I can't expect my 8 year old to have mastered this when her brain is still developing. If it's hard for me, it's harder for her. I need to be the good example and I need to lift her up instead of following her down. Huge gains this year.
I care less about what other people think, and I care more about what I think. I think I am important, and I think that what I think counts. It isn't always about pleasing others. The perfect example is my taking the leap and pushing for a dog. I tend to do things that make more work for me. I still do that. No one else in my family wanted a dog. I want to tell you what I said to myself, "Sometimes it is okay to do something that is for you. It doesn't have to be about your family. Do this for yourself. You have wanted a dog for a very long time. Go do it." Fortunately, it worked out. If Ella had continued to be scared of dogs and didn't fall in love with Tanner, it would have been a completely different story. I am fortunate that this story worked out. This is just an example of my learning that what I want matters. This Friday for my birthday my kids may say, "I just want to stay home and relax. This is my first day of summer."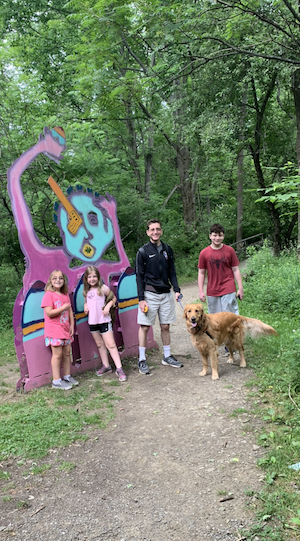 While I understand that, my birthday is about me and what I want to do. I don't want to exhaust them. I do however want to go on a family adventure.
In Summary:
Celebrate each year that you get. Be proud of your age.
The pandemic made me slow down and smell the roses and appreciate our health and my time with my family.
I appreciate my body.
I look at myself kinder in the mirror. I talk to myself kindly.
Lower expectations of myself and others.
Quality of friendships over quantity. Put effort into relationships.
Decreased reactivity by focusing on my own role in a conflict and not worrying about what other people are doing.
I care more about what I think and less about what others think.
Every birthday, I encourage you to celebrate that you get to have another birthday. Embrace your birthday and your age as the gift of another year. I don't take it for granted. I also encourage you on every birthday to process the year and what accomplishments you have made personally and professionally. I didn't even talk about work. I'll leave that for another time. I think that it's time for me to think about the year ahead and what I want to accomplish. Stay tuned.
Laughing, Learning, Loving,
Rebecca Greene, LCSW-R
Updates:
If you are looking for a supportive community, come join the Whinypaluza Mom Facebook group. I created this as I wanted us to have a place where we can talk about tips, strengths and challenges we are having. It is another step I took to help everyone to know that you are not alone. Come join us! The June "I am enough" challenge was a lot of fun. Come join us and bring a friend with you! Next, I am cooking up my birthday challenge. I love to give away prizes!
https://www.facebook.com/groups/whinypaluzamoms
The Whinypaluza Schedule:
Whinypaluza Wednesdays: My weekly blog comes out every Wednesday. I am always open to your topic requests. A new Vlog (video blog) also comes out every Wednesday night on Facebook and You Tube live at 9:00 PM to discuss the blog. If you would rather listen to a podcast than watch a Vlog, you can wait for the following Wednesday and the Vlog is released on my Podcast.
Family Fridays: Every Friday morning a new Podcast is released. Most of my episodes on Fridays are my discussing parenting and marriage with experts on the topic. If you would rather watch the Podcast instead of listen, you can watch it on Facebook or You Tube. If you would like to be on my Podcast or know someone who would like to please message me on Facebook or Instagram or at whinypaluzamom@gmail.com
I would so greatly appreciate it if you would subscribe, rate my Podcast and leave me a five star review. This leads to it being shown to more people that we can help. I'm launching a giveaway each month to someone who has subscribed and written me a five star review. I would also love for you to share my blogs, vlogs and podcasts with a friend so that we can build our community and help people one mama at a time.
Please feel free to email me with suggestions for topics that you would like for me to cover. I would also love to hear about any lessons or takeaways that you learned from blogs, vlogs or podcasts that Whinypaluza releases. This is all for you (it helps me too), and I hope that you are finding it helpful and seeing that you are never alone. We are in this parenting thing together.