It was the Saturday morning of Lillie's cheerleading competition and I thought I had all my ducks in a row. Her uniform was washed and ready. I got out her black little shorts that go with it, her crop top, her sneakers and even remembered the black socks that they wanted her to wear. I read their post over and over again as the people pleaser that still lives in me wanted to do everything right. "You must wear your hair in a high pony. You must wear the no show black socks. You must…" I played it over and over in my head as my anxiety was rising.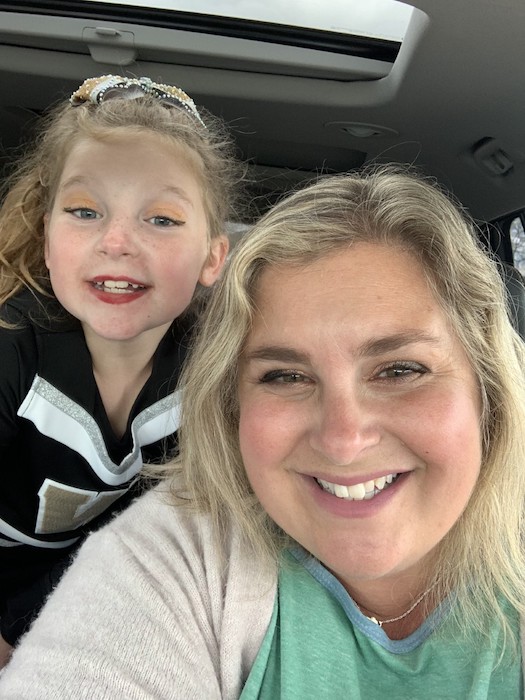 I told Lillie it was time to get ready and took a deep breath hoping that this would go smoothly. Lillie is very controlling (I can't imagine where she gets that from LOL) and is very particular about her hair and make-up. She is all dressed, and I realize that I don't know where her lipstick and hair bow are. "You must wear the eye shadow and lipstick we gave you. You must wear the hair bow in front…" The words kept going off in my head and I wondered what would happen if I showed up without the hairbow? Why isn't her hair bow with her uniform where I always put it? I had the specific gold eyeshadow that they gave us all ready but had no idea where I put the lipstick. The coaches gave us eyeshadow and lipstick that they wanted the girls to wear. I frantically found her lipstick at the bottom of my purse and Lillie found the bow in her bathroom. I had emptied my entire purse contents all over the couch and had found the lipstick way at the bottom. The crisis that I created was over. I did her hair as perfectly as I could, and she loved how I did her make up. I can scream a loud, "Phew," every time Lillie is finished getting ready for something. Getting Ella ready for a show is a breeze. She isn't particular at all. Getting Lillie ready is a whole different ball game. Did you know that eye liner doesn't go over the whole eyelid? I didn't know that. No one caught me up on this latest trend. Lillie wanted wings of eyeliner at the corners of her eyes. Apparently, I have now mastered how she likes her eyeliner. Lillie will keep me up to date on all the hair, make up and clothes trends. Did I mention that she is 9 going on 16? No joke!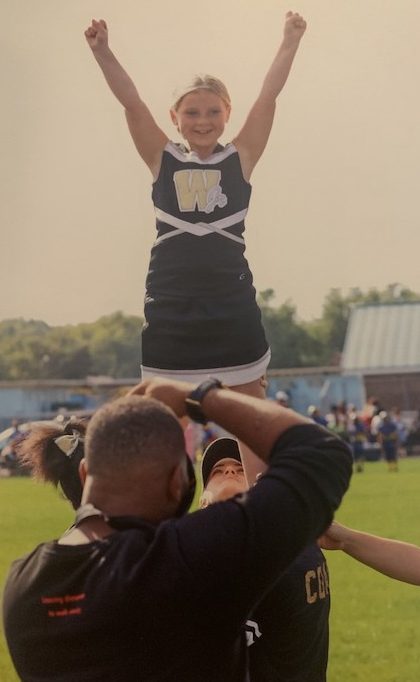 The cheerleading coaches have a lot of new families this year who are new to this world. I referred back to their posts a lot to see how the girls were supposed to wear their hair because it would change. I checked on which uniform pieces they were wearing for each game. I really tried. I found myself anxiously reading their posts and feeling anxiety over wanting to do a good job. I always want to do a good job. I wanted to be prepared and ready and created a lot of self induced stress. I think any time we do something for the first time it is harder. I tell people that the first year of anything is a learning curve. I remember the first year of my counseling job. The first year being a supervisor. The first year of my podcasts. The first year being PTA President. The first year as a Girl Scout leader. The first year is a year to learn and the second year is always easier. I need to remember this and remind myself when I am new to something. I was new to this cheerleading world, and I had a lot to learn. I remember them posting the four finger rule. Did you know that the cheerleader ponytail is supposed to be four fingers from their forehead? I was perplexed at first and now it is normal for me.
I also found myself referring back to times a lot. What time do we have to be there? Noon? We made it there on time. Lillie was all ready wearing the outfit, make up and hair that we were instructed to do. I pulled up to the building and took a huge deep breath that I did it. I arrived to the last day of cheer. I got through this with Lillie. I got her ready for countless games. I helped her get ready for competitions and practices. We got her everywhere she needed to be. She only missed one practice due to a cold and I was super impressed with Lillie, and I was super impressed with myself. It felt like a huge accomplishment to get through this first season of cheer. Never did I see the drive, commitment and determination that I saw in her when she went to cheerleading. When Lillie is committed, she can do anything and so can I. We walked into the building for her last competition and last day of cheerleading and my friend gave me a high five. "We did it," she exclaimed. We certainly did.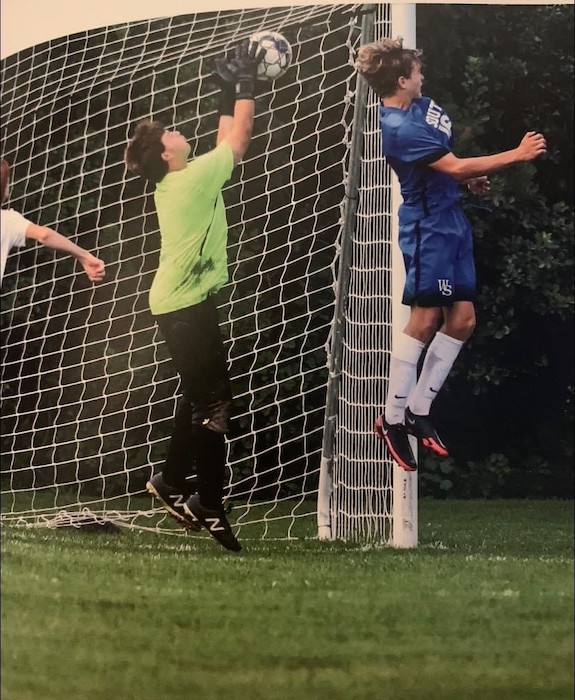 Max was down to one goalie t-shirt that fit him. He has grown so much. All the clothes that Seth ordered for Max were still not here. Everything seems to take forever to arrive. I don't even think my brother got his birthday present yet. His birthday was in September. It's not for lack of trying. I ordered it ten days before his birthday. That's a record for me. Lillie reminded me this morning that I need to order her Chanukah presents. Chanukah starts right after Thanksgiving, and we better start getting ready now if we think anything is going to arrive on time. She is a good little helper. Maybe she can make her list and go online and order it all for me too.
I found myself constantly doing laundry for Max. It got to the point where I came home and found that Seth had done a load of laundry because he just couldn't get himself to ask me to do it. He wanted to do something to help. "How can I help?" he would ask me. Husband's, that is the best question that you can ask your wife.  Seth, thank you for asking that question through soccer and cheer. I couldn't have done it without you.
Max had practice or a game every single day except for Saturdays. Monday through Friday was his school team and Sunday is his travel team. I found my head spinning. Practice times would change. Games would get cancelled. I was thankful for his cell phone at school because he could text me daily updates. I would sit down and talk to myself about the whirlwind days. "You love that he is playing soccer. You love watching him play. This is wonderful. This is good for him. You can do this." Pep talks daily got me through September and October. Soccer felt like this huge whirlwind. My wonderful friends would text me about who was taking the boys where for soccer? It was such a weight lifted having Seth and my friends there to help me through the soccer season. My parents jumped in to help too. Remind yourself every day that parenting takes a village. I had to remind myself every day.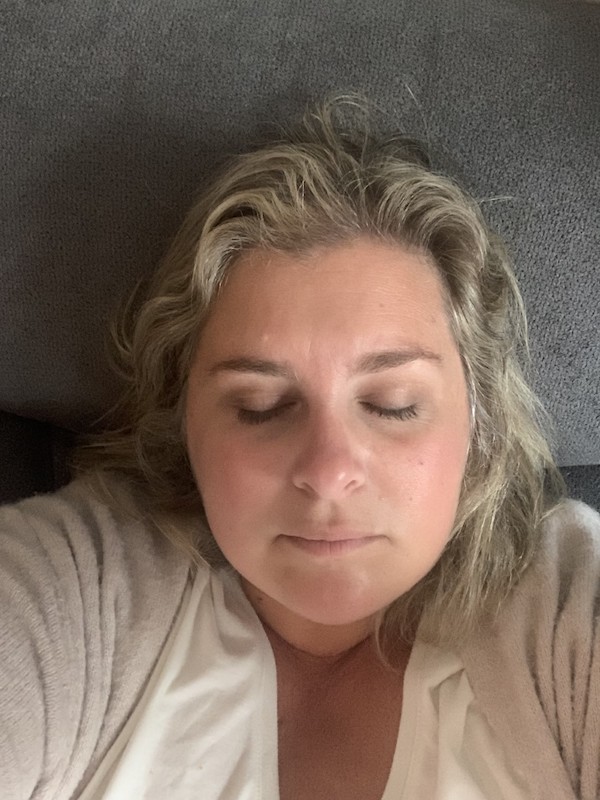 I fell on my pillow at night thinking about my whirlwind days that included cheer, soccer, theater, PTA, Whinypaluza, errands, housework, cooking and more cooking. I asked myself, would you want it any other way? How can you cope with this better? What could you be doing so you don't feel so stressed every day?
I typed most of this up and ran to the dentist. I ran home and literally felt the room was spinning. "Sit down. Put the list down and sit down. Put the phone and the computer away and sit down." I sat down on the couch with some soup and took some deep breaths and watched a show. My body was yelling for a time out. Our bodies speak to us. Mine was getting louder.
My mom tells me that I do this schedule to myself. Lillie tells me that I don't say no to her. That speaks volumes right there. We were driving to school today and she told Ella that she wants to go back to theater now that cheerleading ended. Ella was excited as she popped out of the car to go to school. She told Lillie that she loves having her there with her. I start to drive to Lillie's school as she tells me that she wants me to sign her up for more cheer and for a tumbling class. "Lillie, honey, you can't do everything. We really need to talk because that is way too much stuff." She looked at me frustrated and I felt the anxiety rise. This kid of mine wants to do everything. I love it and I hate it at the same time. I love that she enjoys so many things. It is not possible for me to do all of this. My mom was on to something when she told us we could choose one thing. As organized as I can try to be – As much help as I can try to get to get them everywhere – She can't do every activity she wants at the same time. When I tell her to pick one, she says she can't. She is only 9. I need to step in and take charge and choose for her.
I got to speak to a pro soccer player/soccer coach yesterday for my podcast. He is an amazing man. I learned so much talking to him. Jacques LaDouceur spoke about how if we are too busy with activities for our kids it isn't good for our family or our marriage. I don't want to be two ships passing in the night. I want to see my husband. I want to spend family time together. Food for thought.
I appreciate Max for choosing soccer (he does also really want to play football). I appreciate Ella for choosing theater. I love that Max played for his school soccer team. I don't care how intense it is. I will do laundry for him any time to help him out. I am happy to help him and enable him to play school sports. I will stay organized in my phone. I will actually look at my phone to know what is going on. I will use my supports. I will give myself permission to have help. I will focus on my state and my mindset. I will keep myself calm and realize all the goodness. I will listen to my body and sit down when it tells me to. My body spoke loud and clear today. My 6 am to 11 pm day yesterday caught up with me today.
Be organized.
Use your calendar and lists.
Use your supports.
Keep yourself calm.
Manage your mind.
Don't do it all. We can't do it all. Our kids may want to do cheer, tumbling, girl scouts, and dance but what do we really want to manage? What do we really have time for? What do we value? What do we want our days to look like?
Balance among children – we want all our kids to be involved in something they love. It isn't all about one child.
I am proud of my family. September and October were rocking. We did it. We got through it together. It wasn't easy. The whirlwinds of school soccer and Fall Cheerleading are over. We created some amazing memories. Lillie fell completely in love with cheerleading. I will admit to you that I had a lot of stress and anxiety through it. I did it to myself. Next Fall, I hope that I can go through it a little easier with an even better mindset.
Laughing, Learning, Loving,
Rebecca Greene, LCSW-R
Updates:
If you are looking for a supportive community, come join the Whinypaluza Mom Facebook group.  I created this as I wanted us to have a place where we can talk about tips, strengths and challenges we are having.  It is another step I took to help everyone to know that you are not alone.  The October Challenge was a lot of fun! Come join us and bring a friend with you! I love to give away prizes! I love women uplifting women.
https://www.facebook.com/groups/whinypaluzamoms
The Whinypaluza Schedule:
Whinypaluza Wednesdays: My weekly blog comes out every Wednesday.  I am always open to your topic requests.  A new Vlog (video blog) also comes out every Wednesday night on Facebook and You Tube live at 9:00 PM to discuss the blog.  If you would rather listen to a podcast than watch a Vlog, you can wait for the following Wednesday and the Vlog is released on my Podcast.
Family Fridays: Every Friday morning a new Podcast is released.  Most of my episodes on Fridays are my discussing parenting and marriage with experts on the topic.  If you would rather watch the Podcast instead of listen, you can watch it on Facebook or You Tube.  If you would like to be on my Podcast or know someone who would like to please message me on Facebook or Instagram or at whinypaluzamom@gmail.com
I would so greatly appreciate it if you would subscribe, rate my Podcast and leave me a five star review.  This leads to it being shown to more people that we can help. I would also love for you to share my blogs, vlogs and podcasts with a friend so that we can build our community and help people one mama at a time.  xoxo