I hope that you had a wonderful Mother's Day. I would like to start out by acknowledging all of you that have lost your mother, have lost children, those who are struggling to get pregnant, and anyone else who has reasons to feel distressed on Mother's Day.
It really hit me this Mother's Day how very blessed I was feeling. My whole entire life (from the time I can remember), I dreamed of being a mother. I have this mothering gene that I can't explain to you. Some people have it and it's okay that some people don't. We are all here on this earth for different purposes, and I knew in my heart that one day I would get to be a mom, and that it was part of my purpose here. I was blessed three times. Not only do I have three children who I love and adore, I am also blessed to be a fur mom to two cats and a dog. Fur moms count too!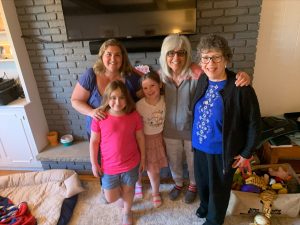 Not only do I get to celebrate being a mom, I also get to celebrate my mom, and Seth's mom, who joined us for dinner on Mother's Day. I don't take anything I have listed for granted. When anyone asks me about my parenting, I explain that I have a really good role model. When anyone asks me about the wonderful husband I chose, I think about the mom who raised him. It was a day to celebrate. I also talked to my grandma's, who I like to believe were with us.
If you are missing your mom, I bet she was with you on Mother's Day. If you have lost a child, my heart goes out to you. If you are struggling to get pregnant, I believe in the power of prayer, and my prayers go out to you. If you are not speaking to your mom, now is as good a time as any to work on the relationship. Life is short and we shouldn't waste time. I want to preface that with – if the relationship with your mother is toxic, abusive, not good for you, I understand completely not wanting to work on that relationship. I say use that as fuel to be an even better mom. If you aren't a mom, use that as fuel to be an even better person. I know that we all aren't given wonderful moms. I completely acknowledge that.
I used to have a lot of unrealistic expectations for Mother's Day, and I really want to share with you. I think we can all learn from my mistakes. The first mistake that I used to make was to expect my day to be wonderful and magical without telling my family what I wanted to do. How crazy is that? How is our family supposed to make us happy if we don't tell them what we want? I learn from every Mother's Day, and every birthday. There are things that will make me happy, and I have to tell them. If you don't know what you want to do, you could always get some input and try to figure it out together.
I thought it would be adorable for my family to make me breakfast. I mentioned this one day and Seth took this to heart. He made me a bloody mary, bought me coffee and donuts, and the kids and Seth made bananas foster, sausage and eggs. All I really wanted for Mother's Day was to sleep in and I got my wish. By 9:00 AM I heard a lot of commotion and was told to come down for breakfast. It was an amazing morning and it made me so happy. They smothered me with love, presents, cards and food. I couldn't have been happier. Especially since I got some very needed sleep. I felt loved and appreciated which is what we all want.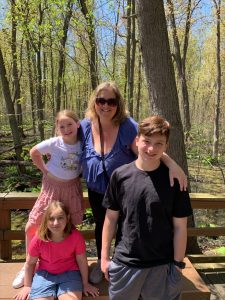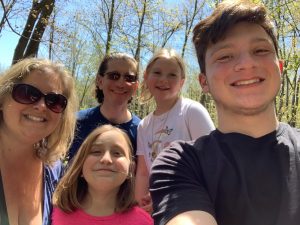 It was a beautiful day and I wanted to be outside with my family and my dog Tanner, so I dragged my kids for a little outdoor walk. My girls were complaining about going and Seth reminded them that it was Mother's Day. They don't have to like the plan! I loved it. I just love to be outside when it's a nice day. It's my happy place. I am typing on my porch right now with the sun shining, and my dog right next to me, and I can't stop smiling. I'm always amazed with how the sun affects my mood.
I told my husband Seth that I don't know the answer for Mother's Day dinner? I want to be with our moms for sure. I don't want to cook. I most definitely do not want my mom to cook. She cooks for us all the time. I don't necessarily want to go to a crazy restaurant. What is the answer? Maybe ordering in? I bought a lot of stuff I didn't have to prepare from the grocery store and Seth grilled a ton of food. Is that the answer? Maybe I will have it catered next year? Did you go out to dinner? How were the restaurants? One year I asked for Red Lobster for Mother's day, and Seth waited for two hours to pick it up and I was so upset. Maybe we need to grill lobster next year? I will figure it out. I'm still learning. Thank you Seth, for grilling for all of us! It was wonderful!
I used to believe that I shouldn't do any work on Mother's Day. This was setting me up to get frustrated every Mother's Day. That expectation is a little nuts, if you ask me. If that is what you desire, tell your family and go for it. I realized this was not working for me. We didn't get to the grocery store Saturday and needed to go. I needed to do some laundry. It's okay. I have changed how I feel about Mother's Day.  I do not need to put my feet up and do no work all day to feel loved. I have a family, and I am happy to feed them, and clean their clothes, among a million other things. I loved that I was spoiled. I loved that I did a lot less work than I normally do. That is enough for me. You have to figure out what you want and make that happen.
I want you to reread the last line that I just wrote. Your family cannot make you happy if you don't tell them what you want. I know that even if you tell them what you want that doesn't mean that it will happen, but that is a step in the right direction. It has helped my marriage a lot to acknowledge that Seth is not a mind reader. Our marriage has improved significantly from me knowing this, and for telling Seth more specifics of what I want. I know that some of you are going to say that you just want your family to make it special and surprise you. I get that. If you are going to leave it up to your family, just know that you might not get what you want. I also realize that sometimes I don't even know what I want.
Every year, every day, I learn more, grow more, and hopefully improve. Here are some of my lessons from this Mother's Day that I think will help all of us:
Figure out what you want Mother's Day to look like. You can't have it if you don't know what you want.
Be specific.
Ask for what you want. Don't be shy or evasive.
I ended up cleaning a ton on Saturday. I looked around my house and was like, "We all need to clean." I love that Seth, Max, and Lillie helped me. I don't love that I realized this on Saturday. If you can afford it, have your house cleaned for you before Mother's Day. I will remember this one next year! A cleaning service is an awesome Mother's Day gift!
I don't want to cook. I cook almost every night. I either need to make reservations or order food next year. Seth was wonderful and did most of the work and cleaned up so I can't complain. I also got a bonus and he grilled so much food that we had leftovers for the next night.
I don't expect to do no work on Mother's Day. This is a game changer for me. It totally shifted me and made me so much happier this Mother's Day. I would like to do less but not nothing. This is a big lesson for me. If you want to do nothing, then I want you to have that.
I want to be with my husband, kids, and mothers, but maybe you don't? Maybe you want the day to yourself. Maybe you want the day without kids. I want you to have what you want but first you need to figure that part out.
It really was a great Mother's Day. The fact that I have three wonderful kids and a wonderful mom is what Mother's Day is all about. Count your blessings and think about what you want Mother's Day to look like next year. I'm already off to the races thinking about Father's Day and my birthday. So much for so many of us to be thankful for. I hope that you had a Happy Mother's Day. Working for mothers everywhere is another blessing of mine that I am so thankful for.
Laughing, Learning, Loving,
Rebecca Greene, LCSW-R
Tune in to Facebook Live at 9:00 PM Wednesday night to hear us discuss the blog with added bonus content.
Announcement:
Please go get the new Whinypaluza app at the Apple app store!
Come find me on TIK TOK @whinypaluzamom
Notes:
If you are looking for a supportive community, come join the Whinypaluza Mom Facebook group. I created this as I wanted us to have a place where we can talk about tips, strengths and challenges we are having. It is another step I took to help everyone to know that you are not alone. The May Mother's Day challenge was a lot of fun! Come join us and bring a friend with you! I love to give away prizes! I love women uplifting women. If you have a business that you would like to advertise, I am more than happy to give away a prize from your business in support of you (I would purchase the prizes from you).
https://www.facebook.com/groups/whinypaluzamoms
The Whinypaluza Schedule:
Whinypaluza Wednesdays: My weekly blog comes out every Wednesday. I am always open to your topic requests. A new Vlog (video blog) also comes out every Wednesday night on Facebook and You Tube live at 9:00 PM to discuss the blog. If you would rather listen to a podcast than watch a Vlog, you can wait for the following Wednesday and the Vlog is released on my Podcast.
Thank you for liking, commenting and sharing the Whinypaluza content. Keep sending my topic requests and guest suggestions! I appreciate all of you! xoxo