As a child, I don't think kids realize what their mothers put into a holiday. The house doesn't magically get cleaned. The food doesn't magically get cooked and baked. I think I remember cleaning a little to help. I remember peeling potatoes. I am a professional potato peeler by now. I just didn't realize a lot of what went into every holiday that my mom hosted. My mom made a lot of things look easy. She still does. Mothers are the magic makers.
I notice people start cooking and cleaning ahead of time. People bake Christmas cookies for weeks. My mom was cooking matzah ball soup and brisket for Rosh Hashanah, so I'm sure she had it all organized when she was going to cook so that it would all be ready.
I had it in my mind to start cleaning all week and I'm sure I did. What mother doesn't clean something every single day? I joke around that I walk around cleaning up cat and dog hair all day, but it isn't a joke. I really do. The house could be cleaned and straightened up every day. In fact, after I clean, sometimes I walk around behind my family fixing what they messed that I had already cleaned once or twice or three times that day. Right now, I'm wondering why I didn't hire a cleaning service for the holiday. Outsourcing work is a beautiful thing. I always say outsource when you can.
Thankfully my youngest daughter Lillie likes to be helpful and clean and organize. She cleaned the bathrooms, did some organizing, and helped me bake. Seth my husband did whatever was needed. He ran to the liquor store. He ran back to Wegmans to get things I forgot. Do I ever remember everything we need the first time I go grocery shopping? He set up tables. He mashed potatoes. Seth and Lillie did a lot to help. Team Greene needs to get my children Max and Ella involved in helping. In the midst of cleaning the house, I may have said that I hate holidays. Holidays to me = work for me. What a great attitude. Do mothers enjoy holidays?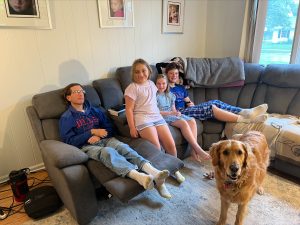 My husband is really good at making a plan. If Seth was in charge of Rosh Hashanah this is how it would look: He would plan out what he was cooking. He would plan out what he would cook each day to build up to the meal. He would know what he wanted cleaned, and he would clean a little every day for a week so that the house was nice and clean for the holiday. It's like in school when he would plan out how many pages he needed to read and/or write each day. In college, I would sit down on a Sunday and pound out twenty written pages for an assignment. We both got good grades with two totally different styles.
I tend to think I can do more in a day than I think I can. Saturday, I thought I would clean the house, run a girl scout meeting, go grocery shopping and start cooking. That may sound reasonable to you. That was a lot for me. Lillie and I cleaned the whole house before girl scouts. When I got home from grocery shopping, Seth looked at me and said, "Let's order dinner." "I love you, I miss you, I appreciate you, and You look beautiful," are some of my favorite things Seth says to me. "Let's order dinner" is right up there too. It shows me how much he loves me every time he helps me with something or tries to take something like dinner off my plate. I want to cook for my family almost every night. The nights he asks what he can order me makes my heart sing. Him standing in the garage ready to take in the groceries also makes my heart sing. Know your partner's love language!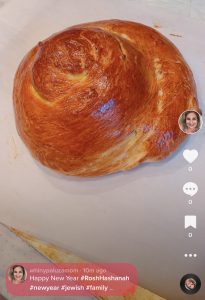 Just like I pounded out the twenty page papers, I also pounded out the holiday. I didn't get to cooking on Saturday like I had planned to in my head. The next morning, I was up and cooking as soon as my eyes opened. I had a big list, and I was on a mission to get it all done by 5:00. By 4:00 my back and feet were throbbing. I should be in my hot tub soaking instead of typing. My children were circling the kitchen hungry for food. "When can I eat these mashed potatoes?" I kept hearing all day from Max and Lillie. I got it all done and everyone started to arrive.
Can I cram it all in and get it all done? Yes, I absolutely can. However, I don't want to exhaust myself. If I would have spaced it out I wouldn't have been exhausted when everyone walked through the door. The goal is to be able to enjoy my company and the food. I think I am learning a lesson here. I don't know about you, but after cooking all day, I didn't even want to eat the food.
I love that all the wonderful guests brought stuff to help. I love that my mom and Seth were in full gear cleaning up. I tried to get my mom to stop but she can't help herself. I don't know how she does it all. If you think my energy level is amazing, then you haven't met my mother. I love that the holidays bring family and friends together. My friend texted me and said, "You can do it. It will be nice to be together as a family." It was the pep talk I needed, and to remember why we do all this work for holidays.
I kept thinking, "Do moms enjoy the holidays?" My friend tells me often that she doesn't like Christmas! It's so much work for mothers and has become so commercialized. My friend just told me she is ordering pizza for Thanksgiving. Good for her. My friend told me last night that buying his kids gifts for 8 nights of Chanukah wasn't a good idea because now that's what they expect. Buying gifts for 8 nights of Chanukah is a lot. I drive myself crazy doing that too. Maybe the bottom line is, "DO LESS."
I hear my friends complain about the holidays all the time. I am one of those moms who complains about the holidays. My daughter is all excited for her birthday next weekend and all I can think of is the list of stuff I have to get done for it. Lillie is like, "Can it be my birthday already?" My response to that is, "No! I'm not ready!" What a crappy attitude I have been having. I don't want it to be this way. I get to throw her a beautiful birthday weekend and isn't that wonderful?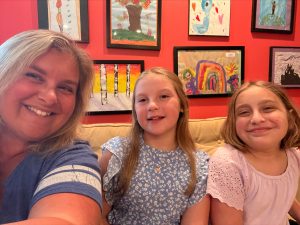 Ella was having a bad attitude last night. I think I needed to just let her feel her feelings. What I did do was try to change her perspective. I started to tell her about her parents, siblings, pets, house, cars, food, theater and good school. I listed all the things that I wanted her to be grateful for. I told her to change her perspective to a place of gratitude. It didn't work at all, but it worked for me. Giving Ella that talk last night made me start thinking about a lot of things. How I was able to bring family and friends together last night to make beautiful memories. I started to think about my last 15 years of parenting and all the beautiful memories the holidays make. All my hard work has paid off and is building monumental memories.
Ella's Bat Mitzvah was a ton of work for me. She said to me just the other day that it was the best day of her life. I'm starting to see a pattern. Hard work is paying off but how can I make it easier for me and for all of you? How can we make events and holidays easier?
As soon as I moved myself to a place of gratitude, I felt so much better. Stay focused on gratitude. I even started to think about how I could afford to buy as many groceries as we needed for the holiday dinner. This doesn't make less work for us, but it makes it a more enjoyable process.
Set boundaries.
Lower standards – think "good enough."
What can I do less of or skip? We didn't need my desserts last night.
Ask yourself, what do I enjoy? My friend doesn't enjoy sending out holiday cards and I love to. It's my way of touching my family and friends and saying, "Hello, I'm thinking of you." Don't do holiday cards if you don't like it. Tell your kids the elf on a shelf is staying in the north pole this year if you hate doing it. Reduce your load! Do more of what you enjoy and less of what you don't enjoy.
Say yes purposely and mindfully and be able to say no. Yes, we can attend that, no, we can't attend that.
Accept help and delegate. Especially from your children. I love seeing and learning from my friends who are delegating masters. I'm a doer not a delegator. Delegating is a wonderful skill that we all need to learn and master.
Remember what's important. My kids won't remember that my challah was perfect. They will remember being together with family and friends. I will remember Lillie hysterically laughing at the kids table during dinner. Ok, they may remember that they love when I make challah.
Do some planning. Next time I will space out cooking more and plan it out.
I've come a long way from the mother who had to go to every pumpkin patch and buy everyone the perfect gifts. I'm learning that two of my favorite new words are "good enough." I think the theme in my life and with most mothers is that we can do less and simplify our lives. My kids don't want a fancy chicken recipe. They want plain chicken. Simple is good and simple is easier. My family doesn't expect me to decorate the whole house for every holiday. Lillie might! I can get Lillie involved in doing the decorating because she loves that stuff. I'm getting better at delegating and I'm getting better at simplifying my life.
I hope I can get moms to enjoy the holidays a little more. Let us think about the memories instead of the work. As I think about the new Jewish year ahead (we just celebrated our Jewish New Year), I think about what I want to work on. Continuing to work on my perspective. Being thankful and grateful puts me in a much better state. Thinking simple, good enough, and less is more! I'm making progress and I'm excited to see my growth this next year ahead!
I don't want to end without thanking my husband for all his help and for making me feel so appreciated!
I hope you can enjoy your holidays!
Laughing, Loving, Learning,
Rebecca Greene, LCSW-R
Whinypaluza Notes:
Whinypaluza Mom Group:
If you are looking for a supportive community, come join the free Whinypaluza Mom Facebook group.  I created this as I wanted us to have a place where we can talk about tips, strengths and challenges we are having.  It is another step I took to help everyone to know that you are not alone. The September challenge was a lot of fun. Come join us and bring a friend with you! I love to give away prizes!
https://www.facebook.com/groups/whinypaluzamoms
The Whinypaluza Schedule:
Whinypaluza Wednesdays: My weekly blog comes out every Wednesday.  I am always open to your topic requests.  A new Vlog (video blog) also comes out every Wednesday night on Facebook and You Tube live at 9:00 PM to discuss the blog.  If you would rather listen to a podcast than watch a Vlog, you can wait for the following Wednesday and the Vlog is released on my Podcast.
Family Fridays: Every Friday morning a new Podcast is released.  Most of my episodes on Fridays are me discussing parenting and marriage with experts on the topic.  If you would rather watch the Podcast instead of listen, you can watch it on You Tube.  If you would like to be on my Podcast or know someone who would like to please message me on Facebook or Instagram or at whinypaluzamom@gmail.com
I would so greatly appreciate it if you would subscribe, rate my Podcast and leave me a five star review.  This leads to it being shown to more people that we can help. I so appreciate when you share my blogs, vlogs and podcasts with a friend so that we can build our community and help people one mama at a time. Every time you like and/or comment on a post it helps Whinypaluza!
Please feel free to email me with suggestions for topics that you would like for me to cover. I would also love to hear about any lessons or takeaways that you learned from blogs, vlogs or podcasts that Whinypaluza releases. This is all for you (it helps me too), and I hope that you are finding it helpful and seeing that you are never alone. We are in this parenting and marriage thing together. xoxo