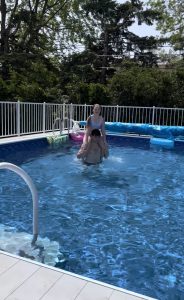 My 10-year-old daughter Lillie told me that I overscheduled her last summer. I signed her up for a bunch of camps last year. She can drive me crazy, and I wanted to keep her busy and entertained for my sanity! I also wanted her to enjoy camps with her friends.
Before I jump into my new summer, I want to preface this with the fact that some parents have to work all day all summer and camp is necessary. I totally respect that. I work at home and can be home to monitor, help, and entertain my kids. Camp Mom Greene is coming to you.
Lillie reminded me a few times not to overschedule her this summer. My daughter Ella is 14 and isn't signed up for anything this summer by her choice. She told me she needs some relaxation time. Ella has worked so hard this year academically and is really looking forward to a mental and emotional break.
My son Max is 16 years old. He signed up for an internship for the summer (he wanted to do this, I had nothing to do with it). Max is signed up for football and Lillie is signed up for cheerleading. It is not going to be a totally free summer although that sounds marvelous. I actually love football season and it makes Fall so much fun. I can't wait to see Max back on the football field.
Back to summer. If you have followed me at all, you saw that my family recently got a pool. You know that you are going to hear a lot about the pool. We spent the weekend in the pool and getting stuff done around the house. My husband absolutely loved that we didn't really run anywhere. He is looking forward to more time at home relaxing in our pool. I told him I will spend a lot more time at home enjoying our very expensive investment, and that I also couldn't promise him that I would never want to go on a summer family adventure. I love summer family adventures!
I think down time is good. I think relaxation is good. I also don't want them to be completely bored this summer either. I don't think boredom is a bad word and I also don't want them to drive me crazy. I told my kids that I would love our days to look like this:
Sleep in
Go to the gym together
Go swimming together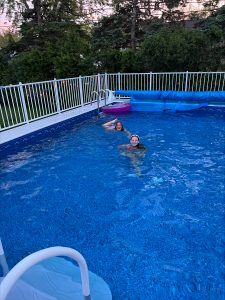 We will see if I get my wish. Let's hope they don't get tired of the pool. Some leisurely lunches out with them. Inviting their friends to the pool. Movie nights in our backyard. I'm already dreaming of summer. I can taste it. So many people are posting last day of school
pics and the Greene family is restless. We are counting down to summer.
This summer is going to be different. I remember my friend telling me that I was crazy running my kids around all summer. They all had camps they really wanted to do, and I was keeping up with who had to be where when. That was summer. My friend told me that she was going to spend her summer in her backyard and wasn't running her kids around. It sounded foreign and unappealing to me. However, I have now arrived right there with her.
My kids don't have a bunch of camps that they want to do. My kids are getting older. My kids want some down time. My kids don't want to be overscheduled.
I'm looking forward to slow mornings
Swimming
Sun
Making meals together
Reading books together
I'm dreaming of a different summer. This summer is going to look different. As they get older, I am cherishing time with them more and more. I want to pause this summer and really enjoy it with them. When my family was all swimming in the pool together this weekend, I was so emotional. It is what I have always dreamed of. I am here to tell you that dreams do come true. Wish it. Put it out to the universe. Make a plan to go after it. I went after my dream, and I am going to enjoy it this summer.
If you are looking for me this summer, please come pull up a float and join me in my pool. This is going to be great.
I hope that you have the ability to design summer how you want it to look for your particular family. Don't worry about what anyone else is doing. Camps or no camps. Pools or no pools. Work or no work. Gardening or no gardening. You do you. I wish you wonderful family time. I hope that you will build many summer memories with your children. I saw a post today that said we have 18 summers with our children, and it took my breath away. My son is 16. I am going to soak up this summer with him and my daughters.
Build the summer that you dream of.
Enjoy your family.
Summer is around the corner!
Laughing, Learning, Loving,
Rebecca Greene, LCSW-R
Check out my link tree:
Whinypaluza Notes:
Whinypaluza Mom Group:
If you are looking for a supportive community, come join the free Whinypaluza Mom Facebook group.  I created this as I wanted us to have a place where we can talk about tips, strengths and challenges we are having.  It is another step I took to help everyone to know that you are not alone. The May Mother's Day challenge was a lot of fun. The June challenge begins tomorrow. Come join us and bring a friend with you! I love to give away prizes. This group is going private so please find me on Facebook at Whinypaluza or Rebecca Greene and message me to ask for an invite. I'm also on Instagram @becgreene5 and @whinypaluza_mom. I am also on Tik tok @whinypaluzamom.
The Whinypaluza Schedule:
Whinypaluza Wednesdays: My weekly blog comes out every Wednesday.  I am always open to your topic requests.  A new Vlog (video blog) also comes out every Wednesday night on Facebook and You Tube live at 8:00 PM Eastern time to discuss the blog.  If you would rather listen to a podcast than watch a Vlog, you can wait for the following Wednesday and the Vlog is released on my Podcast.
Family Fridays: Every Friday morning a new Podcast is released.  Most of my episodes on Fridays are me discussing parenting and marriage with experts on the topic.  If you would rather watch the Podcast instead of listen, you can watch it on You Tube.  If you would like to be on my Podcast or know someone who would like to please message me on Facebook or Instagram or at whinypaluzamom@gmail.com
I would so greatly appreciate it if you would subscribe, rate my Podcast and leave me a five star review.  This leads to it being shown to more people that we can help. I appreciate it when you share my blogs, vlogs and podcasts with a friend so that we can build our community and help people one mama at a time. Every time you like and/or comment on a post it helps and is so appreciated!
Please feel free to email me with suggestions for topics that you would like me to cover. I would also love to hear about any lessons or takeaways that you learned from blogs, vlogs or podcasts that Whinypaluza releases. I hope that you are finding all this helpful and seeing that you are never alone. We are in this parenting and marriage thing together. xoxo