Happy Birthday to me this Sunday June 25th! It is a blessing to celebrate another birthday. I like to think about the previous year and all the wonderful memories. It's fun to go through pictures and smile. I also like to think about everything I accomplished and what I want to do in this next year. Celebrate your birthdays. Celebrate yourself. Every birthday is a privilege and blessing to us.
I went through photos on my phone from this last year. It was so fun to look through everything we did this past year. It also made me realize that I really need to start printing more photos. I also noticed something obvious in the photos. I seem to come alive in the warmer months. I look very different right now. There is a glow to me, and I am so much happier. Vitamin D is my best friend.
I used to go nonstop from the time I woke up until the time I went to bed. This is not good for me physically or mentally. I have learned to take breaks throughout the day. I have learned that I don't have to accomplish something every minute of the day. My friend Kristin has a great way of building in breaks in her day. I love that she is spending time on her patio with a book and some coffee. This is so good for me to hear and see. My worth is not about what I am doing. My worth is about who I am as a person. This is major growth for me in my 40's.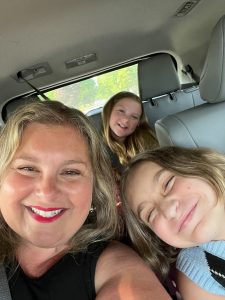 I learned that I need my mom friends. I need to be able to relate to people. My friend Jamie had a graduation ceremony for her daughter the same day as my daughter. She also hosted a party the same day that I had a party for Lillie and her friends. We constantly joke that we are living parallel lives. It is so helpful to me. It continuously makes me learn that I'm not alone. I love to talk to other moms about my kids and what is going on. I need this and find it so helpful and supportive.
Another year accomplished being the Middle School PTSA President and Lillie's Girl Scout Troop leader. I have learned about myself that I love to volunteer and give. I have learned that I really know how to throw an event! I have learned that these events will never be perfect. I have also learned that I will never please everyone and that is okay. I stopped trying to please everyone many years ago and I have been much happier. I have seen how much my daughters love having me around at school and girl scouts. It makes me so happy. I love to see the kids benefit from what is planned for them. I love teaching my children and others to give back. I love the connections that I make in the community through PTSA and Girl Scouts. I have met so many wonderful parents, teachers and staff through all my volunteer work. Embracing another year of this. Full steam ahead in PTSA land and Girl Scouts. I also want to start volunteering at my kids' high school so here I go! Ready to add on another layer.
My husband taught me one of my most valuable lessons this year. I tend to say frequently that, "I'm trying to keep up with my life." Seth frequently responds with, "But you are keeping up and you are doing a great job." I am emotional as I type this. I am keeping up. So, this year going forward, I am done saying that "I am trying to keep up," because the new phrase is, "I am keeping up."
This was the first year that we allowed our son Max to quit soccer and begin football. We wish we would have allowed him to play football sooner. He loved it and we loved watching him love it. We learned that sometimes it is time to let things go even if you are good at it. It was time for Max to try something new. He taught us what a good thing this was. We had a fabulous time attending all his football games. Cheers to another football season ahead. We can't wait to see him back out there.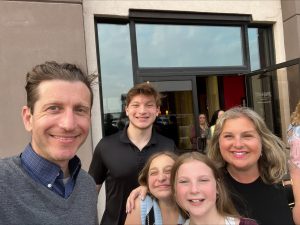 I learned that I love Colleen Hoover books. If you haven't read them go try one of her books. I have read 14 of her books and I am going to start number 15 next. My routine is to read before bed and unwind every night. That is my nighttime routine that works for me. Now that summer is upon us, I will also enjoy reading time outside during the day. Have something that you enjoy doing for you. My friends love to garden. I have a friend who loves to knit and do yoga. Find something for you.
I have learned this year that my children are very helpful and capable. My son just did a ton of gardening with me outside. He laid down 27 bags of dirt and moved huge rocks. Next up we are going to lay rocks. It has become a family project to fix the yard from the pool being built. Max is also cooking for himself. Lillie is super helpful with cleaning. Ella is wonderful to run errands with. If I text her she always responds and is ready to help. They are growing up and I love seeing them become more and more capable every year. Which brings me to….
My son Max is learning to drive. This is so scary and exciting at the same time. I am so excited for him. I remember the freedom this brought to me in my life. It is a huge rite of passage for Max. Seth and I are teaching him to drive and he also started professional driving lessons. As we drove through the parking lot I cringed. I realized that I was putting my own stuff onto Max. I have had bad parking lot experiences. I told Max that my own experiences were making me twitch and that it was not about him. I am trying to put my own stuff aside and use it to fuel me to teach him as much driving safety as I can.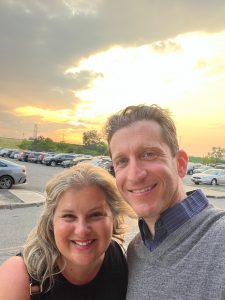 This was a big year for me because I did my first Whinypaluza Summit. A bunch of wonderful parenting and marriage experts came together with me to provide amazing content. It was a two-day online conference and I loved every minute of it. Bringing moms together is absolute mom magic. It was something completely new and with my husband's support I jumped in with two feet. I hesitated and then pushed myself. Hesitate and feel the fear and then do it anyway! It is wonderful to try new things. It is good for our growth and success. We don't want to always play it safe. I am so happy that I did this, and I will definitely do it again. Major professional win here completing my first summit. I am proud of myself. My mom was so proud of me that she showed up with flowers. That made me so happy! I can't wait to see what's next for me.
Professionally my blog, vlog, podcast, new book and Summit were all a success. It feels good for my self-growth. It feels good to help people. It feels good to contribute financially to my family. I have some new professional goals up my sleeve.
Last but not least, my family put in a new pool for this summer. Something that I have been asking for for many years. My husband told me something wonderful on our walk the other day. You see, I bought him a new pool float for Father's Day. He told me we already had floats. I explained that he said he wanted to float for Father's Day, so I wanted to get him a nice float. When he got on the float, he realized that I was right. He said that I am always improving our lives. Seth seems to think everything is great as it is. Painting the family room made it brighter and more modern. We love it. Getting a dog brought so much love into our family. Adding a hot tub and then a pool has been so enjoyable. He sees a pattern of me seeing ways to improve our lives. Seth is good at appreciating what it is that we already have. I appreciate what we have. I also see opportunities to improve our house, for example. To take a family vacation. To add a pet to our family. I am proud of the pool addition. I am also proud of the fact that Seth and I worked it out and came to a pool compromise.
In summary, 46 has been pretty awesome:
Celebrate your birthday!
Reflect on the year!
Take breaks in your day! Your worth is not based on what you do!
I need my mom friends.
I love to volunteer and give. I love to teach my kids to give back!
I am keeping up with my life!
It's good to try new things! It's okay to let your kids quit something and try something new.
I love Colleen Hoover books. I love to take time to read. Take time for yourself in your day.
My children are helpful and capable.
My son Max is learning to drive!
My first Summit was a success.
I published a new book and continued with the blog, vlog and podcast too.
My family got a pool. It's good to add things to improve your family life. Take the vacation! Put in the pool!
It was a great year! Thank you 46! Welcoming 47! Cheers to another year!
Laughing, Learning, Loving,
Rebecca Greene, LCSW-R
Check out my link tree:
Whinypaluza Notes:
Whinypaluza Mom Group:
If you are looking for a supportive community, come join the free Whinypaluza Mom Facebook group.  I created this as I wanted us to have a place where we can talk about tips, strengths and challenges we are having.  It is another step I took to help everyone to know that you are not alone. The June Challenge was a lot of fun. Come join us and bring a friend with you! I love to give away prizes. This group is going private so please find me on Facebook at Whinypaluza or Rebecca Greene and message me to ask for an invite. I'm also on Instagram @becgreene5 and @whinypaluza_mom. I am also on Tik tok @whinypaluzamom.
The Whinypaluza Schedule:
Whinypaluza Wednesdays: My weekly blog comes out every Wednesday.  I am always open to your topic requests.  A new Vlog (video blog) also comes out every Wednesday night on Facebook and You Tube live at 8:00 PM Eastern time to discuss the blog.  If you would rather listen to a podcast than watch a Vlog, you can wait for the following Wednesday and the Vlog is released on my Podcast.
Family Fridays: Every Friday morning a new Podcast is released.  Most of my episodes on Fridays are me discussing parenting and marriage with experts on the topic.  If you would rather watch the Podcast instead of listen, you can watch it on You Tube.  If you would like to be on my Podcast or know someone who would like to please message me on Facebook or Instagram or at whinypaluzamom@gmail.com
I would so greatly appreciate it if you would subscribe, rate my Podcast and leave me a five star review.  This leads to it being shown to more people that we can help. I appreciate it when you share my blogs, vlogs and podcasts with a friend so that we can build our community and help people one mama at a time. Every time you like and/or comment on a post it helps and is so appreciated!
Please feel free to email me with suggestions for topics that you would like me to cover. I would also love to hear about any lessons or takeaways that you learned from blogs, vlogs or podcasts that Whinypaluza releases. I hope that you are finding all this helpful and seeing that you are never alone. We are in this parenting and marriage thing together. xoxo