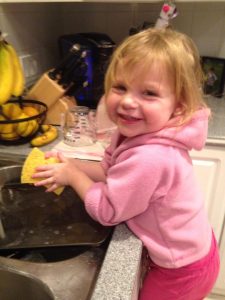 A day with my 2 year old!
I get the big kiddos off to school and hear Lillie crying upstairs! So much for any alone time!
I bring Lillie down and feed her and get her all set up with a cartoon as she slowly wakes up.
I am dying to get myself in the basement to jog on the treadmill
but the 2 year old is screaming she doesn't want to go in the basement.
I know I know, "who is in charge?" My husband asks me this on a daily basis! Clearly Lillie is!
I decide to put on my boot camp dvd and get a very needed workout in.
Lillie is quickly on the floor with me doing push ups, sit ups and jumping jacks!
She loves to workout with me, which is definitely adorable unless she is slapping me in the face as I try to do a sit up!
I drag Lillie upstairs because I can't bare to wait til Seth gets home to take a shower.
Lillie is happily dancing to Bo on the Go on the iPad and I take the fastest shower I can and get us both dressed.
We are heading out the door! We made it to the car!!
I ask Lillie to help me shop at Party City and she is all excited for two minutes!
Next I hear her screaming for Rolly Pollies!
She doesn't care that she doesn't have class today – it is all I hear for the next two hours!
Lillie happily helps me pick out stuff for Max's birthday party at Party City and the Dollar store!
Other then throwing her hat, mittens and scarf on the floor repeatedly, it was pretty successful!
I never take Lillie out for lunch just her and I, so I decide to go to Panera with her!
She loves it there and so do I!
I am starving, this will be quick, and then we can grab the stuff I need next door at Wegmans!
Panera is completely mobbed. There is no where to sit so I get our order to go.
Lillie is screaming that she wants to stay! A table clears and I get us all set up.
Lillie now refuses to eat and is screaming she wants to paint.
I ask her to eat and then we will go home to paint.
She pushes her food away and I eat my salad as fast as I can because I need food!
For the love of G-d Lillie let me eat for 2 minutes!
Lillie continues to scream to paint.
I attempt to calm her and tell her she can paint soon and now she is crying!
Why did I think this would be a sweet lunch with my baby?
I hurry and pack us up because Lillie is going to disturb the whole place!
Coats, gloves, hat, scarf, all set and Lillie is now screaming that she wants to stay and eat her food!
Is she kidding me?
I rush her to the car and into her car seat. She is screaming to paint and I know attempting Wegmans is not in the cards!
I am sweating, exhausted, and can't believe it isn't even 1:00!
I drive home taking deep breaths and see that Lillie is now fast asleep!
So I will sit here in the car with her.
I will write and read and take deep breaths and enjoy an hour of no one yelling at me!
Happy Parenting!