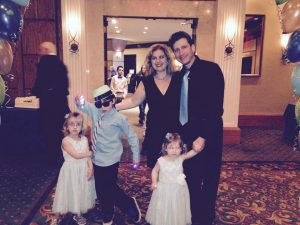 If you remember our Virginia trip home, we had some technical issues! Seth was prepared for this long car trip with new DVD players! Max and Ella better be ready to hear Lillie screaming for the movie Frozen!
I got all caught up on the laundry (don't faint). I was doing everything else except packing. I dread packing. I went back to making lists this time but I do anything to avoid starting! Seth brings the suitcases up from the basement and I am forced to face the task at hand.
I spent a lot of time shopping in preparation for our cousin's Bat Mitzvah! New dresses, new shoes, new ties, new jewelry…coordinating family of five! Call me a cheeseball but I was so excited that we were all going to match! Shades of blue our cousin called us!
I was holding my breath for a smooth ride there and an easy weekend. Traveling with three children always feels like a big adventure! I kept thinking about the three hour temple service we were going to Saturday morning wondering how I was going to get through it with three young children? If I know I can't sit through a three hour service how are my kids going to do that?
It is the day before and I purge and spend the entire day getting ready for the trip! I spent hours and hours packing and realize the girls don't have cardigans (I thought they did) and we need snacks for the car. I also can't find my bathing suit or Ella's floatie for the hotel pool! Off to Target and Wegmans. I think most of the employees at Wegmans and Target know Lillie and I!
It is the morning of our trip and I am packing all the last minute essentials. Seth is trying to set up the car dvd players and tells me it is missing a wire! Nothing like waiting til the morning of to check it out! I spend a of couple weeks buying and preparing and asked Seth to buy and take care of one thing! Yes, I was aggravated but Seth was assuring me he figured it out and it would be fine!
Seth decides to drive the whole way to Fishkill, NY because he knows if he is driving he doesn't have to deal with the kids! He is a very smart man that husband of mine! We get to a toll and Seth hands a credit card for the $14 toll. They don't take credit cards! Who leaves home without cash? Seth and I tend to have zero dollars on us! We search for money all over my car and come up with $7 and the guy lets us go! Phew! The kids took turns the entire trip asking me for snacks, drinks, movies, and complaining! It was long and painful!
You can imagine when we get there that the kids have tons of steam to let off so we don't dare go out for dinner! We took the kids to the pool and let them burn off energy! I had no desire to swim but I knew I needed to buck up and do this for them!
Five people in one room is never easy! I catch myself and put myself in check that I am lucky and fortunate that we can afford to stay in a hotel and take this trip together! Maybe instead of being fried cranky and miserable I can choose to feel happy and fortunate! It is all a choice!
We get some sleep and I spend two hours getting us all nicely dressed and ready for Temple. We head to the service and I hold my breath wondering how the heck this is going to go! My son Max is called up to hold the Torah. He is on the bimah for such a long time. He is behaving and being respectful and my heart is swelling with pride! Our cousin gets up to do all her parts and does an amazing job! I am smiling and happy to be here to witness this! She does her speech and is sweet and meaningful and funny and my two year old says our cousin is funny!
My girls did a great job in Temple! Yes they read books, yes they drew and danced, but they also listened to parts of the service and stayed as quiet as they could! I felt success and I started to release my held breath!
We head to the nice luncheon and make it back to the hotel. Yes we took a couple of wrong turns and yes I swore at Siri but we made it! I was so worn out I actually fell asleep! I never nap. I hate napping! I needed a nap!
We get all dressed again and head to the Bat Mitzvah party. It was time to celebrate! Ella has her fun dancing with daddy and then passed out on the chairs before 8 pm! Party pooper! My mother in law comes and sits with me, looks at Ella asleep on the chair and explains that the party pooper gene is genetic from her! I appreciated the laugh! Lillie fluttered around like a little social butterfly giggling, dancing and talking to everyone! Then there is Max my little stud muffin! Max danced up a storm! The kid has some moves! He had 13 year old girls dancing with him! I think we are in trouble with that kid!
Seth and I are loving our cousin's special day! We truly enjoyed the candle lighting, dancing and just being able to experience this with family. Yes, I was exhausted! I was also creating memories I knew we would all remember!
The next morning we eat breakfast at the hotel and then head to eat brunch with our family! Yes, two breakfasts, and yes, maybe they wouldn't ask for food for a little while! Funny thinking right!
We head for home and the swearing at Siri begins! Siri is telling me to take the 44 North and there is only a west or east option! Siri drives me nuts! She is not quick enough for me! iPhone tends to do updates on Siri and makes her worse in my opinion! I want to throw her through the window but instead I throw her at Seth and tell him to deal with Siri! Seth exits and says lets see how I do if I am nice to Siri! He magically gets us on the correct route! Siri likes Seth better!
Max is screaming his window won't open! We pull over and Seth and I cannot figure out how to open it! How many people will it take to figure out how to open a window? I will let you know!
We stop and get a snack and Seth takes over driving. The requests continue but the complaining doesn't seem to ever end! I turn to Seth and he reads my mind and says "next trip we are flying!"
Happy Family Time!
My lessons:
I need a break from long drives with my children!
Make sure I have everything I need for a trip ahead of time!
Print out directions (Siri annoys me).
Longer trips that don't feel like a whirlwind when possible!