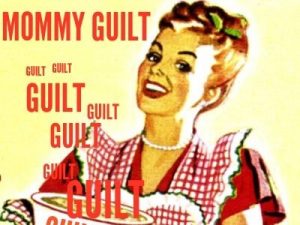 Women's guilt
If I could do one thing for women everywhere I would take away your worry and your guilt. No one understands a woman like another woman. Men I am not trying to discredit you. My husband is amazing! He works a ton of hours to provide for our family and still makes time for our kids. However, I don't see him break a sweat if he misses one of our kids field trips. I don't see him worrying about our kids the way that I do. I am sure there are many men out there worrying and feeling guilt but this blog is about women today!
I am going to tell you about one of my friends. She works a high power job and still makes time for her kids events at school, for PTA and for Girl Scouts! However, I still see her beating herself up for not being room Mom or not being able to stay at a field trip! She took her lunch break to go to the field trip and still gave herself a hard time for not being able to stay long! She is running to a million kid events and staying up late to accomplish everything that needs to get done and she is still too hard on herself!
Let's talk about my friend who works part time. She works, is room mom, and does a million school events! I still see her beating herself up for having to miss a field trip. I see these women juggling it all and doing an amazing job and still being hard on themselves!
My friend works a lot of hours and has a lot of demands on her at work and at home. She shows up to lunch duty and apologizes to me that she can't stay long. I see her head spinning. I see the tons of things she needs to get done at work running through her head. I see her stress. She is making time to come do lunch duty to see her kids. Did she give herself any credit that day? I wonder!
What about my friend who told me she was taking the day off for a field trip day but couldn't take off for kids day? What about the friend who is sweating over having zero personal days left at work? I feel bad! I want to get into their heads and switch their thoughts! This is the social worker in me!
I have a friend I see at school dropping off and picking up her son. I see her hurrying to get to work! I know how late she works. I know she still has work and laundry to do after she puts her kids to bed. I see how stressed she is and I hear her guilt over not being able to take on school volunteer jobs! I want to scream "it is ok" to her. We all do our best! Women have so much to juggle every day! The meals, the laundry, the kids, the house, the job, the pets…..
What about the stay at home mom! Let's talk about me! A lot of you don't know this but I loved my job. I am a social worker through and through. It oozes out of my pours! At kids day at school my engineer friend was designing hurdles for me and we had a great laugh as I told her I would be the one busy worrying about everyone's feelings that day! I was doing family counseling, counseling families whose children had severe behavioral problems. Then I became a supervisor and got the awesome opportunity to supervise and assist an office of wonderful women doing family counseling. Next was going to be project coordinator or consultant. Most of you know me and that I don't stay idle. I was striving to keep moving up to give myself new challenges! I loved it there and yet the day I looked at Max's face it was all over. I couldn't bear to leave my son! I was crying daily to my husband who wanted me to go back to work but said he would work hard to keep me home. Let's talk about the guilt that
I feel. Am I happy staying home with my kids? Do I love doing room mom, pta treasurer, Girl Scout leader, softball coach…..you all know the answer is YES! However, I am not doing my career and I am not helping my husband pay the zillions of bills! Yes, I worry and yes, I feel guilt! I didn't even mention my three year old. I run to a ton of school things for Max and Ella and leave Lillie with our moms or my friend. I feel the guilt. I feel the judgement I give myself. Stop running to school and spend time with Lillie I tell myself! How about if I say something like "good job juggling three kids. Good job doing things with all of your kids!" Our self talk tends to be brutal! I find myself giving myself a Pep talk to go out at night when my kids are sad and want me home with them. I need breaks. It is ok to go out I tell myself! I feel badly when I am at the dining room table doing pta work and I am not spending time with my kids. You are helping your kids school I tell myself! It is ok to be doing this work!
What my point in all of this is, is that women are too hard on themselves and on each other! I would like us all to change our perspectives! Let's look at how fabulous we are. Let's look at all that we do! You may not be able to do everything everywhere but you do enough. You are enough! I think we are all amazing! Let's not judge or criticize one another. Let's cheer each other on and support one another! I say women rock and I am proud of all of us! Rock on with your awesome self! Go tell a woman how awesome she is doing!
Women Rock!