Max is 9
Ella is 7
Lillie is 3
It is Sunday morning and I wake up at 9:00 am! Holy cow! A Mother's Day miracle. I think Seth let me sleep but then realize Seth and Lillie are asleep and Max and Ella are downstairs loudly playing.
Ella hears me coming down the stairs and screams "Happy Mother's Day" and says she wants to make me breakfast! My little tootsie is so sweet. I hate to say no to her! I have been doing a cleanse for 2.5 months. I haven't had any sugar and I told myself that today I could finally have a cheat day. I have been wanting a Paula's donut! For those of you who live near me I know you understand!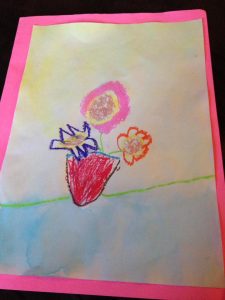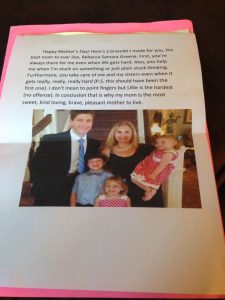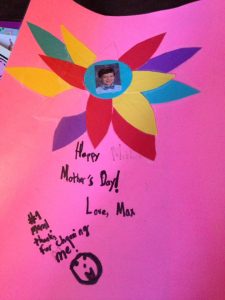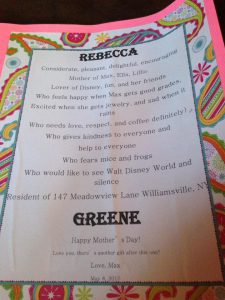 Everyone is up and the kids quickly cover me with their beautiful handmade gifts! My eyes are filling with tears when I see the beautiful things they wrote about me! Max and Ella obviously put a lot of work into their gifts! I am hysterical when I see that Ella thinks I was a waitress. Really Ella?! The social work career doing family counseling wasn't as impressive as the waitressing jobs? The things kids say on their Mother's Day questionnaires cracks me up!
We all get dressed and head to Paula's donuts! The line is all the way to the door! We laugh and wait for a long time! Every other mother had the same idea as me! We all want a good donut! We get our donuts and then head to a playground. Seth thought we could go to Kelkenberg farm but we are all freezing and not dressed right. I forgot jackets, we aren't wearing pants, and it is a lot colder then we thought! If only we were dressed right but that would be too easy!
We get home to grab coats and the kids decide they want to stay home! Isn't it Mother's Day? Does anyone care what the mother wants to do? The mother wants to go do something fun. I quickly see that no one is interested but a few of us are hungry and we are out of everything! We go to Charlie the butcher for some roast beef and Ella can't find anything there she wants to eat! Ella oh Ella! If there isn't pizza, Mac and cheese, grilled cheese, or chicken fingers we are out of luck with Ella!
We head home and I decide to give up on a fun day and head to Wegmans to grocery shop. We are out of everything and I know I need to pack lunches tomorrow! I finish the shopping and we head to my parents to do gifts on the way to dinner. My mom laughs reading my card explaining that my brother sent the same card from Virginia!! I miss my brother and smile feeling our connection! We picked our mom the same card! That is pretty special!
I had a lot of fun shopping for our mothers…books, stuff for her garden, a photo book, and more….
My mother even bought me beautiful gold sandals! She isn't supposed to buy me a present!!
We head to dinner with my parents to meet Seths parents! They give us a high table but I decide to just go with it. I hate to be difficult but I know this is gonna be a pain with Lillie! How many times is Lillie gonna get up and down from the stool? How many times will she drop things?
Everyone arrives and we order food! Lillie is begging me for her pizza and our food is taking forever!!! Again, I don't want to complain so I just sit there and bite my tongue! The food finally comes and I don't like my wings but I don't say anything! Seth hates when I complain about my food. This place is famous for their wood fire wings but note to self that I like a traditional wing! It is good to try new things! At least this is what I am telling myself!
We finish dinner and my dad says he wants to go to pautlers for custard. I see Seth ready to fall over and I decide not to push! It is time to go home! I may not have gotten to do something big and fun today but I was with my family and that is all that matters!
Happy Mothers Day to me!