The last time I went to Disney World my son Max had just turned one years old! We had the best time! Max loved everything and I couldn't wait to take him back! Unfortunately, it took us nine years to get back to Disney World! Somehow, Max is about to turn 10 and time has gone way too quickly!
If you want to take a relaxing vacation I would advise against Disney world! I decided that since I remembered very little that I would take a Disney prep course that I designed for myself! "What did this course entail?" you are probably asking yourself. It started with my friends who had recently been to Disney or who go there frequently. One of my favorite ways to gather information is to ask my friends for advice and tips! I met with my friend Laura three times to help learn about Disney and plan my vacation! She gave me tons of information and I am so beyond thankful to her! I think she should switch careers and be a Disney travel agent!! Laura, I seriously can't thank you enough! I also asked Sarah, Angela, Kristin, Karin, Kimberly, Jennifer….you get the drift!!!!
I bought an awesome book to read about Disney and I bought one for Max and Ella to read too! My kids loved reading and learning about Disney World! Let's not forget the hours on the internet looking over Disney information! You have to get the "my Disney experience" app. It was so helpful! Yes, I decided I was going to learn about Disney and I was going to plan a great trip for my kids! I was on a mission! I tend to speed fast ahead with my missions!
For those of you who know very little about Disney like I did, Disney offers a dining plan! You get to book one sit down meal a day and you also get a snack and a quick service meal (per person for who you buy dining for). I knew my girls would LOVE character meals so I immersed myself in learning about each meal! Ella had her heart set on eating at Cinderella's castle! No pressure! I only heard that was the hardest meal to get and guess what….everyone was right! You can book your dining six months ahead if you stay on a Disney property! Seth and I got up super early the morning that I could book my dining! I was heading to Disney on December 11 and leaving December 15. I was going to start with this meal and look on every day and every meal to see what I could get! That was hard!!!! I got a lunch for December 14! Phew!!!!! This was by far our favorite meal and favorite experience! The castle is gorgeous, the view is so cool, the princesses were all great and the food was so good! I can't recommend this meal enough! I also booked Akershus in Epcot that was a great one too! My girls met princesses and the food was delicious. We went to Hollywood and Vine for lunch in Hollywood studios. This was a buffet. The food was ok but Lillie my four year old bounced the whole meal with glee as Sofia, Jake, Handy Manny and Doc McStuffins came to our table! We went to Tusker House in Animal Kingdom. This was also a buffet and we didn't really like many of the food options for this meal. Seeing Characters was fun though! Finally, I booked Be Our Guest at Magic Kingdom for lunch. Another meal I wanted to try. My friend Laura taught me that you can preorder your food ahead of time. I am so glad we did because they took us in so much quicker then the people who had to place their order! The castle was very cool but I wasn't impressed with the food. I would love to try dinner at all of these places but it was hard to get lunches! I was also traveling with 7 people which makes booking meals harder then with smaller parties! I still want to try Crystal Palace next time and many others!
Do you know about fast passes? If you have gone to Disney you are saying "of course I do!" This is something I had to learn about! You can book three fast passes per person per day for whatever park you are going to. The fast pass line is super fast and the standby line can be super slow (the Disney Frozen ride in Epcot standby line was two hours long). You want to book fast passes! I booked mine on my My Disney app. I read about each ride and asked friends a lot of questions. I have to be super careful cause my daughter Ella hates rides and gets scared very easily. My family is not into big rides and is not into roller coasters. You have to tailor your Disney plan based on what your child(ren) like. After you use your three fast passes you can look on your app on your phone for what other fast passes are available and you can keep booking them all day one by one! I loved this feature! There were also kiosks where you could do this! You also want to make sure you build your fast passes around meals and parades and shows you want to see! I knew I had a 1:00 lunch and a 3:00 parade so we did rides around that!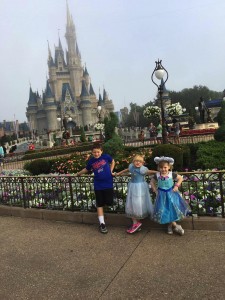 Let's talk about having three very different kids! I don't know about you but I wanted a family vacation. Sure, Seth and Max went to a couple of rides by themselves like the Haunted Mansion. However, as much as possible, I wanted to stay together as a family and experience Disney together! Max is 9, Ella is 7 (and hates rides) and Lillie is 4. There are height differences and different desires I had to take into account each day! I tried my best to make all of my kids happy! I had a talk with them that I wanted this to be a family vacation and that we would take turns doing what everyone wanted to do! I asked them each day to pick one thing they really wanted to do that day! I felt like one thing per child per day was easily attainable and then I added to it from there! If your kids don't know anything about Disney just pick things you think each child will like! Max really wanted to do Soarin at Epcot and the girls really wanted to do the Frozen ride so we split up and accomplished both of these! They are both a tier one fast pass pick so we had to split up for that! You definitely want a fast pass for Soarin and Frozen! We loved Frozen and wanted to go back on again but the wait was two hours without a fast pass! That is so nuts! Ella didn't love it as much as Lillie and I did! Ella was much more interested in the character meals and the shows and would have skipped all of the rides!
Our favorite rides:
I have to do Its a Small World when I go to Disney! So cute!
Peter Pan was awesome!
Winnie the Pooh was so cute!
Pirates of the Caribbean was cool!
Buzz was cute and you have to do Dumbo!
Toy Story at Hollywood studios was a lot of fun!
My friend Kristin gave me such a good tip to put a scarf on my stroller! It helped me so much to find my stroller. First, a ton of people had the same stroller as us! Second, the people who work at Disney kept moving my stroller! Seriously! They kept trying to straighten and make room and kept moving my stroller! In a sea of strollers make yours easy to find! One woman told me she thought two umbrella strollers was easier to bring then a double stroller. Not a bad idea but then Seth and I are pushing a stroller all day and I liked taking turns!
We loved Epcot and only had a few hours there! Next time I want a full day there! Hollywood Studios was so fun and so was Magic Kingdom! I could have skipped Animal Kingdom and will skip it next time! It was just ok! Max really enjoyed it as I knew he would! Next time we want to add Universal Studios, Sea World, a water park and I still want to see Downtown Disney! I have never done that!
More notes for myself for next time: While I can handle a 9 am – 11 pm Magic Kingdom day my children (and husband) cannot! Next time I would go in the morning to Magic Kingdom, go back to the hotel for lunch to swim and rest, and then go back to Magic Kingdom for evening rides and the night time show! If I plan a day this way we get to swim in the hot sun and avoid the busiest time of day at Magic Kingdom. It is much easier to get on rides in the morning and evening then it is in the afternoon!
Max loved a lot of the rides. He doesn't get scared easily but does not like major roller coasters. He definitely could have done Splash Mountain and the Seven Dwarfs mine train. I will book those for him next time to do with Seth and I will go take the girls to go do something else!
Don't forget about yourself! The two things I forgot to pack were for me! I wanted to see the parade and no one else did! Guess what….they stayed and watched the parade with me because as my friend put so well: what mama wants counts too!!!
How to stay sane: I told myself sleep and relaxation was for when I got home! When my children or husband were overheated I found things sitting in AC: perfect example is the Mickey Philharmagic! Adorable show and we needed to sit and chill out in some Ac!
My favorite tips:
Laura: character meals, my Disney experience app, you have to try dole whip (awesome snack), book fast passes one at a time after you use your first three that you should
Pre book!
She gave me so many tips! She also told me you could buy groceries and have them shipped to you at Disney. We didn't do this but maybe next time? Laura also taught me about the Magic express and shuttles! We stayed at Art of Animation on Disney property! It was amazing! A food court, themed rooms, huge pool, shuttles to all the theme parks, a great store…..
When you stay on a Disney property you get to book your fast passes and dining before others! You also get to use the magic express! We took the magic express from the airport to our hotel and then hopped on a shuttle to Epcot! Our luggage was waiting in our room when we got back! When we were leaving the hotel for the airport, the hotel took our luggage to the airport for us and we took the magic express to the airport and our luggage met us at home! Amazing!! The books were an awesome tip too! Laura was my travel agent!!!!
Kristin: scarf for your stroller to find it!! I know she gave me many tips but so thankful for this tip!
Sarah: pay attention to where you book your fast passes so u can get to all the rides in time! Clothes for all types of weather/ you really don't know how the weather will be. Cold? Hot? Raining? I brought rain ponchos too! We didn't need any cold weather or rain gear but I never would have known that!
Sarah also told me about some great websites that she uses!!!
Seth: my husband said to forget fashion and wear sneakers! Tons of walking! He was right! Yes, Seth, I did just say that 😉
Al: my father in law said to bring bathing suits! I almost forgot this and you never know how the weather will be! It was so hot and I am so glad I brought them!
Angela: for Jedi Training at Hollywood studios you have to get to the park early to wait in line to get on the list. I got there at 8:30 and they let us get in line at 8:45. The line was huge and FYI I also read your child who is doing the Jedi training has to be with you when you sign them up! Ages 4-12 and child has to be able
To follow directions!
I didn't sign my girls up because I knew Darth Vader and Kylo Ren would scare them!
Angela was also so helpful in knowing my kids and what rides they would like!
Jen: bring with special Disney surprises to have appear on their beds each day. Great tip! It is fun for the kids and you save money this way! I didn't ever get to this! I let each child buy one present while at Disney! I may have bought them a few more things! I also bought myself a couple of things!
Jennifer: have each child pick one thing they really want to do for the trip! I decided to do one per day!
My main goals for the trip:
Ella: to eat at Cinderella castle! I also knew Ella would want to see shows so I made sure to do that for her!
Max: to do Soarin and Jedi training! He was a little too old for the Jedi experience but I am glad he got to try it! I wish I had taken him a couple of years ago! I knew Max would want different things then the girls so I made sure to check in with him each day on what he really wanted to do! The poor kid met so many princesses! Such a good big brother! Major points to Max!!
Lillie: she just wanted to meet all of the characters and I knew she would be the easiest kid! She loved all of the rides and all of the characters! She was so happy! I am still glowing from watching Lillie giggle and smile so much!
I have such good friends! Laura, Sarah, Angela and Kristin have gone to Disney a lot and could answer all of my questions and boy did I have a lot of questions! Thank you friends for being so patient with me and for teaching me so much! Huge ginormous thank you to my father in law for taking us on this magical adventure! Huge thank you to my husband for humoring me and keeping up with my Disney madness! It was a lot of work to plan but was so worth it! Next blog is about the fun! I wanted to write down tips for myself to remember and for my friends who are currently planning their first trips to Disney! You are going to have a magical time! I love love loved it so much!!!