I couldn't have been more excited to finally take our kids to Disney World. I just wanted to go have fun with my kids and then Seth said "and take notes of marketing lessons that you can present!" What? He wants me to "work" and he wants me to present! I used to present all the time. I used to run meetings. I used to do trainings. Seth was adamant so here goes…..It was actually easier than I thought to find lessons to teach people for their business!
The first question I asked my children when planning for this presentation was "How did you know you wanted to go to Disney world?" They talked about Disney all the time and asked us frequently when we could go. Both Max and Ella agreed that they wanted to go to Disney World because their friends talked about it. Disney sounded so awesome to them and they couldn't wait to go. They also watched a ton of you tube videos on Disney. What are the lessons here for your business: 1) you want people talking about you in a positive regard and you want people referring their friends to you. The biggest tool in marketing (from this mama's perspective) is word of mouth. If my friends say someone or somewhere is amazing that is all I need to know. How are you getting people to refer to you? Are you encouraging your clients to refer to you and giving them an incentive to do so? 2) How are you utilizing you tube for your business? My kids and I are on you tube a lot and your business needs to be on you tube if it isn't already!
How can you make your clients lives easier? I was so impressed with Disney world and the ways they made my trip easier for me. I went to the airport and checked in my luggage and later that night my luggage appeared in my room at Disney World. The luggage piece was amazing in itself and made my life with three children so much easier. When I got to the Orlando airport, the magic express was there to take me right to my hotel. When we got to our hotel we jumped on a shuttle to go straight to epcot. The transportation services were so awesome! I loved that I didn't have to worry about my luggage or transportation.
The other way Disney made my life easier is through their app my Disney experience. I had booked our fast passes 60 days ahead of time. However, after you use your three fast passes you can add one at a time depending on what is available. There were kiosks where you could add fast passes but I had the my Disney app and could add fast passes on my app all day. As we were standing in line for one ride I was on my phone booking our next ride. How can you use a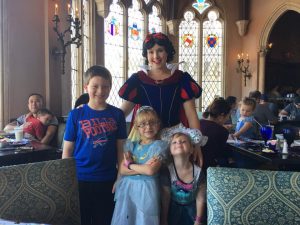 n app to make your clients lives easier? Everyone is on their phone all the time! Use this phone fact to your advantage!
My girls were all about meeting the characters at the character meals. My son was such a good sport about this. He really let his sisters have fun. At our first restaurant, we saw Snow White, Aurora, Ariel, Cinderella and more walking around. I quickly realized that the princesses had a system of moving around the restaurant so that they made sure they went to every table. I could just sit and relax and enjoy my meal and I didn't have to worry about my girls meeting every princess. How are you making sure that all of your clients are getting the services they need? How are you making it fair and making it so that they don't have to worry about you covering everything you need to cover for them? What is your system?
I have heard so many people tell me that Epcot is for adults. A lot of people told me not to bother taking my children to Epcot. However, Disney is brilliant and they moved Elsa and Anna to Epcot. My girls also kept asking me to take them to the new Frozen ride that was in Epcot. I am super impressed with Disney making an "adult" location more child friendly. Max loved the ride Soarin and Ella and Lillie loved the Frozen ride. We didn't get to spend a lot of time there so next time I want a whole day in Epcot. How can you make something that isn't so desirable more desirable to your clients?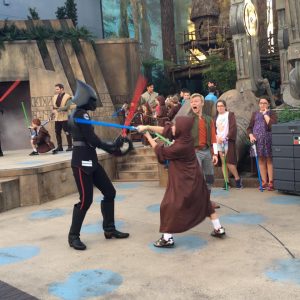 Our friends explained to us that we want to get to Hollywood Studios before it opens so that we could get in line to sign Max up for Jedi training. Max got to be on stage and be a Jedi in a show. It was very cute. Not only do they let kids be a Jedi, they are also building a Star Wars section at Hollywood Studios to monopolize on the current Star Wars craze. Disney is so smart! Focus on what is popular and bring it to your theme parks. How can you bring what is popular into your business? How did you use Frozen, Star Wars, etc to appeal to your clients? I saw an awesome car commercial that was utilizing the star wars craze to their benefit!
I have already briefly mentioned the character meals. My girls were so excited to meet all the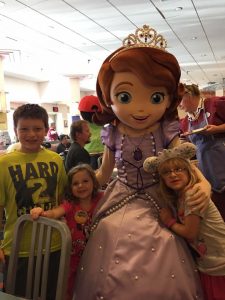 princesses. My four year old Lillie went nuts when Princess Sophia and Doc McStuffins came up to her. When I saw their excitement it made me think about how Seth and the rest of you could use this to your benefit? We were more interested in the characters then we were with the food. What about having meals with your clients? Who can you bring to these meals for your clients to meet? Do they want to meet you and your staff? Are there local celebrities that you could book to come to your meal? What about having a princess meal for your clients little girls and hiring Elsa and Anna to come?
Do you know what your clients are interested in? Do they like to read? What do they like to read? You could send them a free book to let them know you are thinking of them? Do they love Disney World? Do they know that you just went to Disney World? If you know what your clients interests are then 1) they feel more engaged with you and feel like you care about them. 2) you know what to talk to them about. 3) You can use their interests in their business. For example, if you do social media for them you can use their interests in their marketing.
The Indiana Jones Show at Hollywood Studios was even better then I remembered it last time. This time there were narrators that helped to take us behind the scenes of the stunts. What happens at your office? How can you show your clients what is happening behind the scenes? I know that if I saw how hard you were working for me as your client and what you were doing for me, then I would be happier with the services you provide for me.
The special effects at Disney World were awesome. My girls loved that it rained on stage during the Little Mermaid. They loved that bubbles were everywhere in the theater during Finding Nemo. They were ecstatic when it snowed in the theater during the Frozen Singalong! It made me start thinking about how you can use special effects in your business. Do you have special effects in your office? I know my brother has a very cool waterfall in his office that I stare at. What about special effects in the videos, websites, marketing you do for your clients?
My son loved being a Wilderness Explorer in Animal Kingdom. He ran through the park trying to find the places where you can earn a sticker/badge for his book. At different locations in Animal Kingdom there were staff members present to teach the kids something so that they could earn a badge. Max was so engaged in not only this process but also in finding the hidden mickeys all over the parks. This made me think of two things for business purposes. First, how can your clients all earn something? What can you engage them in so that they earn a grand prize? Also, what about team building and client engagement. Could you get your clients all working towards earning badges to engage more with your services? What about getting your staff together to go do a scavenger hunt for a team-building exercise? Max loved hunting for hidden mickeys.
Make sure you are giving your clients what they want! I booked us a meal at Tusker House in Animal Kingdom. My kids loved meeting all the characters but the food was African themed. Nobody was thrilled with the food at Tusker House. We still had a good time but it made me think that we have to make sure we are giving people what they really want!
Make sure your clients and staff have all of the information that they need. I am so unimpressed with our travel agent. I asked her questions but she didn't really offer me much information. When we got to Disney World and tried to use our magic band for a meal they asked us for our Pin. What on earth is a pin and how do I get one? When I tried to get my girls a pretzel the next day at Hollywood Studios the woman asked me for my pin! I told her I thought we straightened this out last night! She sent me to guest services and they quickly resolved this issue. The pin was definitely information that our travel agent should have given us. Hopefully you have a checklist of everything to go over with your clients to make sure they know everything that they need to know!
The customer service at Disney world was magical! I couldn't have been more impressed with them. You want your clients to say this about you! I wanted my girls to have a pretzel! I was frustrated that my pin still wasn't working to use my magic band and get them a pretzel. The woman saw that my girls were hungry. She saw that I was frustrated. She handed me the pretzel and told me it was on mickey. That was so sweet of her and I will remember that. My father in law and I thought something was wrong in our dining plan points. We went back to our hotel to check before we went to the Cinderella Castle for lunch the next day. The guy at the desk explained to us that we thought we had a five day dining plan but we only had a four day dining plan. He explained to us that you can only have dining when you are staying in a hotel that night. He was so sweet and he told us that the Cinderella meal tomorrow was taken care of. He gave us enough points to eat at the castle with no hesitation. I was so amazed by this. I would go back and stay at the Art of Animation again because they are so good to their customers! My friend asked me to grab her mickey hair extensions when I was at Disney. I checked every single store and was so frustrated that I couldn't find them. The last store I checked had the hair extensions. I was so excited! The woman cashing me out saw how excited I was that I finally found these extensions for my friend. She says to me "the hair extensions for your friend are on mickey and take one for your daughters too!" Can you believe this? Have your clients rave about you the way I am raving about Disney World!
The first night we were in Disney World we were all tired. We had flown to Disney, gotten on the magic express to our hotel, and then got on a shuttle to Epcot. I didn't expect all of us to last long at Epcot. My girls were dying to go on the Frozen ride and I couldn't get a fast pass til 9 pm. I saw my girls fading and I tried to get in line twice for the fast pass and got turned away. I told the lady my girls were exhausted and she told me to go ahead and get in the fast pass line. The stand by line was two hours long so there was no way I was getting in that line. I later learned that you can't use your fast pass until five minutes before your assigned time. I was so touched that she let us get in before our five minute early window. You want to say yes to your clients as much as possible. Saying yes to people leaves them with good feelings about you! Say yes as often as you can!
The decorations at Disney World were gorgeous! They beautified Disney World and made it so welcoming to be there. I was happy to be there just to get to look around and see everything. How can you dress up your home or your office to make it more inviting to people? Disney World knows what they are doing!
There are so many business lessons to learn from Disney World. These were just a few things that I noticed while I was there. I hope that you can learn something for your business from my presentation. It was my pleasure to be a guest for Seth. My crazy kids running around made it a little more stressful but the challenge from Seth to do this presentation was accepted and met!