I need to decompress from our latest trip. I hope you will take this interesting journey with me. As I've learned many times, writing it down is going to get it out of my system, and hopefully help you along the way.
It has been well over a year since we have traveled at all. Our pets have been with us every day for a very long time. I started on my path to figure out what would be best for my fur babies. I have two cats and one dog. The cats always stay home, and I have someone come in to take care of them when we travel. I was leaving Tanner at my friend's daycare before Covid. Tanner is so out of practice. I can't tell you the last time he went to daycare and that's my fault. I really need to commit to taking him frequently so that he's used to it.
The question is – Does Tanner like staying home and someone staying with him, or does he like going to daycare better? I'm going to guess he's more comfortable at home, but being at daycare is probably fun. I hired a wonderful lady to stay at our house with our pets and it went smoothly. Check that off the stress list. As you can tell I can overthink things.
Let us move on to my brother calling and telling me that him and his family are coming to town the weekend we are going away. Not good. My mom suggested leaving the girls with her and having Seth, Max and I venture to his soccer tournament, but we had all been excited to take this family adventure together. Boy was it an adventure. I'm so thankful I didn't leave the girls with my parent's, and you are going to see why.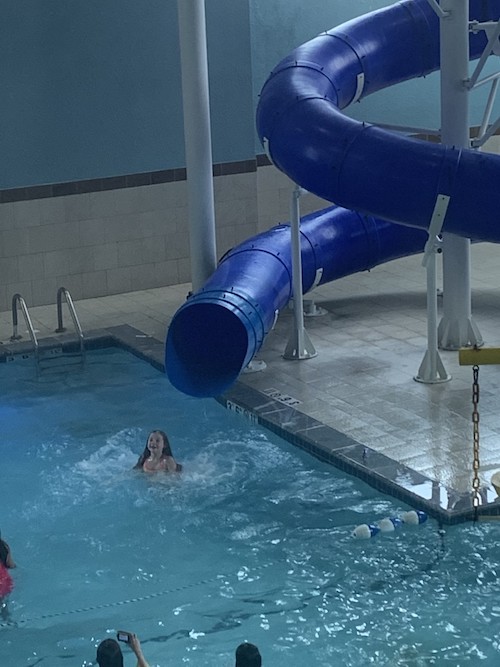 The girls were so excited to stay in a hotel. We found a hotel with a fabulous pool, hot tub slide and water features, to make the trip more fun for the girls. We knew the soccer games might bore them. We also knew staying in a hotel, swimming in a cool pool, and being together was going to be a different luxury after a very long time of no trips and no hotels.
I meet with the pet sitter to go over everything. I pack everything for hours and hours for a long weekend. Why do we need so much stuff for a few days? Yes, the kids and Seth all helped me pack up. I didn't do it alone. We spend some time with my brother and his family at my parent's house, and then we venture off to our fun weekend away. I may have cried kissing Tanner and my kitties goodbye.
I had totally forgotten how crappy we all sleep at a hotel. Seth got us two hotel rooms next to each other. He was scarred from our last trip of him ending up on an uncomfortable air mattress. Max and Seth took one room, and the girls and I were next door. Despite the four double beds and couches, none of us slept well the first night. I slept with Lillie, and she moved the entire night. I had noticed Ella was a little stuffy. She woke up at 3 am puked and went back to bed. I honestly didn't think anything of it. Ella randomly pukes every so often. It's crazy. If she's overwhelmed and exhausted, she has been known to just puke. I thought this was stuffy mucous puke and went back to sleep. Lillie wakes us all up at 7 after going to bed way too late. Ella pukes at 7:30 AM and tells me it's just congestion. Again, I don't think anything of it. She's stuffed up and a random puker.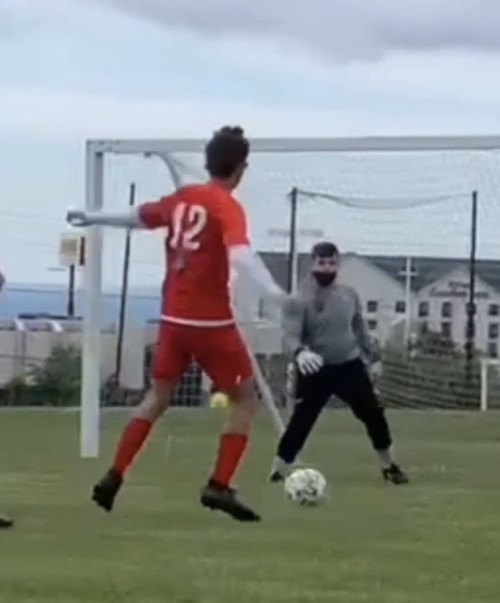 We all drive to Max's first tournament game and Ella pukes as we arrive at the game. Thank you to Ella for puking in the car and not on the field. That wouldn't have been good! Seth, Max and Lillie head to the field and Ella and I watch from the car. I'm here! I came to support my son and to have a fun weekend! I'm in the car but I'm here! Oh my! "Hold it together," I tell myself.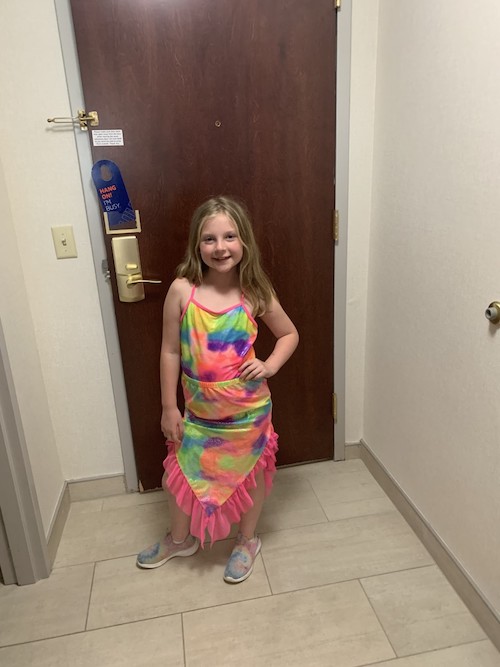 We watch the game and all head back to the hotel. Ella continues to feel sick the rest of the day. Seth and Max go to the next game and Lillie is left with me in the hotel room to drive me absolutely crazy! I remembered everything except playing cards and board games. I won't go on another trip without a deck of cards. My friend tells me to ask the front desk, but they are all sold out.
Second soccer game ends and I want to tell you how thankful I am for uber eats, door dash and grub hub. They helped us through this crazy weekend! We are all exhausted and sleep well through the night. We wake up the next day and Ella seems fine. Seth and Max head to game one and we watch the game from the hotel room. I'm here! I came to support my son! I can't even go to the field. Here I sit in the hotel room watching my son's game. I actually laugh out loud. If we don't laugh, we will cry. A huge giant thank you to my husband for livestreaming all the games. The grandparents and I were able to watch all of them and not be at the field. A big thank you to Gramps and Patty for making the drive to come to a game and a big thank you to all the grandparents for always watching and supporting Max and his team!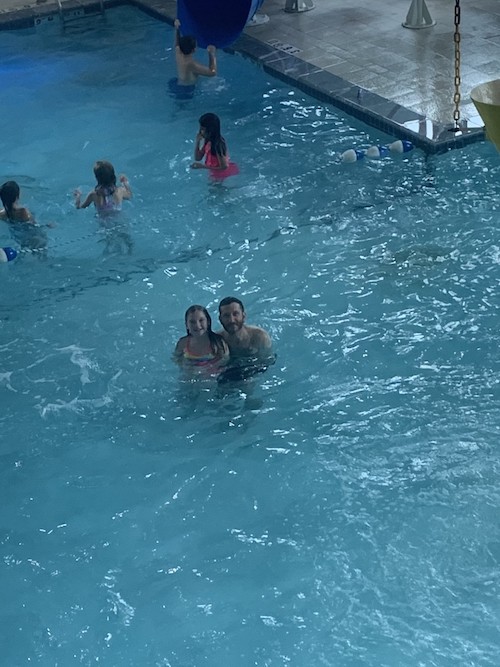 Max comes back from his game so excited to tell me that the fabulous hotel pool is completely and totally empty. Watching Max and Lillie get in the pool and swim and go down the water slide together was my favorite part of the trip. I even got in with them for a little while. Some moments of family fun. Finding moments.
Seth and Max head to the next game and I want to cry because Ella is telling me no to going to the game. She's been fine all day. Could I have pushed her to go? Absolutely. Did I see that she wanted to rest in the hotel room? Absolutely. There are moments in parenting where I tell my kids to screw off and do what I want. This was not one of those times. I decided to let her rest and I did actually cry. Four away games that I drove to and I didn't get to sit at the field for one of them. You are probably asking yourself why I didn't go to one and have Seth stay at the hotel room with Ella? First, I know how much Seth wants to go (more than I do). Secondly, he was live streaming it for everyone and is an excellent videographer. During the first very cold game Lillie said Seth had parents come up to him and ask how to go in their car and watch the game on his livestream. The weather is so unpredictable. You have to pack for cold, warm and rainy weather right now in May.
Second game of the second day ends, and they lost. They won two games and they lost two games which means we didn't have to stay for the championship game tomorrow. We probably shouldn't have booked and paid our pet sitter and hotel for Sunday night, but we did. Money completely wasted. Ella is asking us to go home. I don't blame her. She wants her own bed. We decide to head home late that night and Ella starts puking. I thought she was done. I thought it was over. What is going on? Seth and I have everything packed and we decided to leave anyway. It was an eventful car trip home.
I can't begin to tell you how happy I was to pull in my driveway. My fun getaway was not so fun. I am mentally and physically exhausted. Ella is sick through the night and the next morning. She just doesn't feel well. I can't even get her to move to go get a Covid test. I could have dragged her, but she looked so exhausted. I also never thought she had Covid. Lillie had the same bug and it was going around both of their schools.
She sleeps through the next night and wakes up at 6. I'm so happy she is up and looking better but I explain to her that we have to go get a Covid test to make sure Lillie can go to school. She also needs one to be able to get back to school anyway. Any symptom and you have to go get a Covid test. Again, I "knew" she didn't have it but we all know she needs a test anyway.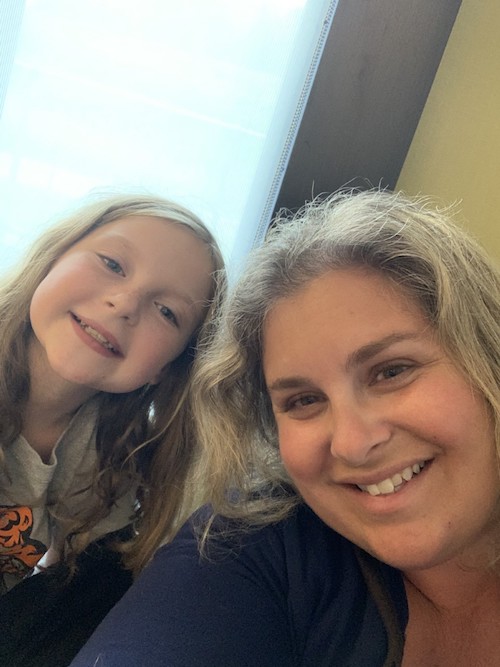 I'm a little stuffy and my mom diagnoses me with allergies. I think she is 100% correct but I get a Covid test too to be cautious. Ella and I test negative, and Lillie can go to school. Check that off the to do list. Ella begins eating and acting like her peppy self. When this kid gets hit with a stomach bug she gets hit hard. I was greatly missing hybrid right now. Half the kids in the school = no illness all year. They go back to full time school with all the kids, and Lillie starts out May with the stomach bug, and Ella finishes May with a stomach bug. Welcome back to full time school. Ella's school nurse says the stomach bug comes every May. Big thumbs down to that information.
So here I sit on Tuesday afternoon decompressing from quite the eventful weekend. Let's hope that this bug is over. I'm completely and totally exhausted. It's so hard to watch your child go through something like this. I'm so sad that our fun weekend wasn't so fun. There were some definite awesome moments. Seeing Max make some amazing saves is always awesome. Seeing Seth swim with Lillie and have so much fun with her on Saturday was precious. Seeing Max swim with Lillie on Sunday and throw her around and do the waterslide with her was another awesome moment. As I sat in hotel jail, I thought about how much work I do at home. There were no dishes to clean. There was no laundry to do. There were no meals to make. There were no errands to get done. I could just sit and be present with my child who didn't feel well. It was some needed "down time" (when Ella wasn't puking) even though I couldn't be at the field with Max.
Ella is my picky eater. Max and Lillie eat a lot of fruits and vegetables. Their immune systems seem to be stronger. I need to have a heart to heart with my daughter. Her carbohydrate intensive diet is not good for her. She is 12 years old. She sees how sick she gets. She needs to prioritize her health and take better care of herself. Her body needs more fruits and veggies. I also need to be a better sneaky chef mom.
What lessons did I learn on this crazy ride?
Roll with the punches. Go with the flow. Be flexible.
Stuff happens that you have no control of.
With kids there tends to always be something.
Keep your baby monitor. We use it when our kids are sick.
There will be more soccer games.
I got to be present with my ill child.
I got a lot of hotel down time.
Pack games! You never know on a trip when you will need them. At least a deck of cards.
Seeing a soccer game livestream is better than not seeing it all.
Just be thankful that Ella is feeling better.
Treasure the happy memories.
Find the happy memories.
Sometimes things don't work out how you expect them to.
Learn to laugh at situations. I also had a good cry. It's okay to cry. Get it out!
Use your supports. I will always say this one. Seth was my rock as always. I took care of Ella, and he did almost everything else. I also vented to my mom and my friends.
There will be another trip.
Thank you for taking a crazy Greene family adventure with me. It was absolutely not what I expected to be telling you. Treasure every moment and find the happy moments in your days! Lillie began May with the stomach bug and Ella ended May with the stomach bug. June is here and going to be great. I can taste it. It's my birthday month and I'm ready for summer! Happy June everyone!
Laughing, Learning, Loving,
Rebecca Greene, LCSW-R
Updates:
If you are looking for a supportive community, come join the Whinypaluza Mom Facebook group. I created this as I wanted us to have a place where we can talk about tips, strengths and challenges we are having. It is another step I took to help everyone to know that you are not alone. Come join us! I'm excited that the June challenge is under way! Come join us and bring a friend with you!
https://www.facebook.com/groups/whinypaluzamoms
The Whinypaluza Schedule:
Whinypaluza Wednesdays: My weekly blog comes out every Wednesday. I am always open to your topic requests. A new Vlog (video blog) also comes out every Wednesday night on Facebook and You Tube live at 9:00 PM to discuss the blog. If you would rather listen to a podcast than watch a Vlog, you can wait for the following Wednesday and the Vlog is released on my Podcast.
Family Fridays: Every Friday morning a new Podcast is released. Most of my episodes on Fridays are my discussing parenting and marriage with experts on the topic. If you would rather watch the Podcast instead of listen, you can watch it on Facebook or You Tube. If you would like to be on my Podcast or know someone who would like to please contact me at whinypaluzamom@gmail.com
I would so greatly appreciate it if you would subscribe, rate my Podcast and leave me a five star review. This leads to it being shown to more people that we can help. I'm launching a giveaway each month to someone who has subscribed and written me a five star review. I would also love for you to share my blogs, vlogs and podcasts with a friend so that we can build our community and help people one mama at a time.
Please feel free to email me with suggestions for topics that you would like for me to cover. I would also love to hear about any lessons or takeaways that you learned from blogs, vlogs or podcasts that Whinypaluza releases. This is all for you and I hope that you are finding it helpful and seeing that you are never alone.