Here I sit smiling as I think about the wonderful vacation that my family and I just went on. I'm telling myself not to be sad that it's over but to be happy that we created those wonderful memories together. My husband enjoyed it so much that he is already wanting to book another vacation. I remember my mom telling me that the best way to get over the sadness of something being over is to plan something else. She is a smart lady!
I want to tell you about our amazing vacation and all the lessons that I learned along the way too. Let's start at the beginning with planning a vacation. We need to know our strengths and our weaknesses. I know I'm not the best travel agent. My husband, who traveled a lot for work before COVID is a master flyer and booked our plane flights. He has also learned what kind of resort our family likes to stay at. As much as I love the Disney resorts, they aren't the biggest rooms. Seth gets us a condo like resort when we go away with a lot of beds and two bathrooms. I know I'm going to sound ridiculous right now but I'm not sure how the five of us would do with one bathroom? We have also gotten two hotel rooms when we went away and I didn't like that at all. Especially since there wasn't a door adjoining the rooms.
Lesson 1: Know your strengths and weaknesses. Use your strengths and develop your weaknesses. I think it's wonderful that I used my amazing husband support to book planes and our resort. I also think I could develop my travel agent muscle by working on planning these things. Maybe next time I will check out plane flights and resorts and give Seth a break.
Lesson 2: My children each like their own bed and we really like to have two bathrooms when we travel. We look for this option when we book our room. This may mean not staying somewhere like a Disney resort.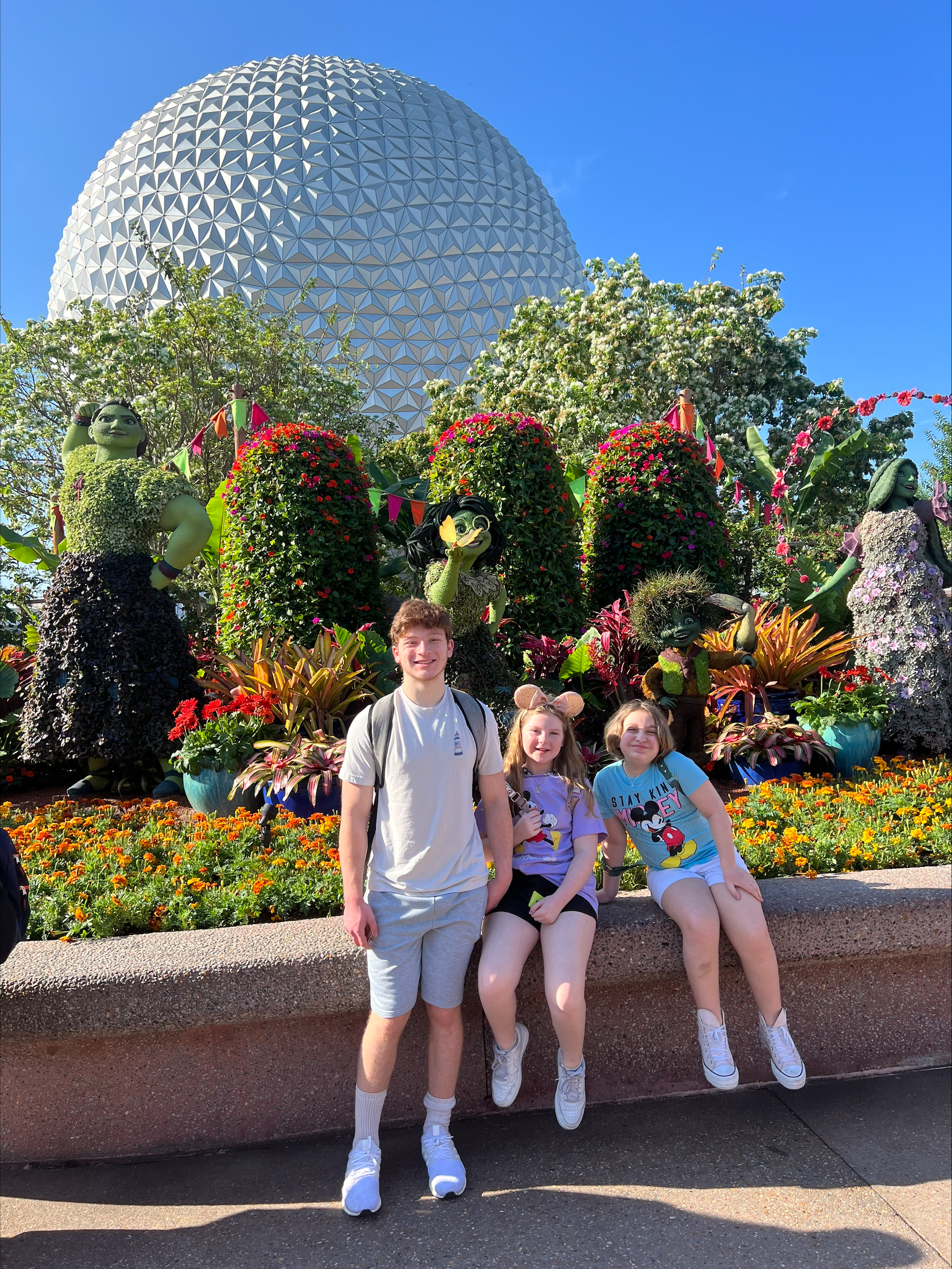 Seth may be the master of resorts and planes, but I am the master activities coordinator. Whether we are in our hometown of Buffalo or on vacation in Florida, I tend to be the fun bus. I spent a lot of money on activities so I made sure to discuss this and get the okay from my financial planner husband before I booked my activity ideas. I knew we were going to Orlando. I knew our resort had nice pools that we would want to spend time in. I knew that I wanted to go to Magic Kingdom at Disney World. I was very interested in exploring Epcot. I asked my family what they thought of these ideas, and everyone agreed. Last time we went to Disney six years ago we only had a couple hours in Epcot. This time we wanted to venture around the whole Epcot world.
This was not intended to be a Disney vacation. It kind of turned out to be that way without any intention. My main goal other than Magic Kingdom was to convince my husband that Discovery Cove was a great idea. A couple of my friends had told me about this idea which leads me to:
Lesson 3: Talk to other moms. If we are going to Myrtle beach, I talk to moms who have been to Myrtle beach. If we are going to Orlando, I talk to moms who have been to Orlando. Wherever I am heading on vacation I tend to talk to moms in person and on social media. Moms are an amazing resource!
I told my husband Seth all about Discovery Cove. I also told him the price! I thought that he was going to say no way, but my husband tends to surprise me. His response was a big, "Yes!" It was the most exciting part of the vacation for Seth. Swimming with dolphins was the highlight of the day. It was so interesting learning about how they take care of their dolphins. We got to swim with stingrays and fish too. They had a beautiful lazy river. Food and drinks were included in the price. My husband joyfully told me that this was a bucket list item for him that I crossed off without even knowing this. His smiles that day couldn't have made me happier.
Lesson 4: Talk to your family about their wishes, dreams, and bucket list. I had no idea that swimming with dolphins was on Seth's bucket list. We haven't really talked about our bucket list items for life. Now I need to sit down with Seth and the kids and ask some important questions. This can help to guide me in the family plans that I make. I learned that my husband loves new adventures and animal encounters.
I went over the plan for the vacation with my family. My son suggested that we add a journey to Disney Springs. Knowing that I wanted to explore the Polynesian resort, Max found out how to easily get from Disney Springs to the Polynesian hotel. After going over the plan for the week, Max, my 16 year old, took it upon himself to do a ton of research. He researched Disney Springs and found us the best cookies and coffee at Gideon's. He researched Epcot and took us around the world getting some amazing food to sample. My favorite were the beignets he found. He researched Discovery Cove and told us all about it. He looked up a ton about Magic Kingdom. What I loved was that he found us a lunch spot with healthy food. When you travel you can end up eating a lot of crap!
Lesson 5: When you go on vacation, don't eat a bunch of crap. Max and I had a great conversation after our vacation about the food. We talked about how much better we feel when we eat healthy food. We both came home feeling like crap and eager to get back to healthy eating. We made a note that the next time we travel we need to make a sincere effort to eat healthier. We could have easily gone to a grocery store and cooked some meals in our room. In fact, Max would have been happy to cook for us! There are also plenty of healthy options at restaurants.
Lesson 6: Our children are very capable. Use them as a resource. I was happy to let Max guide us around places. I am happy to give control. As someone who usually guides activities for my family, I was so happy to have his help! He's a great resource. Max is very smart and very capable. Our kids gain so much confidence when we let them take the wheel. Let them cook. Ask them to clean. Let them drive! Yikes! This is a scary big step. I let my son drive me all over yesterday. I just pray for his safety. It's a scary big step!
Not only did Max research the food, but he also researched the Disney app. I figured everything out last time we went. I was joking with the Disney customer service lady on the phone about how Disney likes to keep people on their toes and change things. Max taught me the app. I bought our fast passes (now called Genie plus by the way) and Max taught me how to use them. I don't claim that technology is one of my strengths. However, technology is a huge strength for my husband and son. They teach me so much and I'm so thankful.
Lesson 7: My husband is going to fall over when I write this one. I like to hand over control. Let other people be in charge. It gives my son something fun to research. It makes him feel useful. It gives him confidence. Guess what, it makes less work for me!  Amen!
We took a small plane to LaGuardia in NYC and a big plane to Orlando. As someone who gets motion sickness, I will take a big plane over a small plane any day. The big plane was so much smoother. I didn't enjoy the small planes but I was fine with the big planes that even provided us with movies and games!
Lesson 8: Big planes whenever we can! I also need to remind myself to take Dramamine! I made sure to take some for the small plane on the way back.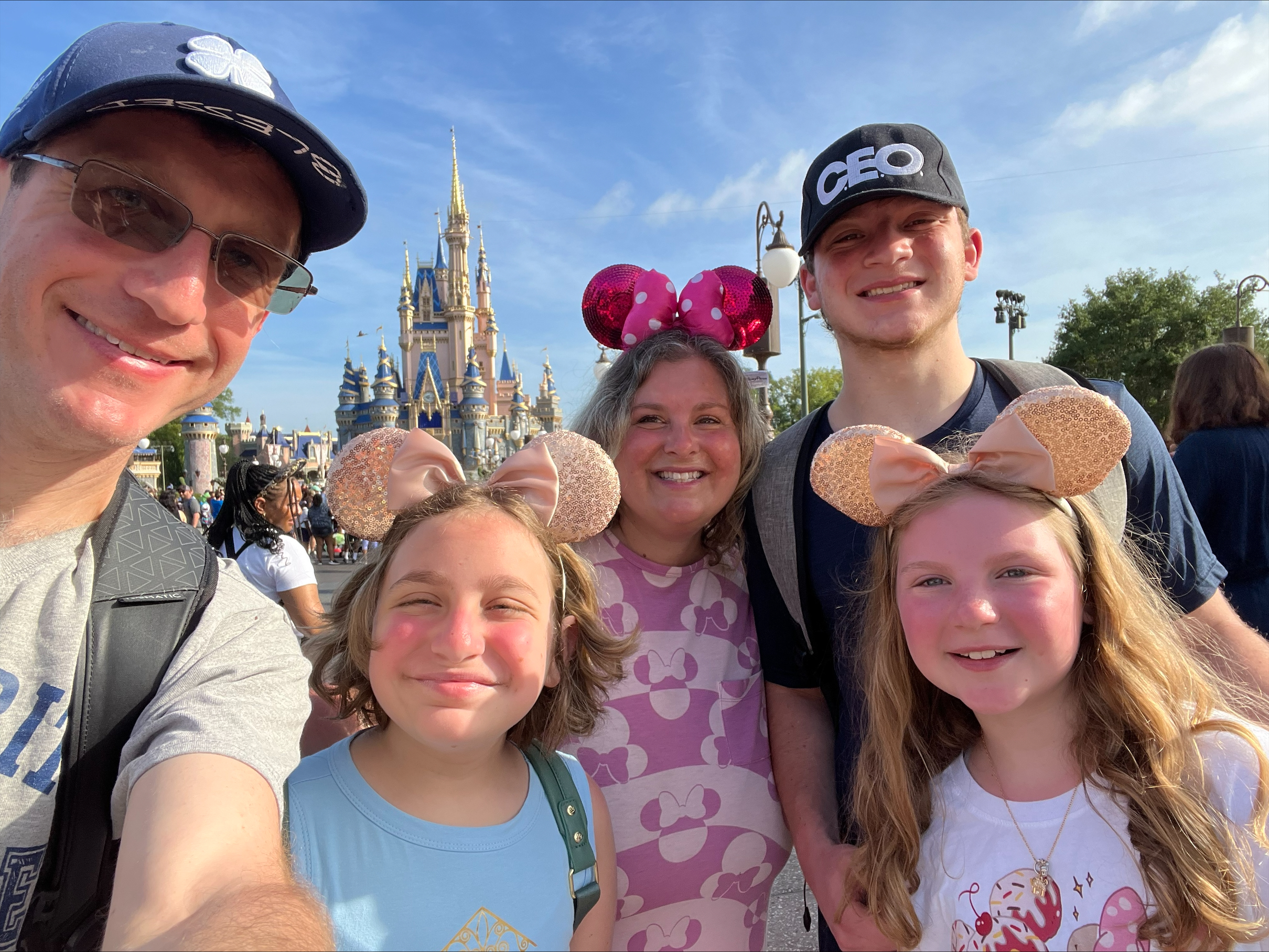 We made it to Orlando, and I decided to leave our first day "free." I didn't book anything for our first day. I figured we would want to swim and relax. I was wrong. We were hot to trot. We headed off to Disney Springs and the Polynesian and then made it back to the pool. We had so much fun but we didn't have the relaxing day that I had planned.
Lesson 9: We like to do things. My mom told me that her idea of a vacation is laying by the pool. I can only do that so long. My kids can only do that so long. A couple hours at the pool and we are ready to rock. Learn what works for your family.
Lesson 10: Build in down time. We needed a little bit more time in Orlando. I'm thankful for what we had. My kids and husband are not the type to go from opening to close to a Disney World Park. That's not their style. They want to go to the park and then they want to go swim at the hotel or relax. We never make it to fireworks. The other thing we can do is build in rest time in the middle of the day and then go back at night for fireworks. We also talked about booking a resort where we can see the fireworks every night. I may give up space in order to book a Disney resort where I can watch fireworks every night.
Lesson 11: Know your family and have realistic expectations. I know my kids aren't going to Magic Kingdom for 12 hours. Could I do that? Probably! Can my kids? They certainly don't want to. I think we walked into Magic Kingdom at 9:15. By noon Lillie was ready for some rest. By 2:00, Ella was asking me how long I was expecting her to last. Somehow, we didn't leave until 6, but at 2:00 I was getting nervous. I also considered letting Seth take the girls back to the hotel and staying at the park with Max.
Lesson 12: My kids and husband don't like the heat. In retrospect, a February vacation to Orlando may have worked better for them. In my defense, Orlando is not usually that hot in April. I loved the heat. My family didn't love the heat. When I take them to warm vacations, I need to have a lot of water time and AC time.
We had a wonderful vacation, and we learned a lot. I loved shopping at Disney Springs! Get cookies at Gideon's if you go there. I love exploring Disney resorts! We checked out the Polynesian and The Riviera resort. I loved exploring Epcot and eating around the world. I loved swimming with dolphins and being in the water. I loved our resort's pool. I love Magic Kingdom and all it has to offer. It makes me feel like a kid. Seth told me that I am in touch with my inner child. Proud of it! I would have to say the highlight of the trip was seeing my family smiling so big swimming with the dolphins.
It's your turn. I would love to learn from you. Share with us a lesson that you learned on vacation. I also love travel suggestions. Let me know what you learned from my lessons!
Laughing, Learning, Loving,
Rebecca Greene, LCSW-R
Check out my link tree:
Whinypaluza Notes:
Whinypaluza Mom Group:
If you are looking for a supportive community, come join the free Whinypaluza Mom Facebook group.  I created this as I wanted us to have a place where we can talk about tips, strengths and challenges we are having.  It is another step I took to help everyone to know that you are not alone. The April Spring break challenge was a lot of fun. Come join us and bring a friend with you! I love to give away prizes. This group is going private so please find me on Facebook at Whinypaluza or Rebecca Greene and message me to ask for an invite. I'm also on Instagram @becgreene5 and @whinypaluza_mom. I am also on Tik tok @whinypaluzamom.
The Whinypaluza Schedule:
Whinypaluza Wednesdays: My weekly blog comes out every Wednesday.  I am always open to your topic requests.  A new Vlog (video blog) also comes out every Wednesday night on Facebook and You Tube live at 8:00 PM Eastern time to discuss the blog.  If you would rather listen to a podcast than watch a Vlog, you can wait for the following Wednesday and the Vlog is released on my Podcast.
Family Fridays: Every Friday morning a new Podcast is released.  Most of my episodes on Fridays are me discussing parenting and marriage with experts on the topic.  If you would rather watch the Podcast instead of listen, you can watch it on You Tube.  If you would like to be on my Podcast or know someone who would like to please message me on Facebook or Instagram or at whinypaluzamom@gmail.com
I would so greatly appreciate it if you would subscribe, rate my Podcast and leave me a five star review.  This leads to it being shown to more people that we can help. I appreciate it when you share my blogs, vlogs and podcasts with a friend so that we can build our community and help people one mama at a time. Every time you like and/or comment on a post it helps and is so appreciated!
Please feel free to email me with suggestions for topics that you would like me to cover. I would also love to hear about any lessons or takeaways that you learned from blogs, vlogs or podcasts that Whinypaluza releases. I hope that you are finding all this helpful and seeing that you are never alone. We are in this parenting and marriage thing together. xoxo