It's time for me to own that I simply suck at September. I need to stop pretending, stop trying to convince myself to enjoy it, and just realize that it's ok to suck at something! I've been this way since I can remember.
If you are one of those people dancing down the driveway when the bus comes then I say good for you! If you are one of those people who loves everything about September then I am so happy for you! I am just not one of these people! I am tired of playing games with myself. I am tired of the drama every year. I am taking on a new attitude and coming to grips with the fact that sometimes I am just not good at something!
Some people think of September and smile. They think of new beginnings, Fall weather, leaves, pumpkins and lots of learning for the kids! My kids all got awesome teachers and I am sure they will have a great year. I am sure they will grow and meet new friends and that there will be a ton of good this year. Let's not talk about the kids. Let's talk about me!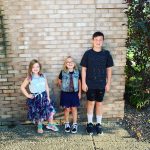 Let's put aside breakfasts, lunches, dinners, dishes, school papers everywhere, homework and laundry. Let's move on to activities! Max is doing a TON of soccer and he is needing to go to his last year of Hebrew school while also fitting in Bar Mitzvah lessons! Let's move on to Ella! Ella has a few days of theater a week, Hebrew school and Girl Scouts! Lillie has dance, soccer, Hebrew school and Girl Scouts! I just went over the schedule with my husband Seth. I can't do it! I know what you are thinking: carpool and ask for help! I agree and I am still saying that I can't do this! It is all too much! Something has to go and this needs to be figured out sooner rather than later! Also, can you tell me where I am going to fit in dinner between all of these activities?
Don't even get me started on homework! My family does not have time for homework! The kids are in school all day and they have activities at night. Can we get rid of the homework? Some schools have banned it! Can my kids schools be next?
It is day two of school and I am completely and totally exhausted! I loved the more laid back summer schedule. There are some of you out there embracing this routine and this schedule. I am just not one of those people. September can go jump in a lake! Yes I just said that!
Ella started middle school. Her happy attitude tends to be contagious! She ran into school the first day and has never looked back. She is loving middle school so far. Max is enjoying his teachers and classes and Lillie is in a class with a great teacher and her best friends. Things are good. My kids are happy! My kids are not the problem. Mama isn't happy and I better figure out how to make September not suck so badly!
Tell me your favorite time of year? Mine is definitely July!!!
I hope you're handling September better than I am!
Laughing, Learning, Loving,
Rebecca Greene