I know we have spoken endlessly about all the negatives of what's going on. Have we talked about what we like? I know I am not the only one who sees some of the positives in what is going on right now. My friend texted me and said we were all being given a big red flag that says, "SLOW DOWN!"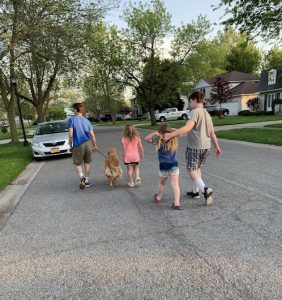 As I begin writing this, I just finished serving my family dinner. We have had dinner together almost every night. I set the dining room table and cook dinner almost every night. We eat together and have conversations, and no one is running out the door to an activity. I take that back. My son wants to run upstairs to get back to his gaming. We make him come down for dinner every night and join us and have conversations with us. There are still Zoom sessions to work around but it is nothing like it was before the quarantine. I remember the rushed feeling I had of trying to squeeze in dinner every night in between everyone's activities. I remember not being home. I remember living in my car. I remember thinking that I better cook dinner at some point when I am home because I wasn't going to be home after school to cook for them. I remember that rushed feeling I had in the car. I remember constantly watching the clock. I remember Ella rushing me after school to get her to theater on time.
If I wasn't about to jump onto a PTA meeting on Zoom right now, I would be taking my dog for a second walk or taking my family outside to enjoy the sunshine. We don't have to squeeze in sports and homework. It doesn't feel completely chaotic. There is a huge part of this slower pace that I am really truly enjoying. I also want to note that I understand that a lot of you are working full time while balancing trying to help your children with schoolwork. I know that some people feel even busier than before and aren't having this slower paced life that I am talking about. I know as I write this blog you all don't relate to me. There are some of you that I have already spoken to who understand everything that I am writing today.
My family of 5 is home together every day. My husband is working upstairs in our home every day. I am actually getting to see his face. As we ran around like two ships passing in the night before the quarantine, I found myself missing him and wondering if there was a night that we would both be home. Seth would complain that we needed to schedule more date nights to see each other. If Seth wasn't working, he was usually running our son to soccer. I didn't realize how much he wasn't home. I like that he is home most of the time. I'm going to miss him when he goes back to the office.
I had a moment today where I was feeling smothered and claustrophobic. I was feeling like there were people everywhere and that I had no space. I got outside and took a walk by myself and got some space and enjoyed the sunshine. Those moments are rare, but they do happen. Getting a little alone time is always helpful for me when I am feeling smothered.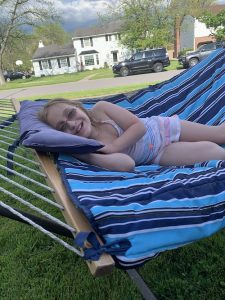 The universe made most of us slow down. There was no choice in the matter. I don't find myself excited to jump back into our crazy schedule. However, I do see the benefits for my children. Ella can take as much theater as she wants to. She would live there if she could. I want to encourage this as I see how good it is for her. Max was getting SO good as a soccer goalkeeper. He was playing for four teams and it was SO good for him. He was active, and physical, and off the computer. Watching Max play soccer and Ella perform at theater are two of our greatest joys in life. It brings all of us so much joy. As much as I am loving slowing down, I know how much we all miss theater and soccer.
Let's not forget about my youngest pumpkin Lillie. As Lillie finds her way, she would probably tell you that she loves to dance. As I watch her all these weeks at home she is always dancing. I want to encourage whatever makes my children happy. I know she is waiting for me to sign her up for cheerleading. I am trying to push myself to take the plunge. It's a big commitment. That's more time running around! There are pros and cons to everything. The less running around has been such a needed break.
I was talking to my neighbors as they walked by. We were talking about how strange it is that we get to eat dinner together as a family every night. They talked about how odd it was not to be at sports every night. A lot of us are enjoying our slower paced evenings. We are also missing attending all those sporting events. There has to be a balance somewhere. Balance seems to always be the magical word.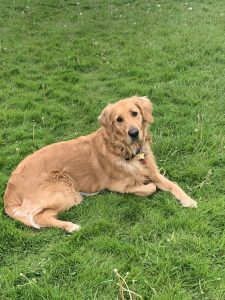 My neighbors left and I climbed up onto our hammock with my book. I laid in the sun and just relaxed. My husband was sitting next to me reading his book in the shade. Our dog was at his feet relaxing in the shade with him. Tanner our dog had a big smile on his face. He is loving the nice weather and that we come outside with him. He is loving that we are home all the time. I am loving more relaxation time and my dog and two cats are loving us home all the time. They are getting so much more attention. There are definitely a lot of pros.
It was now Memorial Day and we went swimming at my parent's pool for the first time this year. My parents had their pool opened and ready to go. The girls jumped in and squealed in delight. I sat on the edge of the pool with my feet in and smiled watching their happiness. I talked to my parents and actually got to visit with them. I have been keeping my distance to protect them. I felt better that we were all outside. It seems safer outside right now. I also know the Governor is now allowing gatherings of 10 or less so it's time to begin seeing people again. I am feeling myself ease up. I miss people. That is what I have missed the most. I miss seeing my people. It's time to start relaxing. At least that is how I am feeling. We will all ease back into the world in our own pace. You do what is most comfortable for you. Don't be pressured into anything. Everyone who loves you will understand. Everyone's comfort level is so different. It is definitely a time for being understanding and tolerant and accepting of our family and friends for what they are most comfortable with. I am feeling much more comfortable being around people.
Our friends just stopped by on their walk. We sat on my back patio and caught up. It felt so good. We need our people. We will all slowly emerge from our hibernation. We will all do it in our own way. I'm hoping that the numbers keep going down and that the virus disappears never to return. Maybe I'm being way to optimistic. I'm not ready to think about flu season next winter. I'm ready to begin to ease up on my strict reins and I'm ready for summer.
As the girls swam, Seth ran home because he wanted to start his three hour grilling ribs process. Seth and Max love ribs and Seth was so excited to take care of dinner tonight. His new grill, his new toy, was also a big gift for me. I love that he is enjoying it and learning how to be a master griller. His ribs were amazing. I love that his new hobby is grilling. I love that he is home to actually cook. When I met Seth, he used to cook for me every so often. Running his businesses and running our kids to activities was taking up most of his time. The world has forced him to be home and we have both found a lot of enjoyment in it. It has been good for our marriage and for our family.
All those days of Seth telling me to stop and smell the roses and the universe has declared that it was time for that. We haven't been staying home due to a good reason, but it has turned into a lot of pros for my family.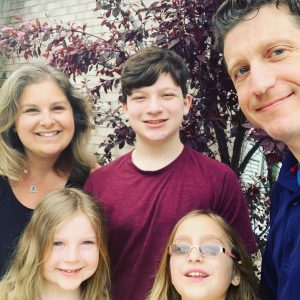 Enjoying the PROS:
Home more as a family.
Dinner together every night.
Time with my husband. I get to see his face a lot more often and we can spend time together!
Not rushing around.
Not living in my car.
Time to relax.
Reading and writing more.
More time to be outside and enjoy nature.
A lot of family walks.
Time to stop and smell the roses.
Seth's new grilling and guitar hobby.
One on one schooling attention for Lillie.
More info on what my kids are doing in school.
There has been a lot of this quarantine that I have enjoyed. We have talked about the negatives. Most of us know the negatives. I don't want to get into them now as I am going to stick to the pros. I think it's time for me to reevaluate my life. It is time for us to think more about our time as precious and about how we want to spend our precious time. I have truly enjoyed slowing down. I would love to hear about what pros you and your family have also been experiencing.
Laughing, Learning, Loving,
Rebecca Greene, LCSW-R