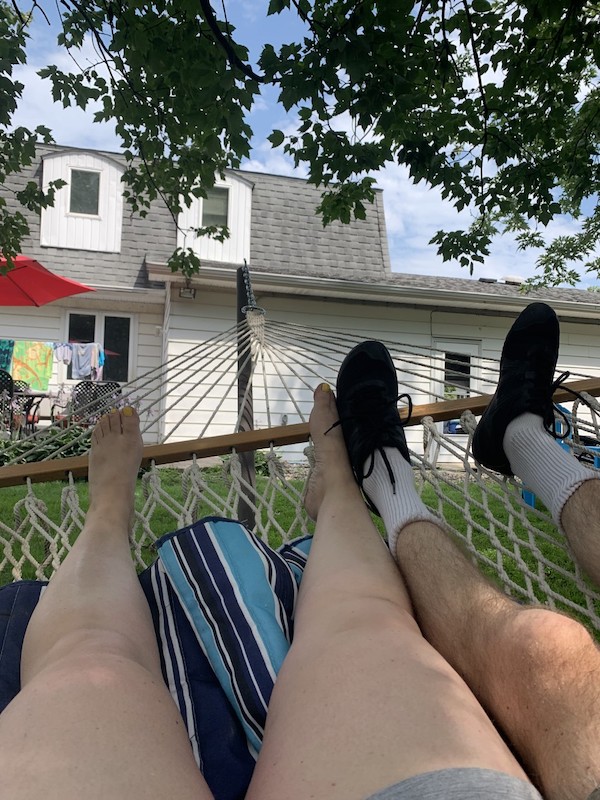 July is slipping through my fingers. The summer tends to fly by, and this summer is no exception. I had Seth bring out our hammock from the garage as I was in disbelief that I hadn't even laid down in my hammock yet. We laid in the hammock together and looked up at the beautiful tree above us. Our backyard has such peaceful energy. I remember looking at our house for the first time 8 years ago. I walked into the backyard with the former owner and could see my kids playing in this backyard. It has brought us so much joy.
I like to do a summer family present every year. One year it was a bounce house. When we moved into our current house 8 years ago, we put in a beautiful playset for our kids. That expensive playset has gotten a lot of use. I convinced Seth that a trampoline was a good idea one summer. I know they are dangerous, but our kids have had so much fun on that trampoline. After never owning a grill (I know that sounds crazy), we bought a grill last summer. This summer is the biggest summer present so far. This year we bought our family a nice big fancy hot tub. Today is the big day that the electrician shows up to get it up and running for us. That hot tub is going to give us a lot of joy. Sometimes we need leisure/recreational goals. This includes things like a hot tub, a pool, a vacation, a specific car, etc. I was building a backyard oasis. One step at a time. One family present at a time. One summer at a time. I was creating a vacation in my backyard. This is an awesome investment for my family. I say spend the money and do things like this for your family if you can.
As I laid in my hammock looking up at the trees and the sky, I realized that this was one of those perfect moments to soak up the summer. Sunday night we made smores together in our backyard and my kids "swam" in the cold hot tub that we couldn't warm up yet. I smiled looking around at my family having fun together and it felt like summer vacation. My husband makes fun of me because he says wherever we go on vacation I am just going to want to float in the pool. He tells me I can do that in my parent's backyard and that I don't have to go anywhere. I have friends who are counting down to the Fall and/or Christmas. Not this lady. I count down to summer every year. This is my favorite time of the year. I am asking the summer to slow down, and I am going toenjoy every day of it. Less rain would be great too.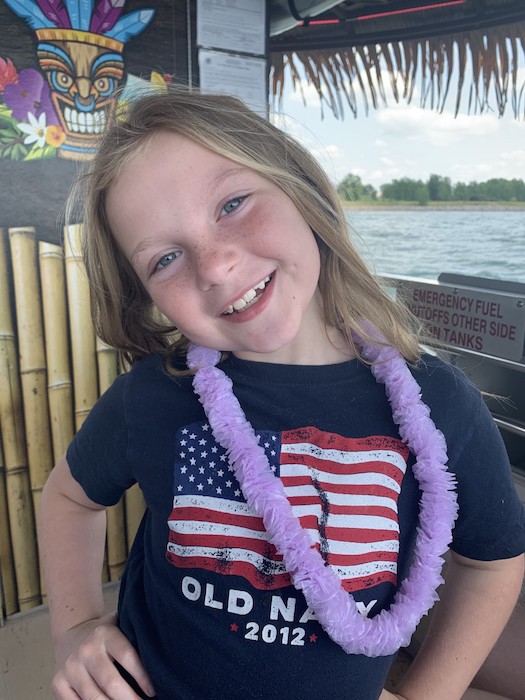 We say things to our friends that can really make an impact on them. I was having coffee with a friend that I met on Facebook. It was so wonderful to meet her in person. She is so sweet and supportive, and she reads my blogs, and watches my vlogs. She has been watching me around town as I take my family to places like Canalside, Darien Lake and to my parent's beautiful pool in their backyard. She told me that all those moments are a vacation right here in Buffalo. She told me that I don't need to go away to be on vacation. Vacation is in my mind. She blew me away as she explained this to me. A lot of us call it a staycation when we do fun things around town with our family.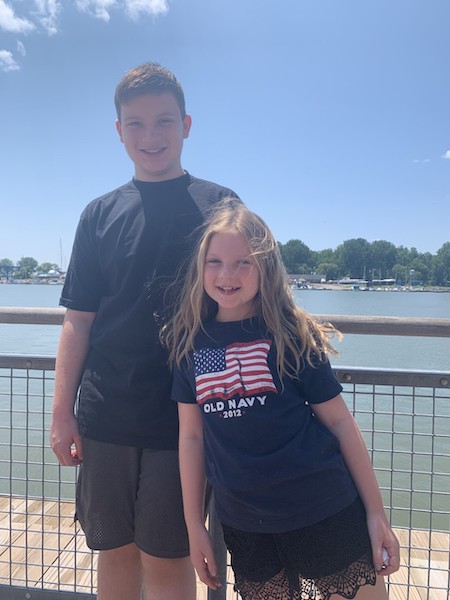 Seth and I sat in the backyard together with his laptop open searching vacations. We laughed as we looked at everyone's schedule. When do the kids have camp? When do the kids have school orientation and open house? When do I have to be at school? We were tightened into such a short window in August. So many families seem to be traveling to Florida this month. I didn't understand it. Maybe they don't mind the heat like my family does? My family went to Florida in December and my kids complained the whole time about the heat. All they wanted to do was be in the pool. We really didn't want to go to Florida in August. If I plan a trip for Florida in December, is it really going to happen? Is Covid going to ruin it? What about Myrtle Beach? What about the Poconos? Where do we want to go and do we want to bring our dog? My head swirled as we looked for places to go with my family. My friend told me she was renting a beach house with her whole family. That sounds so wonderful. Please share your ideas and suggestions with me. Travel agent is not one of my strengths. If you are a friend with an idea, send it my way. If you are a travel agent who wants to take care of everything for me, please contact me.
We will do something whether it is big or small. However, my friend made me feel so much better when she told me that it is all in my mind. It took this huge pressure off myself that I had created. I think it's important to take your family on vacation and create those memories. I also realized I'm creating memories all the time. Whether we are swimming, having a movie night, making smores, in the hot tub or at an amusement park, they can all be a vacation in my mind. If I am present and I am mindful and I am enjoying time with my family, that is what matters. Sometimes we feel like we have to create these big giant opportunities for our families. We don't want to miss what is right in our backyard.
As I race around in my car today, I glance over at the turtles that I collect. You see, I love elephants in honor of my grandma Rae, but I love turtles for me. Turtles have a special place in my heart. They remind me to slow down and smell the roses. Those beautiful summer roses at my front door that I haven't even smelled. I'm the hare who races around town. I race through my days. Turtles remind me to slow down. Take a deep breath, be present, enjoy the moment, and slow the heck down. I took a deep breath and brought myself to the present moment. I was on my way to take Ella to theater and life is good. I was taking her to her favorite place. I am home in the middle of the day and able to drive her. My kids are having a great summer. It is so nice to be off from the crazy school year. I'm holding on tight because I don't know what this school year ahead will bring. However, I know that presently I am driving my daughter in my car. It is summer and life is good. I can be on vacation any day. I don't have to wait for a special time in a special place. I can't soak up the sunshine right now as it has decided to rain again. I can however take a deep breath, be present and go smell my roses. Remember that a vacation is a state of mind. We don't have to go spend a fortune to be on vacation. If you are one of those many people heading to Florida this summer (or somewhere else), I want to challenge you to be present on that vacation and to really allow yourself to enjoy it. If you aren't going anywhere, you can still go on vacation. Go set up a nice chair in your backyard. Put your feet up and smile and enjoy your surroundings. We can be on vacation any time.
Enjoy your summer. Make memories with your family!
Laughing, Learning, Loving,
Rebecca Greene, LCSW-R