I'm currently sitting in my car at cheerleading. I'm texting my husband Seth venting about my FULL summer days. You see, I signed my kids up for a lot of camps. Ella is absolutely loving her theater camps. There is no where this kid would rather be, so I am so happy to drive her back and forth to camp. Lillie is doing a bunch of camps too and the times are opposite Ella. Throw in that Lillie has cheerleading four nights this week and just station me in my car. I'm sure you aren't surprised to know that my car often becomes my workstation. The very good news is that my girls are having an amazing fun summer.
When you sign each child up for things over the summer you don't always necessarily add them all up. You also don't realize how they all collide together in the same week at different locations. Next week we add soccer into the driving mix for my son Max. I know what you are thinking. I can read your mind as I type this. Carpooling and asking for help are the definite answers.
Summer issue number one is that we overschedule our children. What happened to boredom over the summer? I don't want my kids home and bored and asking to be entertained all the time either. I also don't want my summer flying by driving them around. There is a happy medium. I think August is the happy medium. We actually have weeks with nothing but I'm sure knowing myself that I will fill it with things like a vacation.
If overscheduling is problem number one, forgetting about ourselves is problem number two. When I walk into the nail salon without my daughters the owner says something to me. "No girls today?" He knows that the first thing Lillie will notice is that I got my nails done without her. That is okay. She doesn't need to get her nails done every time I do. In fact, it's a big giant waste of my money. It's time together and she loves going. Those are the pluses. The downside is it isn't cheap, and it doesn't' last long on her nails. I feel like I'm flushing my money down the toilet when I let Lillie get her nails done. At least Ella's nails stay on her nails for months. Getting my nails done is one of those treats I give myself every few weeks. I deserve it.
As you probably know by now, I love listening to podcasts while I drive my children around. They prefer silence or music but sometimes I make them listen to a podcast. I was listening to Jennifer Blossom talk about summer burnout and how we overschedule ourselves and we forget to take time for ourselves. It's much more challenging because our kids are home all the time. I love summer. It's my favorite time of year. There are different challenges in the summer. I made plans to go for a walk with my friends tomorrow morning. Max could care less wherever I go as long as I am home to feed him. He loves having me around, but he doesn't mind if I go take a walk with my friends. Ella on the other hand wants me around. I can't be out for too long. I won't feel guilty taking an hour to myself but that is an example of it being more challenging in the summer.
Listening to Jennifer talk about summer burnout was making me feel so understood. I love listening to other moms talk about what I am feeling. It makes me feel understood and supported. We are all parenting together. She went on to mention our lack of mindfulness. It is 7:03 PM and the day was a total whirlwind. It flew by like it always does and I ran around. I am taking deep breaths as I type this and bringing myself to the present moment. There are so many ways that I can be more mindful in my days.
I do find that I shift my thinking a lot. Instead of, "I have to drive my girls around all day," I can change that too, "I get to drive my girls around all day. I am excited to drive my girls to fun camps." My perspective and bringing myself to the present moment are two keys to my happiness.
I stared at the pieces of my new chair and hammock in my backyard today. I looked up the weather and sighed seeing that rain was coming soon. I could have grabbed the piece to my chair, put it up, and dangled in it for ten minutes and allowed myself to relax. I need to soak up the summer and my backyard before it vanishes. July is flying by. I am already planning events for the new school year. It's coming and it's coming quick. I better stop and smell the roses and soak up some of this summer before it vanishes before my very eyes.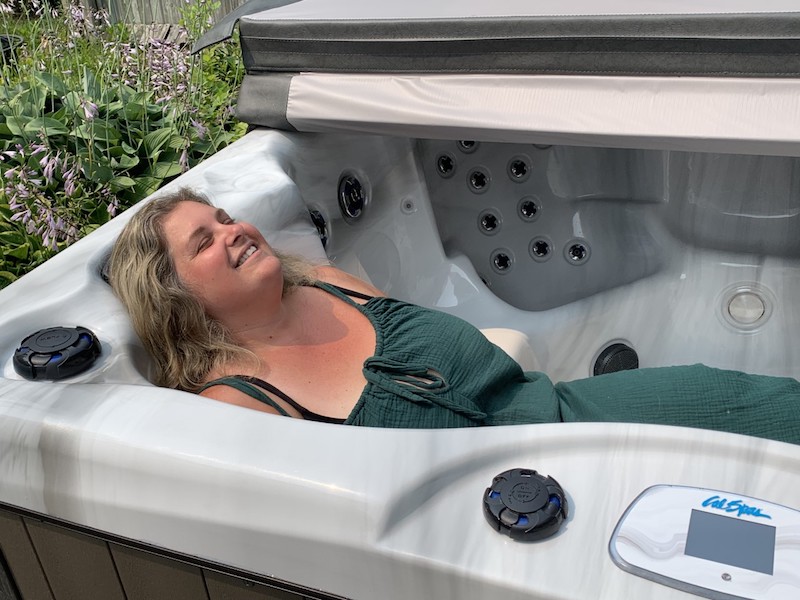 One of my summer prescriptions arrived today. I am so excited to tell you that my 45th birthday present is a hot tub. Almost a month after my birthday it arrived to my backyard today. I am so excited. This is a definite way to relax! Having my kids and their friends hopping in and out of it will not be relaxing but I will definitely take a lot of time to relax in that hot tub. It arrived just in time to help me cope with July Jenga!
As the summer slips by between our fingers, I want you to soak up the summer sun and take a moment to yourself. Take a deep breath and ask yourself mama, "What is it I want to do this summer?" Ask yourself before summer has vanished into thin air! I also want to tell you to soak in your hot tub, swim in your pool, relax in your hammock, sit on your patio with your coffee.
I would love to hear your summer plans! Share with me. As long as it's not another camp for my children.
Laughing, Learning, Loving,
Rebecca Greene, LCSW-R
Updates:
If you are looking for a supportive community, come join the Whinypaluza Mom Facebook group. I created this as I wanted us to have a place where we can talk about tips, strengths and challenges we are having. It is another step I took to help everyone to know that you are not alone. We just completed the July Summer Challenge. Come join us and bring a friend with you! I love to give away prizes!
https://www.facebook.com/groups/whinypaluzamoms
The Whinypaluza Schedule:
Whinypaluza Wednesdays: My weekly blog comes out every Wednesday. I am always open to your topic requests. A new Vlog (video blog) also comes out every Wednesday night on Facebook and You Tube live at 9:00 PM to discuss the blog. If you would rather listen to a podcast than watch a Vlog, you can wait for the following Wednesday and the Vlog is released on my Podcast.
Family Fridays: Every Friday morning a new Podcast is released. Most of my episodes on Fridays are my discussing parenting and marriage with experts on the topic. If you would rather watch the Podcast instead of listen, you can watch it on Facebook or You Tube. If you would like to be on my Podcast or know someone who would like to please message me on Facebook or Instagram or at whinypaluzamom@gmail.com
I would so greatly appreciate it if you would subscribe, rate my Podcast and leave me a five star review. This leads to it being shown to more people that we can help. I'm launching a giveaway each month to someone who has subscribed and written me a five star review. I would also love for you to share my blogs, vlogs and podcasts with a friend so that we can build our community and help people one mama at a time.
Please feel free to email me with suggestions for topics that you would like for me to cover. I would also love to hear about any lessons or takeaways that you learned from blogs, vlogs or podcasts that Whinypaluza releases. This is all for you (it helps me too), and I hope that you are finding it helpful and seeing that you are never alone. We are in this parenting thing together.