My husband went back to work today, and I am a happy wife! I am typing on my couch by myself for the first time in ten days. Seth took Max to school and headed to his martial arts class. As a protective Jewish mother and wife, I told him that I didn't think it was a good idea and that he should pace himself. I don't want this man of mine jumping back into his long work days and going backwards. He assures me he won't work a crazy long day! I will tell you that one of the things I have seen with people is that they overdo it too quickly and don't take care of themselves. All I know is that Seth is thrilled to get out of the house, and I am thrilled to be home alone. The peace and quiet is completely amazing. If you are a mother, you probably understand what I'm saying.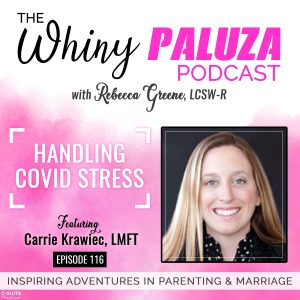 While my husband was home sick with Covid, we both continued to work. He worked almost every day he was home. I had a couple podcast interviews, one of which I want to share with you. I got the opportunity to interview Carrie Krawiec a licensed marriage and family therapist. Her interview is being released this Friday and you are going to love her. I can tell from interviewing her that she is a fabulous therapist.
I told Carrie that I wanted to focus on the Covid stress that people are experiencing, and I wanted to share with her some scenarios. She had so many excellent points. Let's start with the fact that she says that we are very concerned with protecting our health, but we also need to be concerned with protecting our relationships. Boom! Mic drop! We talk so much about our health and staying healthy but my question to you is are you placing importance on maintaining your relationships? I can say no to a few people that I know.
As we talk about how stressed people are, she brings up monitoring the amount of information that you are receiving. Are you overloading yourself and giving yourself too much exposure to social media and the news? Is the information you are receiving making you more stressed out than you need to be? Is it making it sound more serious than it is? Is it accurate information? Do you need to give yourself a break?
I find that I have to turn the news off. If I have it on too much it causes me stress. I also wonder how accurate the media data really is. I find that I will be scrolling through Facebook and Instagram to see my friends, their kids and their pets and if I see too much Covid talk I have to walk away. I also have gotten really good at scrolling by things that I know that I don't want to read and knowing it will stress me out. This is a skill we all need to have and that I need to continue to do. I find if I read too much in general about Covid, masks, vaccines, I can get very stressed out. I need to keep myself in check. It's all about moderation!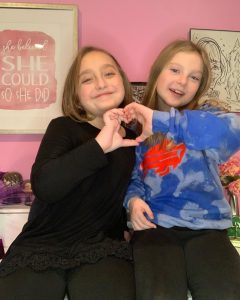 We talked a lot about the differences of opinions. The wife wants to stay home and feel safe, and the extroverted husband wants to go out. The husband doesn't want to vaccinate his children and the wife does. There are differences of opinions within nuclear families and lots of differences in extended families. Siblings don't agree. Grandparents and parents don't agree. Masks, no masks, vaccinated, not vaccinated, going out a lot, staying in a lot. Carrie said it is healthy to have differences of opinions and that an unbiased therapist could be very helpful to navigate through all the differences if you think you need one. I couldn't agree more.
Carrie brought up the fabulous word boundaries. We need to have boundaries. We are responsible for what goes on within our nuclear family. If a husband and wife disagree it gets trickier. It is not our siblings, parents, friends or cousins job to push their opinions on us. They need to make decisions that are best for them, and we need to make decisions that are best for us. It's called having good boundaries.
If you are the one with the stricter rules, ask yourself if you are being entitled or overstepping Carrie says. It also isn't healthy for our bodies to worry about other people. It's stressful enough to worry about ourselves and we don't have control over other people. Especially if they are in another house! Our two most important boundary tools are time and space according to Carrie. We may need time and space to reflect and make decisions and we have to ask for what we need.
I love that she explained that resentment and guilt are two indicators that we aren't in a good boundary space. Resentment means that we are trying to influence others and aren't keeping a good boundary. Guilt means we are allowing someone to push their values and beliefs on us and we aren't setting good boundaries with them. I could eat this stuff up. Such good explanations of having good boundaries.
I brought up all the anxious children I have talked to over the last two years. I have talked to kids, and I have heard from their parents what they are going through with their children. Kids who don't feel safe at school. Kids who are worried about catching Covid. Kids who want to stay home because they think it's safer. Kids who miss their friends because they don't get to sit with them at lunch anymore. I feel so badly for what our kids are dealing with right now.
If your child is experiencing intense stress that is causing disturbances in their day, it may be time to get them some help. Just talking to the school social worker or counselor may be enough or they may need a therapist outside of school. I have seen a couple sessions in school be extremely helpful to kids and I have seen some who need a weekly appointment.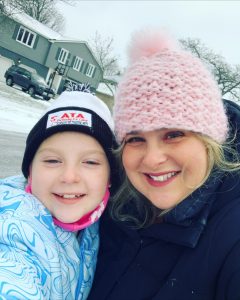 We also need to remember two things that we have great power over with our children. First, we can model good problem solving and coping skills for them. They will copy what we do vs. what we say. Also, we can practice skills with them. Role play with them and teach them how to handle a situation. Ask them how they would handle a situation. Give them some options of coping skills they can use. I can say to my daughter Lillie: "I notice that dancing seems to make you feel better."
We talk so much about our health these days. We also need to focus on our mental health. Carrie reminds us that mental health and physical health are connected. The better our relationships are in our lives the healthier physically we are. We were discussing how we used to be able to talk to other parents all the time. I would see parents after school picking up their kids. I would see parents in the dance studio when I was picking up my daughter. Now we all wait in our cars. This isn't good for us.
I hope things change. I hope that life gets more and more normal as time goes on. I hope the virus gets more and more mild so that all the fear goes away. I hope that nuclear and extended families can navigate through all the differences and maintain relationships.
I want to thank Carrie for talking to me and sharing her wisdom with all of us. If we can take anything away from her interview, I hope we will remember the word boundaries. We all have differences of how we are handling Covid. Some people want to wear a mask and some people don't. Some people want to be vaccinated and some people don't. Some people want to proceed as life is normal and some people don't. I think it's important to see both sides to things. I also think it's important for us to remember that everyone is coming from a good place with good intentions. Let us all respect each other and let us teach our children to respect boundaries and differences. It's a great lesson for all of us.
Laughing, Learning, Loving,
Rebecca Greene, LCSW-R
New Announcement:
Please go get the new Whinypaluza app at the Apple app store!
Notes:
If you are looking for a supportive community, come join the Whinypaluza Mom Facebook group. I created this as I wanted us to have a place where we can talk about tips, strengths and challenges we are having. It is another step I took to help everyone to know that you are not alone. We just finished our January challenge. Come join us and bring a friend with you! I love to give away prizes! I love women uplifting women. Let me know if you have any prize ideas that you would like to win. If you have a business that you would like to advertise, I am more than happy to give away a prize from your business in support of you.
https://www.facebook.com/groups/whinypaluzamoms
The Whinypaluza Schedule:
Whinypaluza Wednesdays: My weekly blog comes out every Wednesday. I am always open to your topic requests. A new Vlog (video blog) also comes out every Wednesday night on Facebook and You Tube live at 9:00 PM to discuss the blog. If you would rather listen to a podcast than watch a Vlog, you can wait for the following Wednesday and the Vlog is released on my Podcast.
Family Fridays: Every Friday morning a new Podcast is released. Most of my episodes on Fridays are my discussing parenting and marriage with experts on the topic. If you would rather watch the Podcast instead of listen, you can watch it on You Tube. If you would like to be on my Podcast or know someone who would like to please message me on Facebook or Instagram or at whinypaluzamom@gmail.com
I would so greatly appreciate it if you would subscribe, rate my Podcast and leave me a five star review.  This leads to it being shown to more people that we can help. I would also love for you to share my blogs, vlogs and podcasts with a friend so that we can build our community and help people one mama at a time.  Thank you from the bottom of my heart xoxo