How is your June going? I think and hope this is my last insane June. I know I'm being unrealistic when I say that. I am so happy that there is so much going on at the Elementary school and it's also a lot. This is our last year at Elementary school. As you know, end of year events slow down at Middle school and high school. Being the Middle School PTSA President has my mind racing with everything to get done this month. I'm just trying to make lists, remember it all, and take it step by step like I did with my very slamming past Saturday.
My body doesn't seem to let me sleep in when it knows there is a crazy day ahead. My eyes opened at 6:30 AM and I thought, "Better than 5:30 AM." I love the people who purposely get up at 4, 5 or 6 to workout. Those people are awesome. I am not those people and when I can I love to sleep until 8.
Anyway, I woke up in that anxious state of, "This is a crazy day ahead." I felt anxiety through my whole body, and I automatically started to breathe slower. I was sensing progress. Deep slow breaths slow down my racing thoughts. I pulled myself out of bed and ran downstairs.
My thoughts were racing with, "This is a lot," and I grabbed hold of myself. I literally want you to picture grabbing your brain and taking charge. I am uncomfortable in this state and when I am uncomfortable, I tend to want to learn a different way. I grabbed hold of myself and began some of my very favorite words.
Stop
Reset
Rewind
Replace
Reframe
Reflect
Rejoice
How ironic is it that my name is Rebecca and I love words that start with "Re!" I naturally began my "Re" word journey without even consciously telling myself to do that. Everything is hard at first. If we continuously practice, we rewire and retrain our brain.
My new thoughts: I went from, "This is a lot," to, "This is all good stuff today. This is exciting for your kids. All three of them have something today. That's what you want. Lillie has her dance recital. You are all organized. It's going to go smoothly. Ella has theater day at Shea's, and she will have a great time. Max has football which he loves. This is good stuff. Smile and enjoy the journey."
In the past, I would have woken up anxious, spiraled, and my family would have seen my anxiety come out in rushing anger. I would feel angry when I felt anxious. It was how I was releasing it. I want to point out my struggles to all of you so that we can learn from them, and I also want to point out my progress to all of you so that we can learn from that too. If I can change, then you can change for the better too. You and your family deserve that.
When we go live to discuss this, I am sure my husband will explain to you where I was and where I am today. I am sure he is super happy with all the progress I am continually making. It didn't happen overnight. One of the many reasons I was attracted to Seth is that we both love to learn and grow.
I want to emphasize the last thing that I said in my replacement reframing of my thoughts: "Smile and enjoy the journey." I realized that in my mind I was excited to end my night in the hot tub with my family. I was already there in my mind at this destination at the end of the night. Why was I rushing myself and excited to unwind at the end of the day? Buying our hot tub was such a fantastic idea if I do say so myself. We spend a lot of our evenings in the hot tub together unwinding and relaxing as a family. I love that I love it, but how about enjoying the day before the hot tub?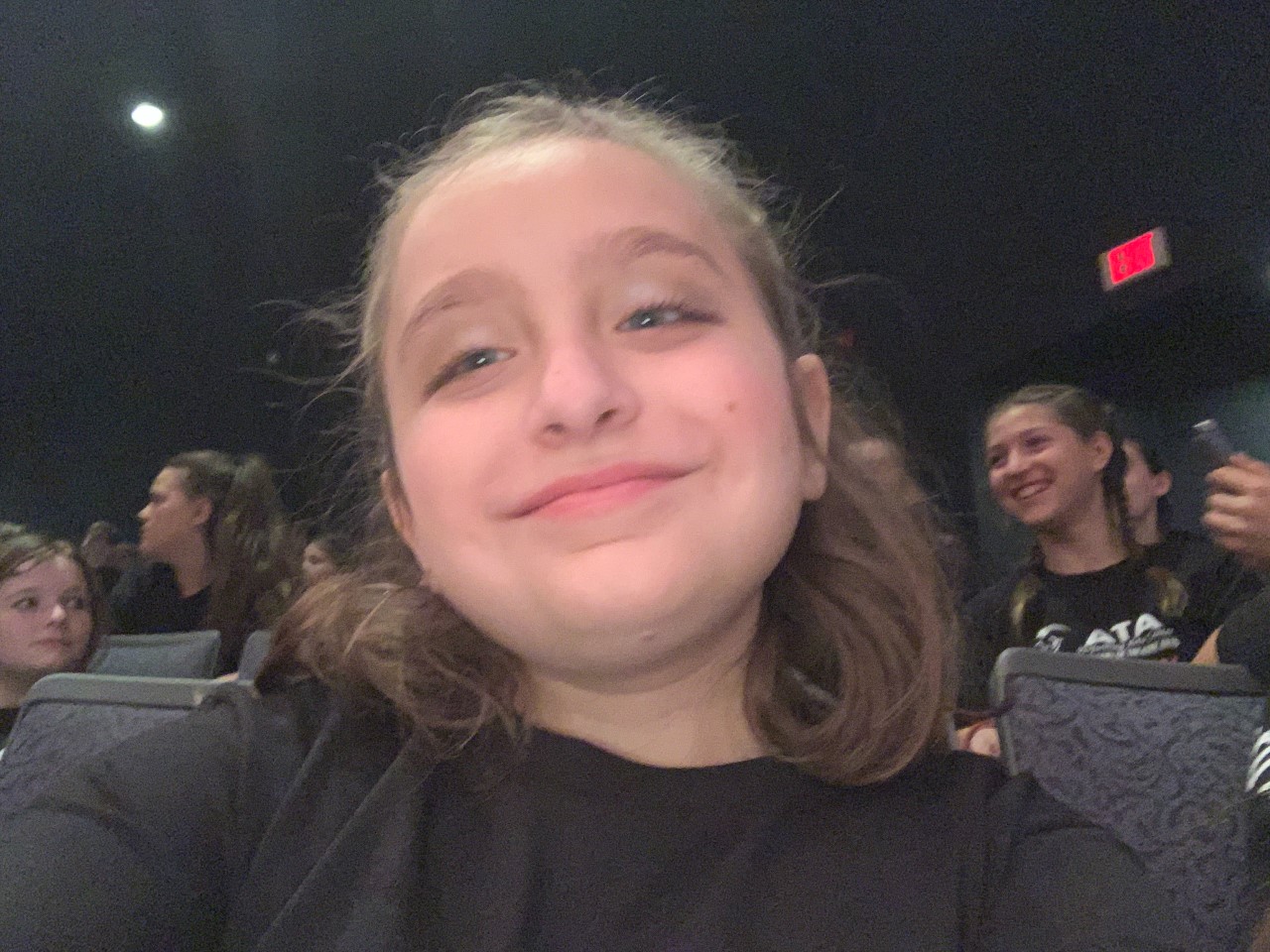 I packed Ella a lunch and off she went to Shea's 710 day. My fantastic husband did so much right this day and I need to point that out to him. If I tell him what worked for me then he knows to repeat that. For example, I hate driving downtown. I would have taken her. I would have gone with him. However, he told me he was taking her by himself and running errands on the way home. Score! He isn't phased by driving downtown. My advice to all of us is to learn to delegate and ask for help. Both of which I am still not a master of but continue to work on. He took Ella easily with no stress, got errands done, and showed up with Starbucks for Lillie and I. On a crazy Saturday, a good Starbuck's drink couldn't have been more perfect. He calls it Starbucks Saturdays and Seth tends to show up with Starbucks for his three ladies. So very sweet and appreciated every time he shows up with coffee for me.
Ella was taken care of, and my wonderful parents were not only going to pick up Ella for me downtown (they hate downtown like I do so I hated to ask them), they also let my dog Tanner out and took Max to football. I delegated some driving and I left Max a note to feed Tanner and pay attention to him. I am one person who can't do everything. I was going to be tied up at the recital all day. I mean I got the pleasure of being at the recital. Do you see how I did that? I hit rewind and replaced my negative thought with a much better one. I'm not tied up at the recital. I'm blessed to be at the recital.
Rewind
Replace
Reframe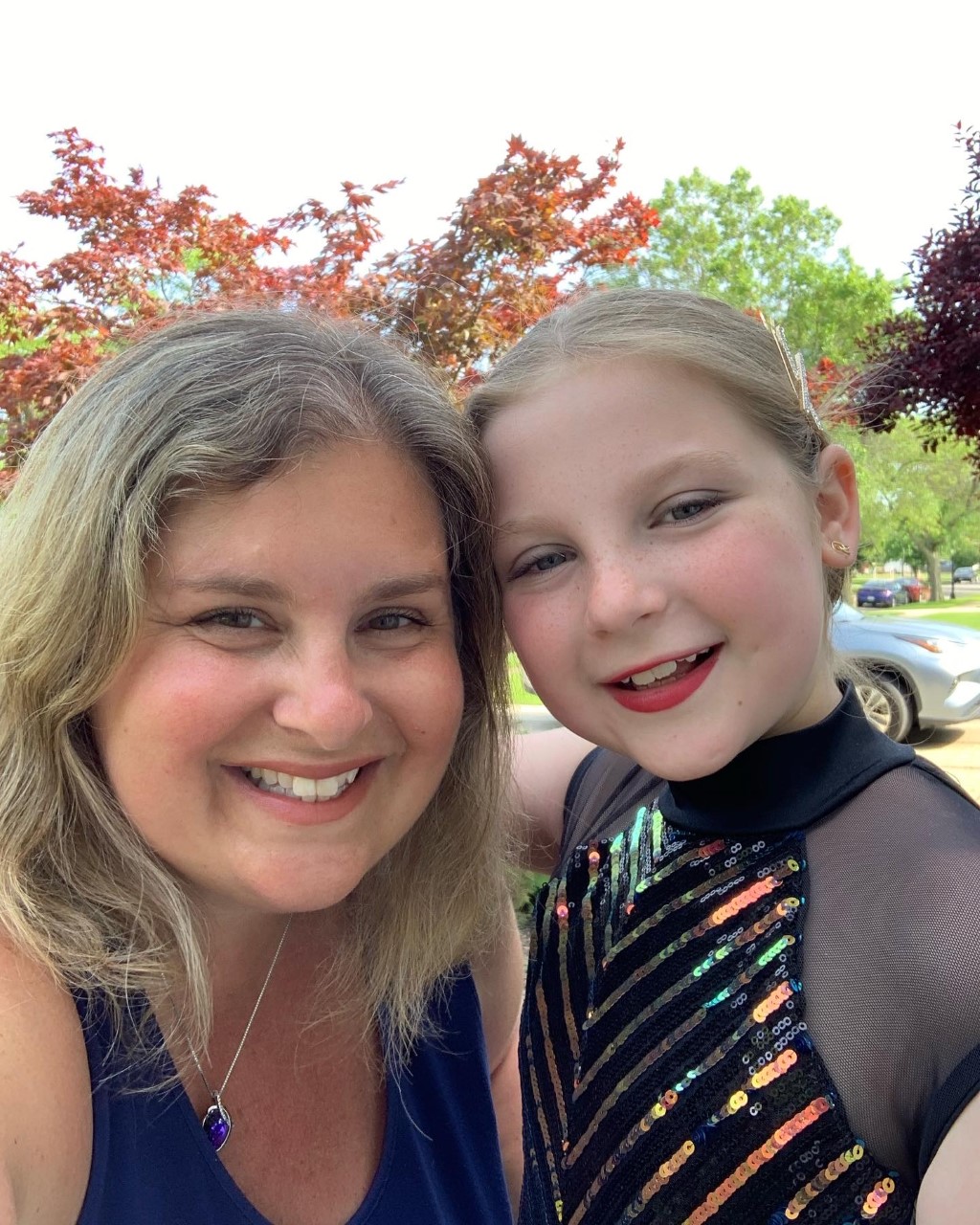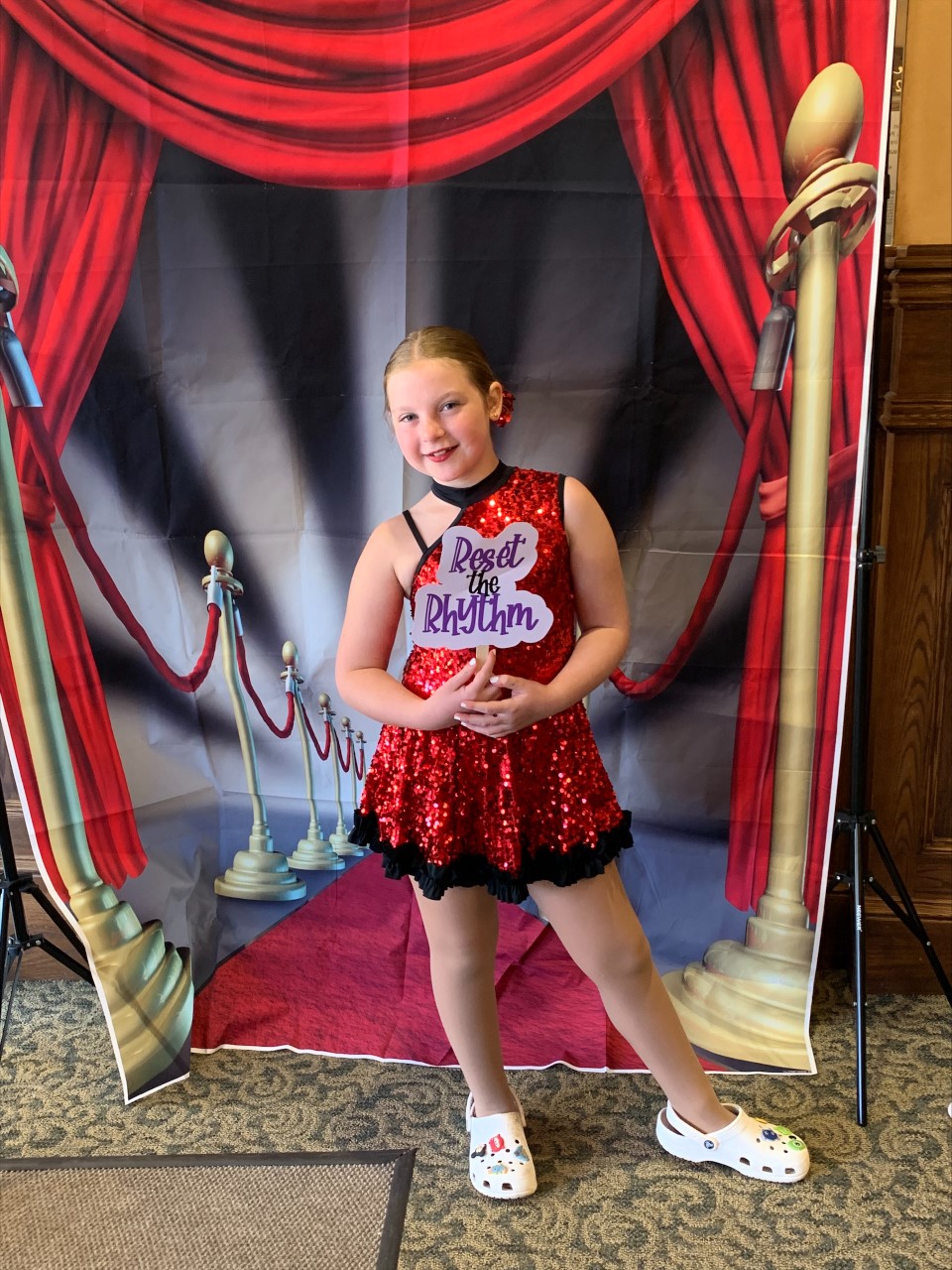 We drove off to the recital and Lillie and her friends did a fantastic job. I allowed Lillie to sign up for four dance classes this year. This kid loves to dance. When I signed her up for four classes my hesitance was the recital. Were the four dances going to be in the same recital (we lucked out and they were). How was I going to help her change that many times? It sounded hectic and crazy to me, but I went for it anyway. I was ready for the challenge and so was Lillie (and her two friends). Here we were recital day, and I was organized and ready to help her change.
Tap was great. Hip hop was amazing. On to the dreaded Acro costume. This costume was a one piece unitard that was skin tight. Lillie came off the stage from Hip hop bright red, sweating and huffing and puffing. She put her all into that dance. This costume was hard to put on her without the sweat, how was I going to do it with the sweat? Sometimes you have a friend that just steps in and knows you need help. It took Nikki in the back and me in the front to peel that costume onto her. I really don't know how I would have done it without her. It takes a village people. We need our village.
Lillie finished Acro, jumped into her Jazz costume and I yelled to my friend, "We did it! Done!" Four costumes! The recital was fabulous, and I was proud and ready to celebrate with dinner and ice cream. "Enjoy the journey of your day," I reminded myself.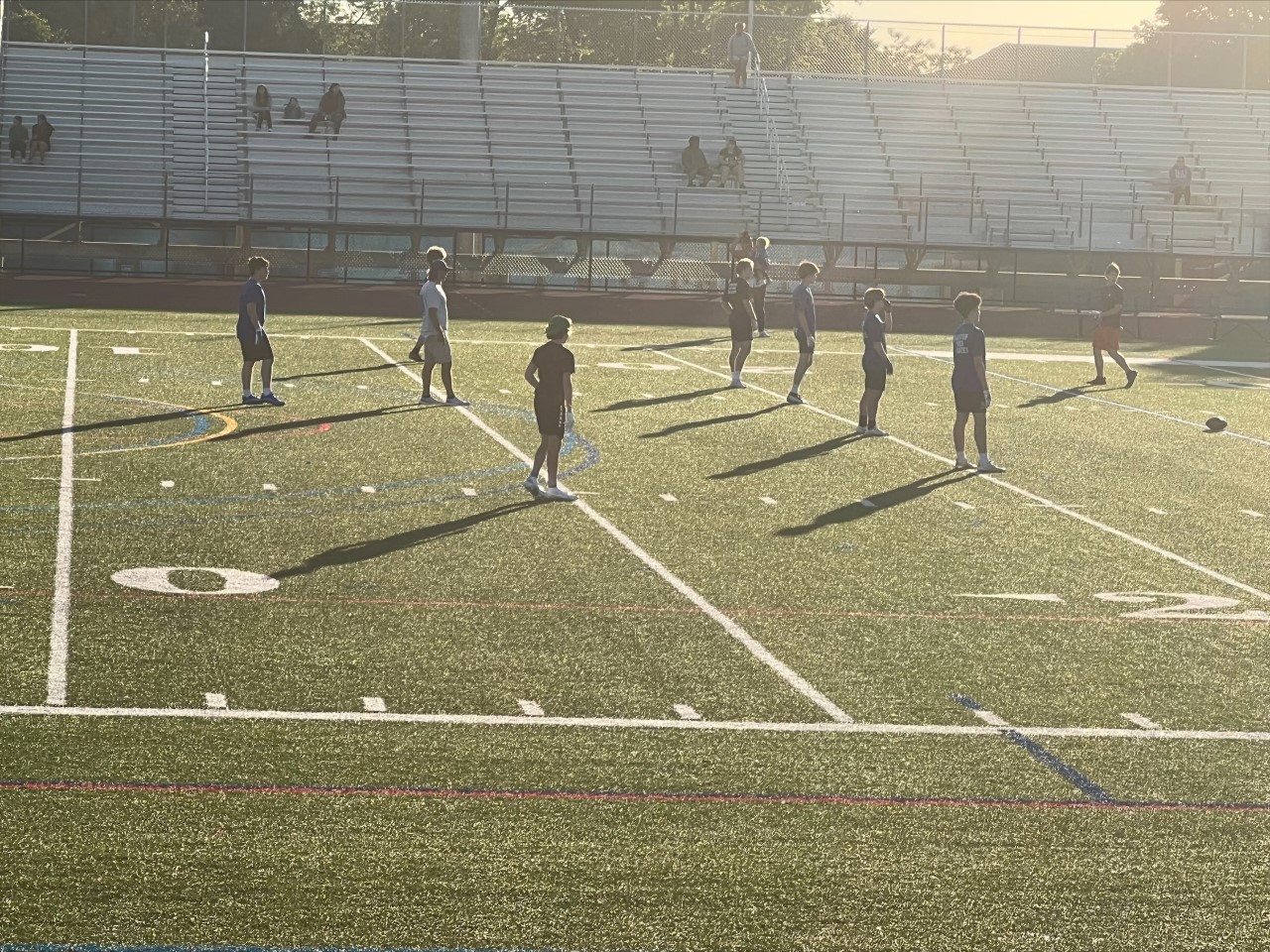 We picked up Ella at home, celebrated Lillie and moved onto football. As I sat in the stands at my son's high school, I started to reflect on what it was feeling like. I was sitting in the high school bleachers watching my son enjoy football. It felt really good, and I was smiling thinking about how many times I would get to sit here over the next 8 years. I looked over at my 9 year old dancing in the bleachers with her best friend. They were giggling away, and I could picture them doing that as 16 year olds at this very school. I see a lot of football and cheerleading in my future and the future looks really bright.
We took Max home from football and got in the hot tub. I told my husband that this was the moment that I was thinking about when I woke up. I explained that I encouraged myself to enjoy the journey of our day and not to just reach for the end destination of relaxing in the hot tub with him. I thanked him for helping so much today. One of my favorite questions is when he asks, "How can I help?" That's a good question. Seth told me that we crushed a crazy Saturday. I couldn't agree more, and I was proud of all five of us.
Laughing, Learning, Loving,
Rebecca Greene, LCSW-R
Tune in to Facebook Live at 9:00 PM Wednesday night to hear us discuss the blog with added bonus content.
Announcement:
Please go get the new Whinypaluza app at the Apple app store!
Come find me on TIK TOK @whinypaluzamom
Notes:
If you are looking for a supportive community, come join the Whinypaluza Mom Facebook group. I created this as I wanted us to have a place where we can talk about tips, strengths and challenges we are having. It is another step I took to help everyone to know that you are not alone. The June challenge was so much fun! I'm announcing the winner tonight! Come join us and bring a friend with you! I love to give away prizes! I love women uplifting women. If you have a business that you would like to advertise, I am more than happy to give away a prize from your business in support of you (I would purchase the prizes from you).
https://www.facebook.com/groups/whinypaluzamoms
The Whinypaluza Schedule:
Whinypaluza Wednesdays: My weekly blog comes out every Wednesday. I am always open to your topic requests. A new Vlog (video blog) also comes out every Wednesday night on Facebook and You Tube live at 9:00 PM to discuss the blog. If you would rather listen to a podcast than watch a Vlog, you can wait for the following Wednesday and the Vlog is released on my Podcast.
Thank you for liking, commenting and sharing the Whinypaluza content. Keep sending me topic requests and guest suggestions! I appreciate all of you! xoxo