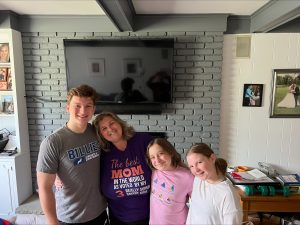 I hope all of you wonderful moms had a fabulous well deserved Mother's Day. If you didn't, it's time to train your people. I want to walk you through my day.
It was Mother's Day and I happily slept in. If all I did was sleep in, then I would have been thrilled with just that. Lowering our expectations is a key to happiness. These early mornings with my kids during the weekdays are a lot. I have been waking up before 6 and my body doesn't like it at all. So, sleeping in is a luxury that I only get sometimes on the weekends depending on our children's activities.
I walked downstairs and my husband had picked up Paula's donuts and iced coffee for me. Walking downstairs to coffee waiting for me is magical! I was a happy lady! Not only did my husband pick up my favorite donuts, but my daughter Lillie also set up the table so pretty for me. She is definitely a designer in the making. Ella and Lillie had also made gifts at school. I couldn't believe that I got homemade gifts. I thought those days were over so that was a wonderful surprise. I was so happy already! My family is so thoughtful. Notes: If we model thoughtful behavior, they will pick up on it. Also, train them to be thoughtful. Sometimes families are clueless. I've learned with my husband's help that I have to tell them what I want to do and not ask them. I love how direct my husband is. It has really helped me to develop this skill too.
My son came downstairs and asked if he was allowed to go to the gym. See, I have trained my children and husband that Mother's Day and my birthday are just two days a year that are ALL ABOUT ME! I deserve two days a year and so do you. Read that again please.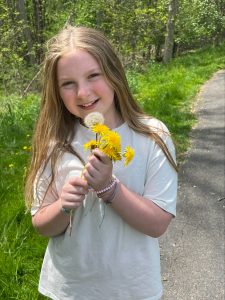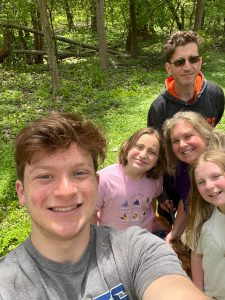 I told my family I would love for us all to work out together and off we went to the gym. I love, love, love that my son gets me to the gym. I need to make a schedule and do it religiously! I had a really good workout and was still really happy with the day! I love spending time with my family.
One of my favorite things to do is to go outside for a nature walk with my family. I love the outdoors in the sunshine, and I love taking our dog Tanner on walks. Tanner and I walk our neighborhood every day, so I love to give us both a change of scenery. We took a beautiful walk outside at a park and I greatly enjoyed it (other than my 10-year-old whining). Lillie wanted to lie on the couch. She did not want to go on a walk. I almost let her stay home on the couch, but she ended up coming. My kids don't love my walk ideas. Hopefully for my birthday we can spend the day in the pool!
Here is where I start to mess up the day. The day was still wonderful. There were still tons of good things about my Mother's Day. The mess ups are all on me. You see, the laundry is endless, and I knew I needed to throw in some loads of clothes. Why didn't I wait until Monday? That is question number one. Also, Max had mentioned that we were out of everything, and he wasn't wrong. My 16-year-old son eats a ton of food. It is mostly all very healthy food, but it is still a very large quantity of food. I try really hard to go to the grocery store a lot and keep up with his food intake needs. I knew we needed to go to the grocery store, and I knew we had time before our dinner plans. Off we went to the grocery store to stock up on a ton of food for the week. I will still need to go back a few times during the week. I'm not joking. Max eats a ton. I wonder how my neighbor down the street keeps up with feeding four boys!!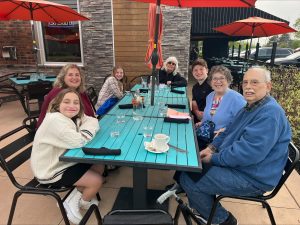 Question number one was: Why didn't I leave laundry for Monday?
Question two: Why didn't I send my men to the grocery store? I didn't need to go.
By the time we get back from the grocery store I am toast. That was a full day right there. Why do I do this? Why don't I learn? I need to pace myself.
We are so very fortunate to have both our mothers in town with us. We all get to spend Mother's Day together. Seth's mother wanted to eat outside for dinner. I found a place close by that serves dinner outside on a patio. I had two other places that I really wanted to go to, but both are closed on Sundays. Bonus that it wasn't crowded because you know how restaurants are on Mother's Day.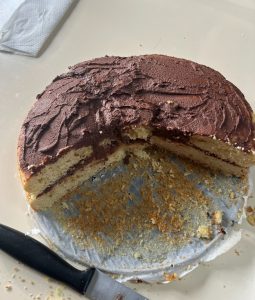 Well, it was freezing, and eating outside was not a good idea. You just never know how the Buffalo weather will be in May. It could be raining. It could be snowing. It could be sunny and hot. I didn't have to cook, and we were all together were the big pros. The negative side was that I think everyone was freezing. My ten-year-old didn't listen to me and wore a dress and froze. Natural consequences are sometimes the only way to teach our children. I am not going to fight with her on Mother's day. It was the day that she should have been on her best behavior and listening to me, but I can only expect so much!
We got to see our moms at a chilly dinner outside at a restaurant and then it was time to journey back home. Max and Ella were so excited to surprise me with a homemade cake. Those two sweethearts took time Friday night while I was at dance pictures to make me a beautiful cake. I am so touched. There was so much goodness to the day. However…..
I do too much! I try to fit too much into a day. I am still learning how to pace myself. My motto used to be: how much can I get done? My new motto is: don't forget to take breaks and time outs and rest time. I have mastered how to go, go, go all day long. I don't like it when I feel like I want to fall over at the end of the day.
Life is not all about work.
Life is not all about what can I get done?
I forget this and I have to remind myself frequently. I have done wonderful work on my self-talk. I'm speaking much kinder to myself. I still work on that too. Next up is reminding myself regularly of the importance in being and not just doing, doing, doing all day long. I am living and learning. I still have so much to learn and master. The thing about me is that I never give up. I will continue to learn and grow from my mistakes.
Oops, I did too much on Mother's Day. This isn't shocking to anyone who knows me. Next year I will do less on Mother's Day. The goal of Mother's Day is to spend time with family for me. That's my only goal. Maybe your goal is time by yourself and that's okay too.
What will you do differently next Mother's Day? I will do less!!
Laughing, Learning, Loving,
Rebecca Greene, LCSW-R
Whinypaluza Notes:
Whinypaluza Mom Group:
If you are looking for a supportive community, come join the free Whinypaluza Mom Facebook group.  I created this as I wanted us to have a place where we can talk about tips, strengths and challenges we are having.  It is another step I took to help everyone to know that you are not alone. The May Mother's Day challenge was a lot of fun. Come join us and bring a friend with you! I love to give away prizes. This group is going private so please find me on Facebook at Whinypaluza or Rebecca Greene and message me to ask for an invite. I'm also on Instagram @becgreene5 and @whinypaluza_mom. I am also on Tik tok @whinypaluzamom.
The Whinypaluza Schedule:
Whinypaluza Wednesdays: My weekly blog comes out every Wednesday.  I am always open to your topic requests.  A new Vlog (video blog) also comes out every Wednesday night on Facebook and You Tube live at 8:00 PM Eastern time to discuss the blog.  If you would rather listen to a podcast than watch a Vlog, you can wait for the following Wednesday and the Vlog is released on my Podcast.
Family Fridays: Every Friday morning a new Podcast is released.  Most of my episodes on Fridays are me discussing parenting and marriage with experts on the topic.  If you would rather watch the Podcast instead of listen, you can watch it on You Tube.  If you would like to be on my Podcast or know someone who would like to please message me on Facebook or Instagram or at whinypaluzamom@gmail.com
I would so greatly appreciate it if you would subscribe, rate my Podcast and leave me a five star review.  This leads to it being shown to more people that we can help. I appreciate it when you share my blogs, vlogs and podcasts with a friend so that we can build our community and help people one mama at a time. Every time you like and/or comment on a post it helps and is so appreciated!
Please feel free to email me with suggestions for topics that you would like me to cover. I would also love to hear about any lessons or takeaways that you learned from blogs, vlogs or podcasts that Whinypaluza releases. I hope that you are finding all this helpful and seeing that you are never alone. We are in this parenting and marriage thing together. xoxo