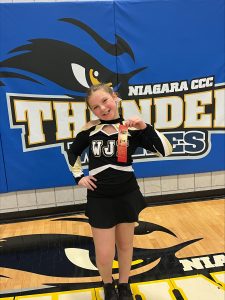 My daughter is 11 years old, and she begged me to put her back in cheerleading. Lillie is my third child. Maybe you can relate to this when I say this and maybe you think I'm crazy but – Max is our first child and we signed him up for everything and anything he wanted to do. Ella is our second child, and we sign her up for any and all theater that her heart desires. By the time I get to little Lillie bug I am a tired mama. I pushed myself hard to sign her up for cheerleading and I am so very happy that I did. She needs to get to do what she wants too. It is a big commitment, but it is teaching her so much and she's having a ball along the way.
Let's start with the obvious fact that Lillie is working out at cheerleading and having physical exercise which is so important for all of our children. She is also learning more about cheering, dancing, stunting and tumbling. These are all wonderful skills that she is learning, working hard at and enjoying.
Lillie is working so hard. She puts her all into it and her effort is paying off. She is seeing that working hard with her team is leading to a great routine and winning in competitions. We all know that winning isn't everything, but it's awfully nice!
Team sports teach our children hard work, commitment and how to be a part of a team. Cheerleading is very strict about attendance and knock on wood she tries to get to every single practice, game and competition. Competitions are no choice for attendance. When you are part of a team that stunts together and has placements, then you have to show up for your team. She is learning how to commit, and she is learning to do this for herself, her team and her coaches.
Lillie is learning that people need encouragement and support. When she sees a cheerleader crying, she will jump right in to see what is wrong and comfort her teammate. She wants them to be strong for the team for multiple reasons, but she understands that sometimes they are going to cry and need help.
She is learning how important it is to be strong. In a competition if you mess up, you need to keep going and pretend like nothing happens. You don't want the judges to see you get upset or cry. You don't want to make a facial expression that may show that something went wrong. You may have someone fall on you at practice and you hopefully can shake it off.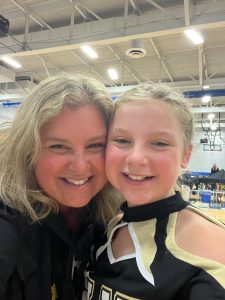 Lillie and I have had multiple conversations about learning to balance school, homework and cheerleading. If she gets a lot of homework that is due on Wednesday for example, then she needs to map out when she has time to do this homework. This is teaching them real life skills. As I am typing this, I am balancing work with my household tasks. I have a load of laundry running and I am about to go run a couple errands for Lillie and Ella. Balancing life is a huge skill that cheerleading or almost any sport will teach your children.
I see cheerleading giving Lillie discipline, perseverance and determination. She is seeing that when you set a goal and work hard at it that you can succeed. The team set a goal to win and they did times two. Time for number three.
She is also learning that you don't need to be perfect. Her team made a couple mistakes at the last competition and were still able to pull off a win. I've told Lillie many times that she doesn't need to be perfect and that it's pretty impossible to achieve. Cheerleading is teaching her that better than I ever could.
Lillie is having fun, working hard and making a lot of friends. The cheer team feels like a family. They all work together and look out for each other. I love that her coach does team bonding time to get the girls together outside of cheer. She is learning to work hard and play hard.
Lillie is seeing that her coach is strict, warm and fun. She is learning what it takes to be a good leader. Having her coach show her when it's time to be strict, and when it's time to let loose and have fun is so good for her to experience. I love her having other important meaningful adults in her life.
When we go to the banquet in November, Lillie and her team and coaches will feel so proud of themselves for having such a great season. They will reflect and feel good about themselves and will take all the lessons they learned out into the world.
Everything Lillie learns at cheerleading can be generalized into life. I see her discipline, commitment and perseverance showing up with her school work. I see all her skills in everything she does. I had no idea she was going to learn so much when she asked me to sign up for cheerleading. I love that she knows what she wants. I love that she goes after it. I love that she was right. I love that she is enjoying it. I am enjoying going on this ride with her. I am happy to support her on her life journey. It's a privilege to be one of her tour guides.
Laughing, Learning, Loving,
Rebecca Greene, LCSW-R
Check out my link tree:
Whinypaluza Notes:
Whinypaluza Mom Group:
If you are looking for a supportive community, come join the free Whinypaluza Mom Facebook group.  I created this as I wanted us to have a place where we can talk about tips, strengths and challenges we are having.  It is another step I took to help everyone to know that you are not alone. The October challenge was a lot of fun. Come join us and bring a friend with you! I love to give away prizes. This group is private so please find me on Facebook at Whinypaluza or Rebecca Greene and message me to ask for an invite. I'm also on Instagram @becgreene5 and @whinypaluza_mom. I am also on Tik tok @whinypaluzamom.
The Whinypaluza Schedule:
Whinypaluza Wednesdays: My weekly blog comes out every Wednesday.  I am always open to your topic requests.  A new Vlog (video blog) also comes out every Wednesday night on Facebook and You Tube live at 8:00 PM Eastern time to discuss the blog.  If you would rather listen to a podcast than watch a Vlog, you can wait for the following Wednesday and the Vlog is released on my Podcast.
Family Fridays: Every Friday morning a new Podcast is released.  Most of my episodes on Fridays are me discussing parenting and marriage with experts on the topic.  If you would rather watch the Podcast instead of listen, you can watch it on You Tube.  If you would like to be on my Podcast or know someone who would like to please message me on Facebook or Instagram or at whinypaluzamom@gmail.com
I would so greatly appreciate it if you would subscribe, rate my Podcast and leave me a five-star review.  This leads to it being shown to more people that we can help. I appreciate it when you share my blogs, vlogs and podcasts with a friend so that we can build our community and help people one mama at a time. Every time you like and/or comment on a post it helps and is so appreciated!
Please feel free to email me with suggestions for topics that you would like me to cover. I would also love to hear about any lessons or takeaways that you learned from blogs, vlogs or podcasts that Whinypaluza releases. I hope that you are finding all this helpful and seeing that you are never alone. We are in this parenting and marriage ride together. xoxo