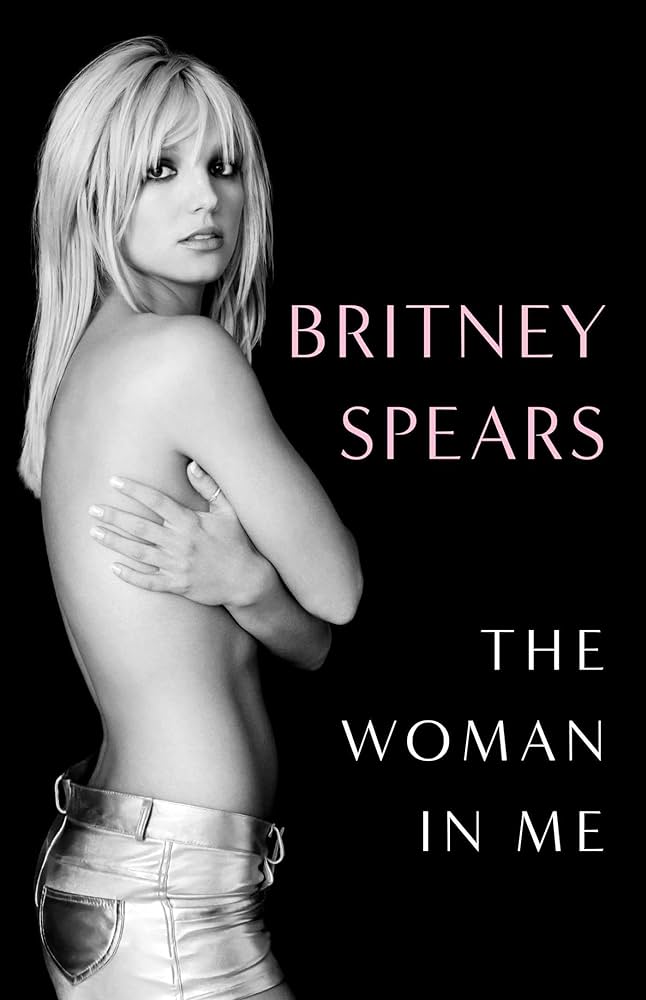 I grew up with Britney Spears. I listened to her music all the time. She was my favorite and is still one of my all time favorite singers. I remember following her relationship with Justin Timberlake and thinking it was the coolest thing. I thought that they were meant to be. I thought they would get married and have children and live happily ever after. I was so wrong.
I just finished reading Britney's new book The Woman in Me. I absolutely loved it and read it very quickly, like I knew I would. That must have been very therapeutic for her to get all of that out onto paper. Good for her for sharing her story. Let's jump into lessons we can all learn from Britney after reading her book.
You don't have to share your story with the world like Britney did but get it out onto paper. It feels so good to unload. If you don't want to write it at least share it with someone. We don't want to keep things bundled up inside of us. That just causes stress. Get it out. I'm so happy that Britney got so much out into her book.
Britney talked about her relationship with Justin. It sounds like he cheated on her and she never said anything. She didn't have a voice back then. She let her boyfriend cheat and never said anything about it. Justin later went on to tell everyone that Britney cheated on him. Britney continued to say nothing about Justin cheating on her thinking no one would believe her. Why did she think that? I would have believed her. The lesson is – speak up for yourself. Don't let people cheat on you. People only treat you how you let them treat you.
We all have pain that we are dealing with. Britney revealed in her book that she got pregnant when she was dating Justin. She explains that she had an abortion because Justin didn't want to be a father yet. Why is it all about Justin? Why did Justin get his way? Why didn't she speak up for herself? I'm seeing a theme. This is some of the pain that she carries with her. We don't know what people are dealing with.
Britney went on to have children with her husband Kevin Federline. He fought her for custody of their two sons after they divorced. She seems to have a pattern of allowing people to treat her poorly. Her boyfriend Justin, her husband Kevin, her parents, her sister, and even her kids don't seem to treat her with respect. She hadn't found her voice yet.
With Kevin continuously trying to keep her children from her, Britney had a lot of sadness and rage inside of her. When she shaved her head and everyone labeled her as acting out, there was a reason for it. When people act out, they are showing us that they are in pain. If someone in your life is doing something that is out of the ordinary, then it is an indication that they are suffering on the inside.
We saw Britney party with her friends. We saw Britney shave her head. We saw Britney fighting for custody of her kids. We saw Britney go through a divorce. I don't know why Britney's parents thought they needed to essentially take over her life. Britney's conservatorship had her father in charge. A man who she feared and didn't like very much was in charge of her. A man who had a drinking issue himself. How did that make sense to put him in charge? If they felt she needed someone in charge of her at least put someone in charge who she trusted.
As Britney went on to talk about her life in the conservatorship, my heart went out to her. The amount of control that these people took over her life is a crime. I'm surprised there isn't a lawsuit. Maybe that is coming next. They treated Britney like she wasn't capable of anything. She couldn't decide what medicine to take. She couldn't decide who to date. She couldn't drive her car. I cannot believe the details that I read about her life. She had no creative freedom in her career. I'm so sad for her with what she went through and am so thankful that she got out of the conservatorship. We can't let people treat us like this. She needed a good lawyer on her side years ago.
I'm thankful a nurse showed her the free Britney movement. The power of the people. We don't know how impactful we can be in someone's life. All her fans protesting to free Britney gave her strength. I'm so glad she found it within her to fight and win and get rid of the conservatorship. I'm so thankful she is free. I hope she can live a good life now. I hope she can find love and happiness. She has not had an easy life. Her fans showed her that people care.
She didn't know that she could fight and win. She didn't know that she could get her own lawyer. We have to ask questions. We can't lay down and let people take advantage of us. There may have been a part of her dad that thought he was helping and doing the right thing. I think he took it way too far and for way too long. Was he going to keep this up forever?
In Summary:
Get it out! Don't bottle things up.
Remember that people have pain that we don't know about.
Acting out is a message that someone is in pain.
People only treat you how you allow them to.
Ask questions. Don't assume anything. Gather your information!
Support is a huge thing. People supporting us has a big impact on our lives.
People need creative freedom.
Let us all learn and be inspired by Britney. I hope she has learned to speak up for herself. I hope the woman in her is alive and roaring and ready for a good life. I wish her a good life.
Laughing, Learning, Loving,
Rebecca Greene, LCSW-R

Check out my link tree:
Whinypaluza Notes:
Whinypaluza Mom Group:
If you are looking for a supportive community, come join the free Whinypaluza Mom Facebook group.  I created this as I wanted us to have a place where we can talk about tips, strengths and challenges we are having.  It is another step I took to help everyone to know that you are not alone. The November thankful challenge was a lot of fun. Come join us and bring a friend with you! I love to give away prizes. This group is private so please find me on Facebook at Whinypaluza or Rebecca Greene and message me to ask for an invite. I'm also on Instagram @becgreene5 and @whinypaluza_mom. I am also on Tik tok @whinypaluzamom.
The Whinypaluza Schedule:
Whinypaluza Wednesdays: My weekly blog comes out every Wednesday.  I am always open to your topic requests.  A new Vlog (video blog) also comes out every Wednesday night on Facebook and You Tube live at 8:00 PM Eastern time to discuss the blog.  If you would rather listen to a podcast than watch a Vlog, you can wait for the following Wednesday and the Vlog is released on my Podcast.
Family Fridays: Every Friday morning a new Podcast is released.  Most of my episodes on Fridays are me discussing parenting and marriage with experts on the topic.  If you would rather watch the Podcast instead of listen, you can watch it on You Tube.  If you would like to be on my Podcast or know someone who would like to please message me on Facebook or Instagram or at whinypaluzamom@gmail.com
I would so greatly appreciate it if you would subscribe, rate my Podcast and leave me a five-star review.  This leads to it being shown to more people that we can help. I appreciate it when you share my blogs, vlogs and podcasts with a friend so that we can build our community and help people one mama at a time. Every time you like and/or comment on a post it helps and is so appreciated!
Please feel free to email me with suggestions for topics that you would like me to cover. I would also love to hear about any lessons or takeaways that you learned from blogs, vlogs or podcasts that Whinypaluza releases. I hope that you are finding all this helpful and seeing that you are never alone. We are in this parenting and marriage ride together. xoxo