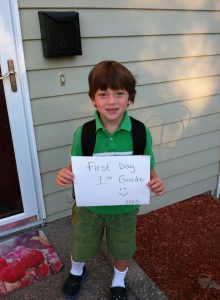 I just finished writing a letter to Max's first grade teacher which is inspiring me to write this.  School with Max so far has been anything but easy!
I started putting Max into preschool at age 3.  My friends all told me that he would love preschool at age 2 but I know my son and I strongly disagreed and chose to wait until he was 3.  I probably should have waited till he was 4!!
I would take Max to school every Monday, Wednesday and Friday morning (for 2.5 hours of school) and Max would cry and cling to my leg.  I would encourage him, keep a straight face and then book to the car crying.  I never showed Max one tear but boy did I cry that year!  The teacher and my friends who volunteered in his classroom told me he was fine once I left and was just giving me a show.  I wanted my son to love school so much that he would run away from me forgetting I was there!  Not so much luck.
The following year for UPK was no better!  I was hopeful!  Max is older and will have an easier time being way from me.  Not so much luck.  Max cried almost every day of UPK telling me he didn't want to go and that he wanted to stay with me!  This is what I get for doing this to my own mom!  I pawned off driving Max to school on Seth as my emotional state couldn't take it anymore.  Yes people, I am the sensitive mom!  I married my husband for a million reasons he is absolutely perfect for me!  One of those reasons was because he had no problem taking Max to school and dropping him off.  I don't know if Seth knows to this day the degree to which that helped my emotional state!
Somehow Max and I made it to Kindergarten!  I begged the school for a sweet, nurturing teacher and explained that I didn't give a damn about academics.  I just want my son to freaking learn to love school for G-d's sake!  I don't care about reading, math, sitting still, the rules, etc. etc. I just want my son to love school!  I know how smart Max is, I know he will be fine academically, lets get his emotional well being doing better at school!
Max loved his Kindergarten teacher and I didn't have to fight with him every single day to go to school (only sometimes).  I kissed the ground, I kissed Max's school, for the first time my son was not crying every single day about school.  Part of this may be that Max is getting older and more mature and getting used to going to school every day.  Whatever the reason, I don't care what it is, I am a happy mama!
So now summer is coming to a close and I am holding my breath about first grade.  I asked again for a sweet and nurturing teacher and again said that I don't give a damn about academics.  Oh how the teachers are going to love me!  Max is reading above grade level – great!  Max has made a lot of friends – great!  Max is a joy to have in my class – great great!  All I can say is does my son love school!  As Max's mom that is ALL I care about at age 6!  Wish me luck for a smooth ride through first grade with Max!