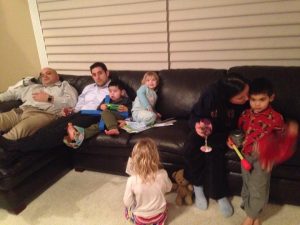 Heading to Virginia, my home away from home!  We were all so excited to go see my brother, sister-in-law and two nephews!  Even more exciting was that my brother was putting on an amazing seminar and my husband Seth was going to speak at it too!  I wasn't even going to have to stay home with the kids, I was going to the seminar! I was so thrilled!
Packing for four people beyond sucks but I got it all finished and we were ready to roll!  We won't mention the list of stuff that we forgot which is so not like me!  When you pick up your daughters from bed and put them in the car you probably shouldn't forget their coats when it is below zero outside! Oops!
7:15 am and we are on the road to Virginia!  It was an extremely smooth ride to Virginia! Not one wrong turn and the kids watched movies and listened to music! Easy breezy (unlike the ride home)!  Seth also decided to drive the whole way so he didn't have to deal with the kids demands and so that I could navigate!
The trip was amazing, wonderful and magical!  My wonderful mom and my brothers sweet nanny stayed home with the five kids while the rest of us ventured off to the best seminar I have ever been to!  My brother Corey and my husband Seth are on fire on stage!  The two of them will continue to inspire, teach, help and change people professionally and personally!  My heart is swelling with pride and I can't stop smiling!  I am so happy to be there and 11 hours later I realize that it is ok to take 11 hours for myself and my brother and my husband!  It does not always have to be about the kids!  I hope you all reading this know this!  You can do things for yourself!!!!  I need to keep telling this to myself and all of you!
The next day my legs are toast from standing and jumping at the seminar in heels!  My brother asks me what the outcome is! Are u kidding me???!!!!  You inspired over one hundred people!!!  You changed lives and you are asking me what your outcome is!  I want to shake him!
The next day I watch the cousins play and I savor every moment.  Ella is already telling me she doesn't want to leave!! I know, I agree, part of my heart lives in Virginia!!
I think the reason the rides home suck so much is because I don't want to leave!  I am grumpy and my sweet husband has to deal with me! I am bitching because the dvd players and the back up dvd players aren't working!!!!! How am I going to make it 8 hours home with no movies for the kids??  I go on and on for four hours about how i wanted the car with a built in dvd player!  Sorry Seth!  I know this was not pleasant!
I continue to try to get the dvd players to work for many hours to come.  Seth figures out a wire is broken and is now looking up targets within our vicinity to go buy new ones!  The man is desperate to shut up Lillie and I with a movie!
I get confused and we end up on the 70 headed home instead of the 15.  The gps is taking me on a different route and I decide to go with it.  I am completely pissed that I missed the 15 turn off and I bitch about it endlessly because I am WAY too hard on myself!!  Note to self – your children are watching and you are teaching this to them!!  Maybe just maybe I could learn to flow better!!
We are at wendy's and I see Seth is brutally tired from driving and Lillie and my bitching!  Max is actually winning the best behavior award and Ella is not far behind.  Lillie is bored and begging me for Frozen!
I take over driving and Seth gets our old dvd player to work!  It is a miracle and I couldn't be happier!  Peace the rest of the way home!
I drive the rest of the way while the kids watch movies!  Seth says he is buying new dvd players for our next car trip in March!!
We make it home safe and half sane!  It was another whirlwind of a weekend!  I am already missing my brother and his family and the kids are asking when we will go back!!  When we buy new dvd players lol!!  Happy Traveling!
My lessons – the seminar taught me so many things….
Your passion is your purpose – go after it!!!
Show up with your best self!
We can do anything we set out to do!
My drive home lessons:
Let things go!
Go with the flow!
Be easier on myself!
Visit my family more often!