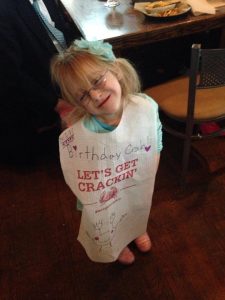 My children talk about their birthday ALL year long!!!  Ella in particular cannot wait for her birthday!  Ella cannot stand when it is anyone else's birthday!  Birthdays have gotten way out of hand!  First there is her actual birthday, then there is a family party, and then you can't forget about a kid party!!
The whole time I planned Max's January birthday Ella complained….she complained that it isn't fair that Max's birthday is before her birthday.  She complained that she has to wait until March.  She complained that she wants to be the oldest!  So fun!!!
It is the night before Ella's birthday, and I am decorating the dining room, blowing up balloons, and putting out clues for her scavenger hunt!  This is all becoming a tradition!  My kids wake up to balloons in their room and then have clues to follow to find their presents!  I buy presents for all three kids (yes, nuts, and my husband Seth does not agree with this).
Ella loves pancakes so I got up super early to make her homemade fresh birthday chocolate chip pancakes!  She eats her pancakes, puts on a beautiful sparkly dress, and heads off to school.
My mom takes my two year old Lillie and I head to school to surprise Ella to have lunch with her and read a book to her class!  I am exhausted, I want to hide and sleep, but I push myself to go to school!
The birthday fun day continues and Ella is now asking me endlessly when her family and kid party are!?  This is going to be a long week!
Ella decides she wants her family party at the Crab Shack so she can dance with the waitresses!  How do I argue with that adorable request? "Ella, you don't like seafood?  Are u sure about this?"  Ella has mac and cheese at the Crab Shack for dinner but man did she boogie with the waitresses!!!  The service was slow, the food was just ok, but Ella was smiling!  This is always my goal!  Our parents are trying to be good sports about it!  Max was thrilled to eat an entire steam pot and part of mine!
Note to self: family celebrations at home!
Ella is now relentlessly getting impatient for her kid party!!  I can do it, I can get through this week!!  Have you noticed I give myself a lot of pep talks?!
I wanted Ella to invite a few friends over for a spa party!  My friend said her assistants would do it for me.  I couldn't convince Ella.  She was determined to have a ymca party like her brother!  Seth was lecturing me that this is about Ella not me!  Yes, excellent point, BUT I DO ALL THE WORK!!!! Ella would love a damn spa party!! Next year!!
Yes, I reluctantly booked the YMCA. She doesn't want a pool party, she doesn't want the adventure room, she wants to run around the gym and play games!  Sounds terrible but ok Ella!
I was determined to have Elsa come surprise Ella at her party!  The fabulous Elsa I saw at the melting pot restaurant was moving away! Darn it!!!!  I was not going to hire just any Elsa (I got a really bad Cinderella for a birthday party – make sure you see a picture of the character before they show up)!
Seth and I brainstorm and decide to see if someone from his office wants to be Elsa.  We hire an Elsa, now for a costume!  I email a couple people who I think have a costume….I panic and feel time pressure and order a costume from Amazon.
It is the morning of Ella's party.  Seth drops the kids off at Hebrew school and comes back with two dozen roses.  Seth knows it has been a crazy week!  He knows we are about to go to a Purim carnival and then to Ella's party.  He is being super sweet and I know his roses are a pep talk for the day/week and I couldn't feel more appreciated and loved!
It is now an hour before the party and texts start rolling in from "Elsa" that the dress I ordered is used and stained!!! Seriously!! I ordered a new dress!  Good job Amazon!! Don't panic, it will be fine!!! Yes, I try telling myself this!  Ella won't notice a used stained dress!  Everything will be fine Seth repeatedly tells me!
Party time!  I go upstairs to show my friend where to put the amazing Frozen cake she baked for Ella.  I come back down to the party to three kids crying!  Apparently tag leads to injuries so we switch to a different game!  Ella is giggling and smiling and I make myself focus on that!  I am holding my breath as Elsa tells me she is arriving in 4 minutes!  I feel like a kid I am so excited to surprise Ella!
"Elsa" walks in and she looks perfect!  Gorgeous, amazing and Ella is thrilled!  Ella is clueless to the stains (yes, saw a couple but the dress is still beautiful).  All the girls go crazy for Elsa and keep grabbing her hand.  Seth's employee was such a good sport!  She put tattoos on kids, took pictures with every kid, helped Ella open presents!  A success!!  Phew!!!!
Ella races through opening up her presents despite my many efforts to slow her down!
Frozen merchandise is flying…
A frozen vanity!

Singing Elsa and Anna!

Jewelry!
Lalaloopsy dolls

Purses

Slippers
Ever after High doll
Princess palace pets…..
Ella is in her glory!
Lillie is screaming trying to open presents and Ella is not having it!  The joy of sisters!
The food and cakes are almost gone, the presents are all opened and Elsa has left the building!  Seth, our parents and our friends cleaned everything up as I said goodbye to everyone.
The car is packed, another party in the books!!!  We are home, I am full of adrenalin and finally eating and Seth is passed out on the couch!!!  Parenthood!  Amazing, fabulous and NOT EASY!!!!!
Huge special thank you's:
To my parents, Seth's dad and fiance, Seth and my friends for ALL of your help!!!!
My dear friend for baking another amazing cake!
My dear friend who came to enjoy and take pictures!
Seth's employee for being a kick ass Elsa!
Seth for letting me do this and paying for it!!!
We are so blessed!!!
My greatest lesson: stop and smell the roses!!!