Mommy Taxi
I wake up grumpy (never a good sign) and stomp downstairs. I see Max and Seth on the couch and start making lunches. I know Seth is leaving for Denver today. I know I tend to be grumpy when I know he is leaving. I seem to turn to being grumpy instead of being sad. Grumpy is easier for me then sadness. I hate being grumpy but I hate being sad even more!
Ella and Lillie come down and I continue to work on getting everyone ready. Lunches packed, bags packed, breakfasts eaten (except Lillie who is fighting me). All the kids are dressed and I am watching the clock go very quickly this morning. I need to get everyone into my minivan by 8:40 AM. It is not looking so good!
I rush everyone along and Lillie asks me for breakfast in the car. I get everyone in the car, Seth grabs his suitcase and their backpacks and we are off. First stop is to drop Max and Ella at school. We pull up to drop them at 8:53 and hope that they aren't going to be late! It is at this point that I realize that I forgot Lillie's breakfast! Crap! Now what? The only food in the car I can find is cookies so that is what she will get! All I can say is third child! Do you think I would have let my first child eat cookies for breakfast? Next stop is the airport. I really need to buy myself a mommy taxi magnet for my car. I am in my car way too much! I drop Seth at the airport and give him a kiss goodbye. I am sad every time I leave him at the airport but I know how much his trips help him and our family! I am late so I rush off to nursery school and drop Lillie off. I get back into my car at 9:40. It took me an hour to drop everyone off. I laugh and head to the Y to workout. Time for some me time. I am smiling knowing I have a couple hours to myself! However, by the time I get there and workout I have to turn around to pick up Lillie and her friend. Where did the morning go? Why does it go so fast?
I pick up Lillie and her friend and drop her friend off. I run home to feed us and then run to school to handle some treasurery items (I am PTA treasurer). Just add it to my list. I help with Girl Scouts. I help with softball. I help with the PTA….if you know me when do I not help? It is just in my nature! I can't help myself!
With Seth being away I drop Max and Lillie at my parents house and Ella, my dad and I head to softball. I may be able to help coach but my dad is the expert. My dad played and coached baseball forever! He is excited that Ella is playing! Ella has a great practice and turns to me and tells me she loves it and wants to play again next year! All the running around…all the money I spent…the bat, the mitt, the helmet, the clothes….all the softball practices….that smile and happiness beaming from Ella makes it all worth it.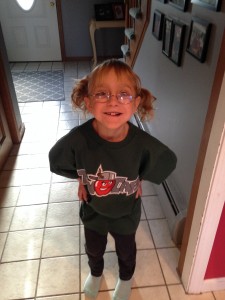 We drop off Ella's friend and run to get max and Lillie. We run home to shower everyone and deal with homework. If I was a teacher I would give minimal homework! Come on! It's Spring! Let's be done with homework! How much time did I spend in my car today? I don't want to know. It is just part of motherhood!
Now it is time to the put the kids to bed. I want you all to know how much better I feel venting all of this into my phone. We have to vent! We have to learn to cope! Whether I am screaming to my friends, my mom, my husband, working out or writing, I find ways to destress! Motherhood is an amazing joy! My kids are wonderful exhausting little people!