Bad Moms
Ladies, you all need to go see the movie Bad Moms! Go see it with your friends and then take your husband to see it! I went with my friends and I laughed so hard I actually hurt myself! I told my husband how funny it was and he told me I had to go back with him so he could see it! Twist my arm, I couldn't wait to see it again! I didn't anticipate what would come from the movie!!!
Seth and I went and got a couples massage, we went out for dinner and we then went to the movies! Trust me when I say this doesn't happen often! It was our 11 year anniversary and Seth planned a lovely day for us! I was quickly adjusting to actually relaxing! I got to eat dinner without waiting on anyone! I got to eat dinner slowly while having a conversation with my husband! This doesn't happen enough! I thought the evening couldn't get any better and then we went to relax and laugh at the movies.
Seth watched Bad moms and he kept looking at me with this look. He watched the moms race from one thing to the next and he gave me the look. He watched a mom cry in her van and he gave me the look. He watched and watched and his appreciation for me grew. He kept squeezing my hand and patting my leg in appreciation. He was seeing my life on a huge screen and he was getting quite the right message, "Wow does my wife work hard," is what he was thinking.
We left the movie and Seth had a lot of questions! First he told me how much he realizes how hard I work! Then he told me I was the character Kiki which made me giggle! Then he asked "is that true? Do u feel like that?"
"Yes, yes, yes!" Every mom feels like that! Almost every mom has been by herself in her minivan crying. Almost every mom beats herself up every day. Almost every mom is rushing from one place to the next. Whoever wrote that movie knows how us moms feel! I was about to say that a group of moms wrote that movie but I just looked it up and somehow a couple of men wrote that movie! They definitely did an amazing job!
I recently talked to one of my friends about her belief systems. She said her mom taught her that you have to make dinner for birthday parties. You have to cook the spaghetti sauce from scratch! You have to have a big spread! You know what I said to that? "REJECT" that belief system! My amazing mom whips up a spread easy and loves to cook and bake! So do I but sometimes I am too tired and that is ok! My brother and sister in law have thanksgiving catered! Guess what? It is delicious and easier and good for them! My mother cleans her bathroom every day! My mother cooks every night! Guess what? I reject that! I can't meet that expectation and I am sorry but I am not a bad mom!
As much as I loved that movie I did not love the title! We are all in this parenthood thing together! We are all doing it together and doing our best! We all screw up daily! No one is perfect! Every mom is beating themselves up! Instead of giggling and saying we are a bad mom because we just saw the movie, let's all say that we are good moms! Are you doing your best? Are you trying? Let's get rid of the bad mom stuff in our heads and let's call each other and ourselves good moms!!!
Now if you haven't seen the movie go see it and take your husband too!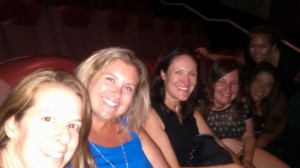 Parent on!