My Dog Tanner
I grew up with dogs. My life started with Gretel, then came Pandy, and then came Suzy and Belle. Suzy was my black lab that I remember picking with my father. Suzy is the dog that I miss every day. She was the driving force behind my yearning for a dog of my own! My brother's sweet dog Kingston, my neighbor's dog Jackson, and my friend's dog Cooper were also reminding me how much I love dogs!
When I met my husband Seth, he had two cats and I had one. I did not grow up with cats. My parents do not like cats. The only reason I had a cat was because I found her on the East side of Buffalo during a home visit while I was working. She looked so pitiful that I wanted to bring her home and save her. We loved our three cats. One by one they all got old and passed away. We were all devastated, and my son was begging me daily for kittens. Persistence tends to work, and my son got his way. My husband wasn't ready for more animals, but we were already fostering two kittens that he knew we were going to adopt. I'm sorry we did this so quickly Seth. I was putting Max's needs ahead of yours and I apologize for that!
I started to tell my husband that if we were going to get a dog that now was the time. He had held me off for many years because I didn't want to disturb our old cats. I didn't know how they would take a new puppy in the house, so I decided to wait. Now that we had two young kittens, I figured that kittens and a puppy growing up together was the best way for them to get used to each other. I didn't want to wait until the kittens were cats and were more set in their ways. My husband was not amused with me.
I mentioned getting a dog several times over the next few months after we got the kittens. My daughter Ella would cry telling me that she was afraid of dogs. I told her she didn't know what she was missing because she has never had a dog! My son Max and daughter Lillie told me they were happy with their kittens and didn't want a dog. Seth was feeling extremely annoyed with me feeling like I was never happy. Seth loves to sing the song Never Enough to me from the movie The Greatest Showman. It drives me crazy.
I started to realize that I was the only one in the family that wanted a dog. I didn't really care. Sometimes it is about mama. Sometimes mama gets what she wants. I started to look at rescue sites online every day. I fell for a couple of dogs that were quickly snatched up. I started to realize that it was not that easy to get a dog. The application process on these rescue sites were intense. We were a nice family who was going to provide a good home for a dog. I couldn't believe the process I was about to go through to get one. I also was quickly getting disappointed every time a dog I liked got adopted. This was not going to be as easy as I thought it would be.
One day my husband Seth came up to me and told me that he thought that we should get a dog. I couldn't believe the words I was hearing. I was completely and totally floored once again by my husband. As you probably read in my last blog post, I don't always know what Seth is going to say. He can be very unpredictable. Seth was feeling very sad that the kittens weren't bonded to him. The kittens love all of us but they love Max the most. They are really Max's kittens. He picked them, he named them, and they seem to know this. They love their mommy, but if they could talk, they would tell you that Max is their favorite. Seth knew this and he felt like it was time for him to get a buddy.
Our friend Rachel posted her puppy Millie on Facebook. Millie is a gorgeous Golden Retriever. Seth showed me Millie's picture and told me that if he was going to get a dog, this is the dog he would get. He didn't realize that I then messaged Rachel to ask her where she got her puppy. I couldn't even believe it when she told me that she got her from a breeder in Amherst (ten minutes away), and that the breeder had one male puppy left! If Seth was going to get a dog, he was going to get a Golden Retriever male dog. He told me he preferred a one year old dog to skip the puppy phase! However, I told him this new information that I had received about this puppy! I was now getting texts from the breeder asking me if we would like to come meet this puppy. Seth agreed, and the next day we went to go meet our dog!
I did not expect Seth to say yes to getting this puppy. I was preparing myself to go meet the puppy, have a good time, and then go home without the puppy. Again, my husband likes to surprise me. Seth met our dog and instantly fell in love. I could not believe it when he told me that he wanted to get the puppy. I just couldn't believe it. He paid for our puppy and we arranged for a time to pick him up after we bought some supplies. I was in complete disbelief. After all of these years of trying to convince Seth that we needed a dog, he was finally taking the plunge!
I felt sad that I didn't rescue a dog from a shelter, but I strongly believe that this happened how it was supposed to happen. This was our dog! This woman ten minutes from our house had one male Golden Retriever left and he was our dog! She met us and instantly knew that this was our dog. There were no questions, no application, no home visit, just a nice lady seeing a nice couple who was about to give one of her puppies a wonderful home.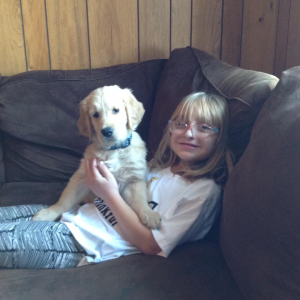 The next day, after getting supplies for our puppy, Seth ventured off to pick up our dog. He walked through the door and surprised all three of our children. We all instantly fell in love. My sweet Ella who was afraid of dogs had no problem falling head over heels in love with her puppy. I can tell you that she loves him the most! Now it was time for a name!
My children's names are Max, Ella and Lillie. I wanted a T name so that I could spell the word MELT with their names. As corny as that it is, that is what I wanted and that is what I was going to get. My cat was Hope so Max named our kittens Faith and Joy after Hope. It was time to get my T! As I was talking to my sweet little puppy, I called him Tanner. I knew that was his name. He looked like a Tanner. Ella has added Alexander as his middle name (she just saw the musical Hamilton about Alexander Hamilton so this is appropriate coming from Ella). Tanner Alexander Greene (TAG), welcome to our family. You are crazy, you are a lot of work, and we are all in love with you!