My son Max is 12 years old and is a really good soccer goalkeeper if I do say so myself!  I know I am totally biased as his mother but we do get people telling us how great he plays all the time!  Can you tell I am proud of him?  I hope he keeps it up and keeps growing in this position!  The goalie training he is getting this year is fabulous!  He tells us he is aiming for Division 1 soccer in college!  Aim high is what I always tell my children!  If we can dream it we can make it come true!  Max dreams of Division 1 soccer, My daughter Ella dreams of being on Broadway and I dream of Whinypaluza becoming a Wednesday night sitcom!  My writing a book dream is about to come true!  I want to tell you all that dreams really do come true!  Don't ever stop dreaming!
Max has a couple of soccer tournaments that we are taking him to.  The first one was near Hershey Pennsylvania.  I was so excited because I have always wanted to go to Hershey Park and Chocolate World!  Thank you to Max for bringing us all to Hershey!  I didn't care that it was the same weekend as camping for Girl Scouts!  I wanted to go as a family to this soccer tournament and have a great time!  Sometimes you have to say no to your kids!  I say no to Girl Scouts and yes to soccer!  I've completely and totally given up trying to attend everything!  It is a very freeing feeling!
I am having trouble packing up my family as usual because May Madness is still going on!  As May Madness comes to a close this week, crazier June begins!  My brain and schedule is completely and totally overwhelmed!  School and school events can't end soon enough for me!  Lillie comes home crying hysterically from school and puts a damper on my evening schedule!  Let's fit in voice lessons, middle school orientation, packing and hours of tears from Lillie.  Every time I come home she cries to me about what happened in school.  I put all my work aside and focus on Lillie because I realize she really does need me.  My work can wait.  I calm her down and get her to sleep and I am so drained from all of her emotions that I can't seem to stay motivated!  I need to go to sleep!  I can finish packing in the morning!  Seth is going to be so happy with me!  He is just going to have to understand that Lillie drained every ounce of energy that I may have had left!  Sensitive me created three sensitive kids!  I have to help them get some tough skin!  My sensitive skin seems to get tougher every decade!  By the time you are in your 40's you don't even care if people like you!  The people who matter will like you!  At 6 years old I remember all of the tears that I had!  It's not easy being a six year old at school all day without your mom!  I remember missing my mom while I was at school!  I start to question if I sent Lillie to school too soon!  Maybe I should have waited to send her to kindergarten!  Why do I rush everything?  She should probably be in kindergarten this year instead of first grade but she is holding her own!  She is so young!  The difference between Max at 12 and Lillie at 6 is amazing!  He is becoming a teenager and is so smart and capable!  Lillie would have me at school every day if she could "can you be a lunch lady every day," she says to me!  Max on the other hand does not want me coming to school!  He is done with that!  He has come a long way from the 4 year old who cried every day not wanting to go to UPK (Universal Preschool).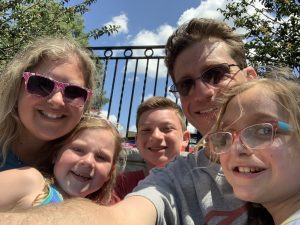 The next morning Seth is less then thrilled with all four of us that we are still packing!  We drop Tanner off at day care around 10 AM and head to Pennsylvania.  Seth is super cranky!  Lillie woke us up in the middle of the night crying (still upset) and Seth and I did not sleep well the rest of the night!  This should make for an awesome road trip together!  Seth tries hard to do half of the drive and is falling asleep.  He pulls over for food and to let me drive.  This is when chaos begins!  Seth gets so upset because the kids were happy while he drove.  I answered all of my PTA emails while Seth drove.  I got a ton of my work done!  Now he is trying to do work and the kids are asking for a million things and have begun fighting!  Happy family road trip!  That was a long day of driving!  Sometimes driving goes smoothly and sometimes it doesn't!  A cranky husband does not tend to lead to a smooth road trip!  Ella asked us to please fly to the next soccer tournament!  The price for the five of us to fly is insane!  They can deal with another road trip next month!  Stay tuned!
The soccer tournament begins the next day and Max and his team are on fire!  Two amazing wins for the team!  We are all so excited!  They all played so hard!  One of the soccer moms came up to me and told me she reads my blog!  She said she relates to what I write and to please keep writing.  I felt tears come to my eyes.  I thanked her for telling me that.  This is why I write!  I write for me and I write for you!  I want all of you to know that we are in this parenting thing together!  It isn't easy.  I beat myself upwhen I lose my patience.  I cry from exhaustion regularly.  I try so hard every day to keep up with my three children!  When Lillie tells me she wants three kids I tell her to have two!  Your father was right!  When you have two kids you can divide and conquer (if your spouse is around and helpful).  When you have three kids you have to call in reinforcements.  When we get home from our trip I need to sit down with my June schedule and go over it with my parents!  I need help!  I don't know how I am going to get through June!  Another soccer mom comes up to me and asks me what blog I write.  I tell her about my social work background and about my parenting blog.  She tells me that it takes a village.  Those are the magic words right there.  She tells me parenting wasn't meant to be just the mom and dad raising the kids!  We need grandparents, aunts, uncles, and friends to helps us with our children!  She couldn't be more right!  "It takes a village," I tell myself and smile!  It isn't all on me!  I have to remind myself of this!  I try to take on too much myself!
We had already purchased team tickets to Hershey Park but Seth decided we should save them for tomorrow and do something less strenuous today!  He wanted Max to rest up for tomorrow.  All Max really cares about is getting a chocolate shake!  They want treats and the girls want a stuffed animal!  This seems easy to accomplish!  We had a really nice Saturday as a family!  I am reminded how good it is for us to get away from the daily grind!
The next day Max and his team play so well together and win the third game!  The parents are going crazy!  Three wins for our boys!  On to the championship game!  It wasn't that easy!  This is where things start to turn!  The weather goes from sun to pouring including lots of thunder!  The championship game is postponed twice!  It's finally time to play and Max and his team have rested and are ready to rock!  Until we meet the other team who begin trash talking our team!  Why do kids do this?  It's such bad sportsmanship!  How about "good luck on the game!"  Isn't that what the teams should be telling each other?  Maybe I am totally naive and way too nice but the trash talking is already angering me!  More important then any talent or skills my kids develop is their moral character.  The goal is to raise nice and kind children!  I have always thought that life is about love and kindness!  Those are my two favorite words!
The game begins and so does the pushing and shoving!  One injury after another begins and the ref doesn't seem to be phased!  Our coach is screaming at the ref and the other coach and the parents are all outraged!  I see my son standing strong and taking all of their bullet shots to the net!  They are good! That's for sure!  They don't need to play dirty!  The other goalie takes one of our small guys out and he is laying on the ground rolling in pain!  This was just after the screech we heard from another of our players who was shoved onto his shoulder.  Our player is rolling around and his dad runs over to see if he is ok and to tell the ref to get the game under control!  He was right!  Where was the control?  We needed the awesome ref from our last game!  The dad is kicked out of the game and we are all in shock!  The game continues and after four injured players we all hold our breath in hopes that there are no more injuries! That was the hardest game I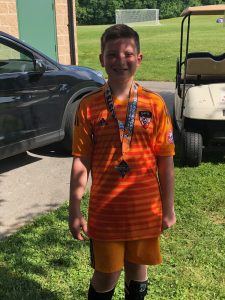 have ever had to watch!  I bit my tongue as much as I could!  I screamed a couple of times but I didn't want to be kicked out of the game!  Don't mess with my baby!  Mama bear comes out!  Thankfully Max is big and strong!  They lost the championship but man did they hold their own.  That was a tough team!  One of the moms wants proof of their ages because most of them were huge and definitely older then our kids!
The kids get their medals and trophy and Max just wants to collapse!  He worked so hard at that game!  They all did!  It is late and we ask Max if he can get in a couple hours at Hershey Park because we pre bought our tickets already.  Max collapses and doesn't move the rest of the night!  They closed the pool due to chemical issues so we are stuck in one room the rest of the night.  Seth tried to get us two rooms or a suite but the soccer tournament took up all the rooms at every hotel!  The five of us in one room was tight but Seth reminds me that we are lucky we even got one room!  He always tends to have a good attitude and I need to not be a spoiled brat!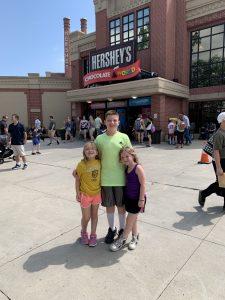 It's our last day and we thought we would be heading home but we are off to Hershey Park.  If I've learned anything with kids I've learned to just roll with the plans of the day.  Things change daily when you have three children!  We decided to let Max rest yesterday, so we need to fit in a few hours at the park to check it out and use our tickets!  I can't forget to give my parents a huge thank you for saving us a lot of money!  I sent them to my house to send me pictures of our Hershey Park tickets that we bought with the team that I left at home!  I forgot a couple of things but I did a pretty good job packing all of us up!  My parents tend to save me!  Like the other soccer mom said, "It takes a village!"  I can't do this parenting thing on my own!  I can't do life on my own!  I need supports!
Here we are driving home!  So far so good but I don't want to jinx us!  I'm hoping it goes smoother then the ride down to Pennsylvania!  None of us want to go back to reality!  Only 21 days of school left I keep telling my kids and myself!  We can do it!  Can we tell our Superintendent to stop making the school year longer!
Happy Memorial Day Everyone!
Thank you to the men and women who have served our country!  We appreciate you!
Laughing, Learning, Loving,
Rebecca Greene, LCSW-R