I thought I didn't like May Madness, but I knew that it would be tame in comparison to CRAZY June!!! I was so excited that it was Sunday. I was planning to sleep in. Hebrew school had ended and there were no soccer games. I could sleep as late as I wanted if Lillie didn't wake me. It was 6:30 AM and my eyes popped open. I tend to be a good sleeper. Things don't tend to interrupt my sleep. I cannot say this about June. June and the number of events going on at school has interrupted my sleep. I try to go back to sleep but who am I kidding. Instead of laying there going over my list I needed to get up and start accomplishing the list in my head.
I do have a good strategy for lists in your head that I would like to share with you. Before bed, if I cannot go to sleep, (which is rare), I have made a deal with myself. I made a deal that I get a piece of paper and a pen and write down my list until I can't think of anything else that is going through my mind. I put the list next to my bed and I know it is time to go to sleep. It is that easy. The deal is that I can write it down and address it the next day. There is time to work and there is time to sleep. If I don't get some sleep I will not do as well the next day and I know this. Everything always gets done step by step. That is something I am telling myself a lot this month.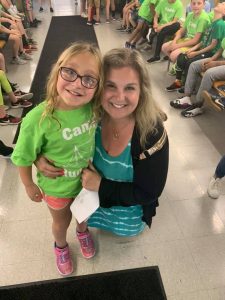 We have A LOT of events going on at my girls school this year. I'm sitting here wondering why we try to pack so much into one month at school? I am one of the PTA President's for this year and next year. I figured that after two years of Treasurer and one year of VP that this job would be cake compared to being treasurer. Let's just say that I would NOT call this position cake. I tell my husband that I never fully know what I am signing up for when I sign up and he looks at me like I am crazy! "You knew," he tells me. "You saw three of your friends just do it!" He says to me with frustration! When you're treasurer you deal with all the money questions. When you are President you deal with ALL the questions.
The PTA is very busy and very successful at my girl's school. The involvement of so many parents is wonderful. When anyone says that I don't work I laugh because I can't even begin to tell you how many hours I have volunteered for school. I only wish Melissa (co-president) and I had logged how many hours we put into the PTA this year. I am really going to miss talking to her next year! I am sure I will still bug her a lot although her husband says he will be screening her calls. That is hysterical and I do understand where he is coming from when he says that.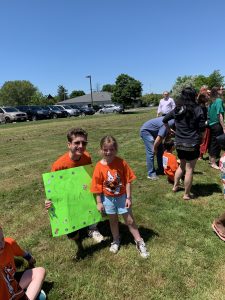 Let's talk about the wonderful PTA husbands. When we volunteer for anything at school, they get roped into volunteering too. Seth was bonding with our friend over this when we ran into him tonight getting ice cream. His wife is running the Fun Run which is consuming her time. I noticed he did the PTA eye roll that I have seen a lot of our husbands do. Seth's day consists of things like going through kid's day supplies, consulting on a fourth grade party, or helping me to come up with a game. Seth's graphic designer along with two other talented friends are all helping me to plan for the PTA dinner that I am chairing this year. It takes a village to raise kids and it takes a village to run the PTA. I tell people that motherhood is not for the weak, but I feel the same way about the PTA.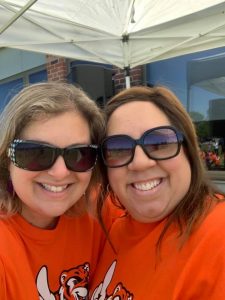 June consists of field trips, teacher gifts, class parties, the fourth grade party, the Fun Run, Kids day (field day), PTA appreciation dinner, PTA awards reception, and more. Every mother I bump into makes the same face about June. The best way that I can stay organized is to make one list after another. As I cross something off, I find myself adding three more things to the list. I felt a little overwhelmed this morning and then I had some divine intervention. A simple phone call that came my way today. My friend that I hadn't talked to in about a year asked that I take a moment out of crazy June to call her with a question she had for me. I called her today and we caught up on our lives. She is super active in all her children's schools and if anyone understands my life she does. As we were catching up, she started to tell me about her husband's aneurism and what has been going on with her over the last year. He is doing okay but they had quite the scare and she went back to work. She has found the perfect job for her and I wish her so much success. Good friends cheer each other on. Good women raise each other up. I am cheering her on and am thankful her husband is doing okay.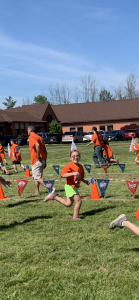 I told her that she put things into perspective for me. I have so many blessings. I should not complain about crazy June. I am lucky to be healthy enough to help run the PTA and all the events that I get to do. I am lucky to have healthy children to attend and enjoy these events. My friend pointed out how much my girls enjoy seeing me at school and get to enjoy and be proud of all the things that I get to do at school. As she went back to work her youngest son is missing her being around his school as much as she used to be. She was also telling me about what the high school world is like. In Elementary school there are so many things to be involved in, in middle school there are a few things, in high school there is very little. She told me they don't even want parents to come into the high school.
If she could, she would go back to all her children being in elementary school. She told me to enjoy it because I would truly miss it. As I drove home talking to her, I felt a lot of my stress melt away. Tell me that phone call wasn't meant to be. As I finish up this blog, I am going to go make my children dinner and then I am going to jump into some more work I get to do for my PTA dinner. I want to say thank you to my friend for reminding me of all my blessings. Parents, June is not an easy month. Before we blink our kids will be in middle school, high school and college, and busy Elementary school days will be long gone!
Laughing, Loving, Learning,
Rebecca Greene, LCSW-R