We dropped Tanner to Canine Capers Daycare in Hamburg, NY and headed to Virginia. We left our house at 9:40 AM and arrived at my brother's house at 6 PM. It was a super long day in the car. I'd be rich if I was paid for every time Lillie asked us "How much longer?" We made it with our three kids to Virginia. Both Seth and I were fried, and Seth was wondering why I didn't mention plane tickets a month ago. This was my first oops of the trip!
We have a big catered Thanksgiving feast and I try not to twitch that I didn't even fit in baking pies before we left for our trip. I realize that I am 43 years old and I have never cooked a turkey. Doesn't that seem odd to you? My mother, my mother in law or my sister in law have all cooked turkeys for me through the years. I would say that I will try it next year, but Seth doesn't even like turkey. I want to give a huge thank you to my brother and sister in law for hosting all of us for Thanksgiving and for welcoming us in your home.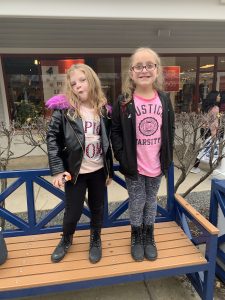 It's Black Friday and I think about all the stores I should be rushing to. I can only imagine the deals I am missing out on. I try to go shopping on my phone, but I don't even know what to buy. My kids are 12, 10 and 7 and they have so much stuff! They love to open presents so I don't want to take that away from them. I have suggested several times that we go on a family vacation and skip Chanukah presents this year, but they strongly disagree with that suggestion. Seth rolls his eyes as he thinks about bringing more crap into our house. Our basement is full of crates of the kid's stuff. I could just go shopping in the basement and wrap stuff and I wonder if they would even notice.
I make the silly suggestion to head to Tysons Corner Mall. I'm not quite sure what I was thinking to bring up the mall. We took 12 people to the mall together. It was way too crowded and even getting into the mall and finding a parking spot took forever. At this point, I should have had a back up plan ready when I saw how crazy the mall was but for some odd reason, we all venture inside to the madness. Somehow, we managed to buy the girls cool matching boots and to get a table for 12 at a nice Italian restaurant. We made it out and fed and I promised everyone that I would never suggest this again on Black Friday. This was my oops number two. Sorry family!
The next day we head to the Air and Space Museum with Seth's brother and his family. There are so many fun things to do where our brothers live. I make a mental note to venture to DC next time we are there to see more cool stuff. They live close to Maryland and DC. There are so many places to explore. Seth and the kids would probably much rather explore a busy museum instead of a busy mall.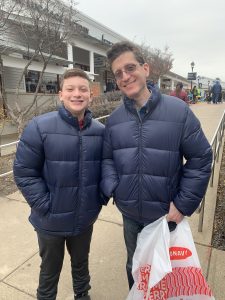 I haven't learned my lesson, so I suggest we head to the Outlet Mall. I didn't know that Seth had decided before the trip to let me be happy and shop. The good husband that he is he drives me over to another crazy mall. My eyes light up as I see all the deals and all the sales. I run from store to store buying stuff and having a fabulous time. If only they had a gaming store to make my son happy. Max bought a winter coat and some pajamas and felt like that was enough and checked out from shopping after the first store. The girls have stores that they want to go to, and Seth is humoring all of us as I encourage him to go in stores and look for himself too. Little did I know that Max was driving Seth crazy and he was ready to blow.
I want to keep walking through the mall. I am a happy mama and I know there is probably so much more to see but Seth and the kids are fading. Communication would have been key here. I think I'm at oops number 4 now. I needed to communicate that I wanted to keep shopping, or I needed to be ok with the fact that everyone was ready to leave. You see sometimes I don't care what my family wants. Sometimes it is about me. At this moment, this is where I needed to say, "I would love to keep shopping. Can I get everyone a snack and keep walking? I am having such a good time." Instead I think about how my family rushes me out of everywhere we go, and I am not happy. All the stores we went in. All the shopping we did, and I am unhappy that we are done. I need to communicate or let things go and be appreciative of what we did get to do.
We drive home fighting because Seth can't believe that after the Air and Space Museum and the Mall that I'm not just saying thank you to him. "It is never ever enough," is what my husband is thinking. The fighting continues and Seth is ready to blow. He drove me to Virginia (I did some of the driving) and took me shopping to two places and I am not over the moon happy and thanking him. He goes off on this tangent of needing to shop without our children and how I owe him a vacation without our kids (as I sit there trying to convince everyone that it's time to go back to Disney). Can you tell that it is time for Seth to head back to work for a vacation from his vacation?
Here's my question: Who's children don't want to go to Disney? How is this possible? Lillie is in the back of the minivan screaming that she wants to go as Max and Ella whine that they don't want to go back to Disney World. "We already went once," Max tries to explain to me. Seth tries to convince me that we all need to go to Florida over winter break and relax and do stuff other than Disney as I twitch in the passenger seat. "I thought you were 16 at heart but maybe you are 7," Seth teases me. I think that you can be an adult and love Disney. Maybe I'm young at heart but when I arrive at Disney World it feels purely magical to me. I told Seth that I think my dream job would be working there. I could use my master's degree to be the best greeter ever at Disney World. Maybe Disney needs a social worker? I could station myself at Disney and they could pay me to go around helping families who are fighting at the "Happiest Place on Earth?" I could walk around making sure everyone is happy. I could be their fabulous customer relations specialist. Disney, are you reading this? My family always responds with the fact that Florida is too hot and that they love where we live.
They don't want to shop, and they don't want to go to Disney. I arrive back at my brother's house feeling really sad and Seth is feeling really unappreciated. I know where this is going. My kids are just happy to be back to see their cousins.
Seth disappears to get gas for our trip home and to help my brother with his outdoor lights. I see all the Christmas lights going up and I feel the Jewish loneliness set in. I love looking at Christmas lights and watching Christmas movies, but I am going to be super honest and tell you that I feel so left out every Christmas. My children feel the same way. Christmas takes over everywhere you go. I try to embrace it and just enjoy all the beautiful decorations and displays. I am going down that path. That negative path. Where are the challenging positive thoughts? "You love Christmas lights. Embrace it. You got to shop and buy a lot of good stuff. Even if you don't go to Disney you can still go to Florida. You have a fabulous life." I try to challenge myself. I try hard. I don't always succeed. My state isn't changing yet.
I stomp up to the third floor to check on Seth and he is pissed. It all comes out. He had made a promise to himself to let me shop this trip and not to rush me. He had made a promise to have me be smiling about all the shopping I did. I had no clue. Where is our communication? He didn't communicate how hard he was trying (I did notice that he was trying hard) and I didn't communicate that I wanted to keep shopping. It always seems to come down to communication. Calm and clear communication is always the key and we all know that it definitely doesn't always happen. He drove me to Virginia. He took me to two malls. He's been a complete angel at my brother's house. He dealt with many turkey meals and doesn't like turkey. Let's just say he was feeling super unappreciated. It all comes down to feeling appreciated and loved. All that appreciation that I feel for Seth wasn't being communicated to him. He reminds me that my thoughts and prayers don't count if he can't hear them. Those thankful thoughts that I feel for Seth every day. Those thankful prayers that I go to bed saying every single night. I realize that Seth can't hear them.
Seth calmly explains to me that when I am pissed, I communicate clearly and concisely (and sometimes too loud). When I am happy, I am not doing as good a job communicating. He loved seeing my eyes light up shopping. He knows that was a happy wife. However, he doesn't realize how extremely happily married I am if I don't tell him clearly and concisely on a regular basis. So here goes:
Dearest husband,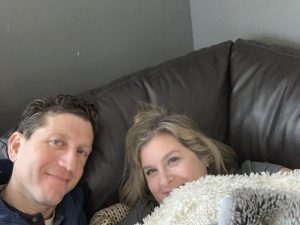 Thank you for driving me many hours to Virginia. Thank you for staying with my brother and his family. Thank you for playing so cute with the kids in the basement. Thank you for following Minka (our one year old niece) around the basement when I decided to sit in the massage chair. Thank you for dealing with turkey dinners. I promise next year to have other options for you. Thank you for trying so hard to just go with the flow. Thank you for driving me and putting up with the crazy Tysons Corner Mall on Black Friday. Sometimes I have foolish ideas. Thank you for dropping us off and finding a perfect parking spot. Thank you for driving us to the Air and Space Museum. Thank you for taking me to the Outlet Mall. Thank you for all your time and patience. Thank you for all the stuff you bought us at the mall. Thank you for listening to Max whine so that I could shop. Thank you for being willing to take me on a vacation wherever I want to go. Thank you for being such a wonderful, thoughtful, patient, sweet, kind, giving husband. Thank you for working so hard for your family. I could go on and on. You are so very appreciated. I notice everything you do and everything you say. I notice you. I not only appreciate you. I also fall more in love with you every day. Every time we work through a fight. Every time we parent our children together. Every time we take another trip. Every step of the way I fall more in love with you. I love and appreciate you and am so thankful to get to be married to you. Let us communicate and let us build each other up. I think you're awesome. I will work on telling you more.
Love,
Your appreciative loving wife
Seth read this blog and his face was just what I pictured. We think we say things, but we can never say them enough. I will tell my husband out loud (not just in my head) every day how much I love and appreciate him. Next time we have a shopping date, I won't bring our children. Go tell someone you appreciate them and try a shopping trip without your kiddos.
Laughing, Loving, Learning,
Rebecca Greene, LCSW-R