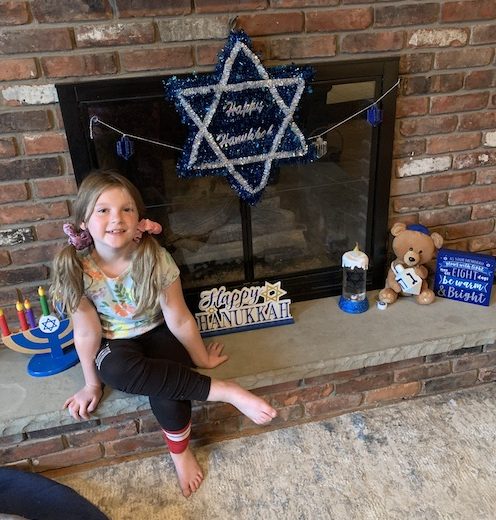 My husband Seth carried two big crates for me upstairs from the basement full of Chanukah decorations. On a normal year, the kids would go to school and I would transform the house while they weren't home. The joy of seeing their smiles when they got home from school and saw all the decorations was always so special to me. This year was very different as most of you know. This year my whole family was home when the decorations were put up. No one wanted to help me which surprised me, but I proceeded along and took most of the day making our house look more like Chanukah. I knew it was coming early this year and I knew that I better get it done.
We all sat down at dinner that night and I still got to experience the look. The girl's eyes were traveling all over the house as they processed all the work that I did all day. "Thank you so much," Ella sang with glee. "You brought Chanukah magic to our home. Now I am so excited for Chanukah." Ella thanked me with a huge smile. Lillie was giggling and taking in all the decorations everywhere and Max shrugged. A thirteen year old boy is not impressed by decorations. "You don't have to wrap my presents," Max says to me. Lillie turns to me and says, "Please wrap my presents." These kids are too funny. Of course I am going to wrap their presents.
As I watched my girls smiles, I realized that even though they were home and saw me working all day it was still magical for them to see it all completed. I realized that even though everything isn't how it "should be," we could still make things very special for our families. I smiled and gave myself a mental pat on the back for all the work I had done that day. It was worth it. I'm the magic maker.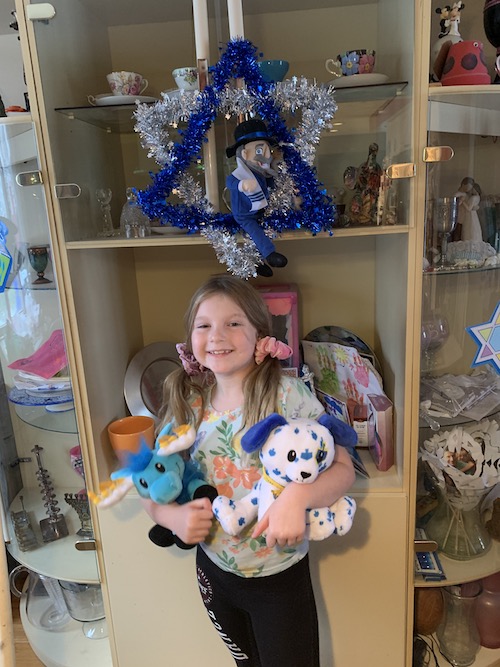 "When is Mensch coming out?" my 8 year old Lillie questioned me. You see, when Lillie saw all the shenanigans your elves were getting into, she got very sad about it. She felt like she was really missing out. My kids would go to school over the years and come back with all these fun elf stories. So, I got them Mensch on the bench. Mensch is our little Jewish guy who travels through our house. Mensch has acquired friends through the years. The Menorah Moose and Dreidel Dog join him in his fun around the house. So far, he brought the girls a Chanukah house to make. Next up is some crafts for them. Lillie wakes up and runs through the house to see where Mensch is. I'm going to soak this up and enjoy it while she's still enthralled in all of it. Their young years go by so fast. My 13 year old doesn't care what Mensch is doing. I think Mensch wants to make some fun messes next. I would love to hear your favorite elf stories. Feel free to share with me and give me some fun ideas for Mensch and his antics!
It is December 1st as I write this, and we woke up to snow. My girls squealed in delight as I came downstairs asking me to look at all the beautiful snow. How appropriate for December 1st. Chanukah starts on December 10th and I am wondering so many things. Can I still make this special for them? Why do I question myself? Just because it won't look like other years doesn't mean that I can't make this special for my children. We all have the power to make our holidays special. We are the magic makers.
The dates of Chanukah change every year. I have to admit I like it when it is around Christmas for so many reasons. Let's start with the most basic reason that it gives me more time to prepare. The countdown is on and it's nine days away. No pressure at all. The other issue is that Chanukah is going to be over before Christmas even begins. There is something less lonely on Christmas when Chanukah falls on the same day.
I'm trying to convince myself to go in the basement right now and start all the wrapping I need to do for my kids. There's always tomorrow! Seth and I didn't buy each other Chanukah gifts. We bought each other a big black shiny new garage door about six weeks ago and are waiting for it to arrive and be installed. I have a feeling it is going to arrive and be installed during Chanukah. It's amazing what gifts we get excited for as an adult. In fact, I would love a new vacuum or a steam mop. That would excite me too. Not as much as a big huge morganite ring, but the garage door will do this Chanukah. As Seth would say, a new garage door, a new AC unit, and a fixed roof all added up to my sparkly Chanukah presents. The joys of home ownership.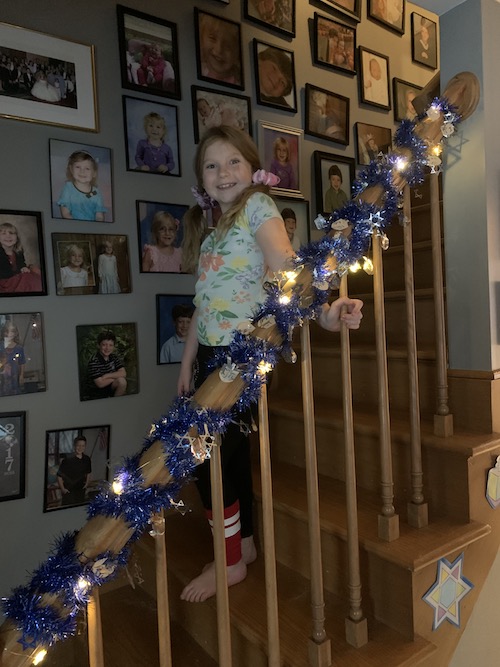 My house is busting at the seams and I still bought the kids a bunch of stuff. Lillie asked for toys and I had a grand old time buying her a lot of them. My countdown to toy buying for my kids is on and I only have so many years left of this. I don't care how much plastic crap she already has. I am still going to buy her more and had a lot of fun doing it. I can only hope that next Chanukah she is still asking for toys. I hope I have a couple more years left of toys. I hope!
The presents will all be wrapped and ready. The menorah will be lit every night. The prayers will be sung. The dreidel game will be played. The latkes will be fried. The donuts will be gobbled up. The marshmallow menorahs and dreidels will be built. We will have to do Zooms with our family to celebrate. It will still be special and magical. Old traditions will be carried on and new traditions will be made.
Put up the decorations and make your holiday special. Whatever holiday your family celebrates, I hope it is magical for your family. I hope you can come up with some new traditions. I hope that you can soak up some quality family time. Instead of focusing on what we can't do, I am going to spend my time and energy focusing on what we can do.
What can we do:
Put up all the decorations. Your family will enjoy them. I like to order a new one every year. I better go do that!
Wrap the presents. Even if your children tell you they don't care if they are wrapped. There's nothing like a wrapped gift.
Make a new tradition.
Zoom / Face Time family members to celebrate together.
Have fun with your Elf. Or your Mensch on the bench in my case. The messier the more fun. Get in touch with your inner child and have a good time causing Elf antics.
Sing! Sing your menorah prayers. Sing your Christmas songs.
Make all the food. All those foods that bring good memories.
Embrace everything we CAN do.
Spread love and joy through gifts, food, donations. Tis the season of giving!
Realize that you are the magic maker.
Stay safe, stay healthy, and get ready to celebrate. The holidays are around the corner and I better get busy wrapping! 2020 is not the year to get everything we want. It's the year to appreciate everything we have. Keep going mama's. We are making holiday magic happen! We are the magic makers.
Laughing, Learning, Loving,
Magic Maker, Rebecca Greene, LCSW-R