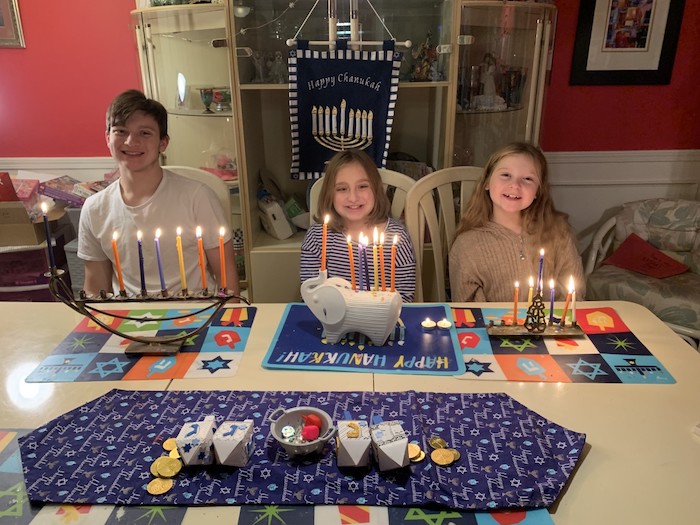 I laughed hard when my husband came up with the title for me this week. We had an eventful Chanukah. For those of you who don't know, Chanukah is 8 nights. My family lights the menorah candles every night, and we have a celebration. My kids were so excited for it.
We pulled in the driveway from Virginia, and it was time to celebrate Chanukah. The first night was so much fun. Then my son Max woke up stuffy. He said he didn't feel good and wanted to stay home. You should see me when one of my children says that to me. "Oh no, what if it's Covid?" is probably every mom's reaction when their child doesn't feel well. That question is not serving me well. It's making me dive into a negative spiral.
The added challenge this year for my children is that if they are stuffy, it is very hard to wear a mask at school all day. A lot of your children are dealing with this too. I let Max take a couple of days off to not have to wear a mask all day. I took him for the dreaded Covid test and thankfully it came out negative. I was relieved and sent him back to school. I got the expected text of, "It's so hard to wear this mask when I am stuffy." If our kids miss school every time they are congested they will miss a lot of school.
We made it over hump number one. I was relieved and enjoying Chanukah. I watched my children light the menorah and saw how excited they were to open their gifts. I think my favorite thing this year is that the kids bought everyone in our family gifts this year. It was so sweet to see them give us and each other gifts that they chose.
We were doing our best to fit in Chanukah at the end of the evening when we all came together. We skipped a few commitments to have more time together. Soccer, theater, dance, Hebrew all continued to go on during our holiday. Homework was still assigned. If I can make a request to teachers, it would be to take the 8 nights off homework for the Jewish kids celebrating with their families.
The last day of Chanukah Ella puked. Unfortunately, this is not uncommon. She has been known to puke when she is exhausted, overwhelmed, or when she catches a stomach bug. She seems to catch a stomach bug every year. Some people catch strep throat. Ella catches the stomach bug.
I looked at Seth with the look of despair that he dreads. He knows I am going into my negative spiral. "What if it's Covid?" I'm sad to admit to you that this is my automatic question when my kids don't feel well. Ella continues to not feel well into Monday. It is definitely a stomach bug and I drag her to get tested for Covid while she doesn't feel well.
I have had mothers tell me that they don't test their children for Covid. I understand. It has a level of control and stress over all of us. I felt like I needed to take her for a test. We have six grandparents in town, and I want to protect them (and everyone else) if it's Covid.
Covid is this super charged word. My friend called it "The Vid," and at least she made me giggle. Mothers, fathers, grandparents, teachers, etc. have such fear surrounding that word. Have I made it through a day without this word coming up? I'm sad to say probably not.
I don't mean to leave you in suspense. Ella also tested negative for Covid. Every single symptom seems to need to be tested. My friend just texted me that her daughter was sent home with a headache and can't come back without a Covid test! It's a little out of control. The fear and anxiety are high. I was so excited to get her test results. She felt better the next day and is back to school today as I type. I told my husband that I was going to write about our eventful Chanukah of Covid tests and he told me it was the Festival of Covid tests. Oh, how I love that he makes me laugh. I need lots of laughter in my life.
Max gets in the car the other day and he tells me that this needs to change. He's afraid to tell me about any symptom because I freak out. I knew all three of my children were feeling that way. He has such calming energy like his father. He sits next to me and talks to me in his calm and rational way. My smart son who is turning 15 next month. I love the person that he is becoming. I love having conversations with him. I love hearing how his brain works. I knew he was right. I told him that I was going to get in the car and apologize to him. This was on the way to his Covid test. I told him that I was sorry that I freaked out that he didn't feel well. I told him that I agreed with him and I need to change this pattern.
Here I sit typing this and taking deep breaths. I'm observing how much different I feel when I slow myself down. I go into these spirals that aren't good for me. I'm going to bring up the magic words pause and awareness. I know that my child having a sick symptom sends me into a spiral. I know that I have allowed this to happen. It is time to change. I want to change and that is the key right there. I'm aware of this pattern. As we go through our lives and find patterns that aren't working for us, we can change the pattern. This doesn't mean that you are going to succeed right away. Change takes work and patience.
I want you to sit and think about a pattern in your life that isn't going well. Maybe you don't like when you yell. Maybe you yell when your child doesn't listen. Maybe you get angry when your child doesn't do their homework. Maybe you noticed that you reach for a cookie when you are stressed. What pattern in your days isn't working for you?
For me, it isn't working for me to freak out every time one of my children doesn't feel well. This isn't good for my husband, my children or for myself. This is a negative pattern that I really need to work on.
What am I going to do differently?
Slow down my breathing and take deep breaths.
Tell my child that I'm sorry they don't feel well.
The at home tests have been super helpful to use when my children have a symptom.
Grab a hold of my thoughts. Take charge. As I begin to spiral, I will say the words I use for myself: stop and rewind and start over.
Reassure myself and my family that we will handle whatever it is together.
When we are aware of a negative pattern, we can change it. When we change our thoughts, we change our life.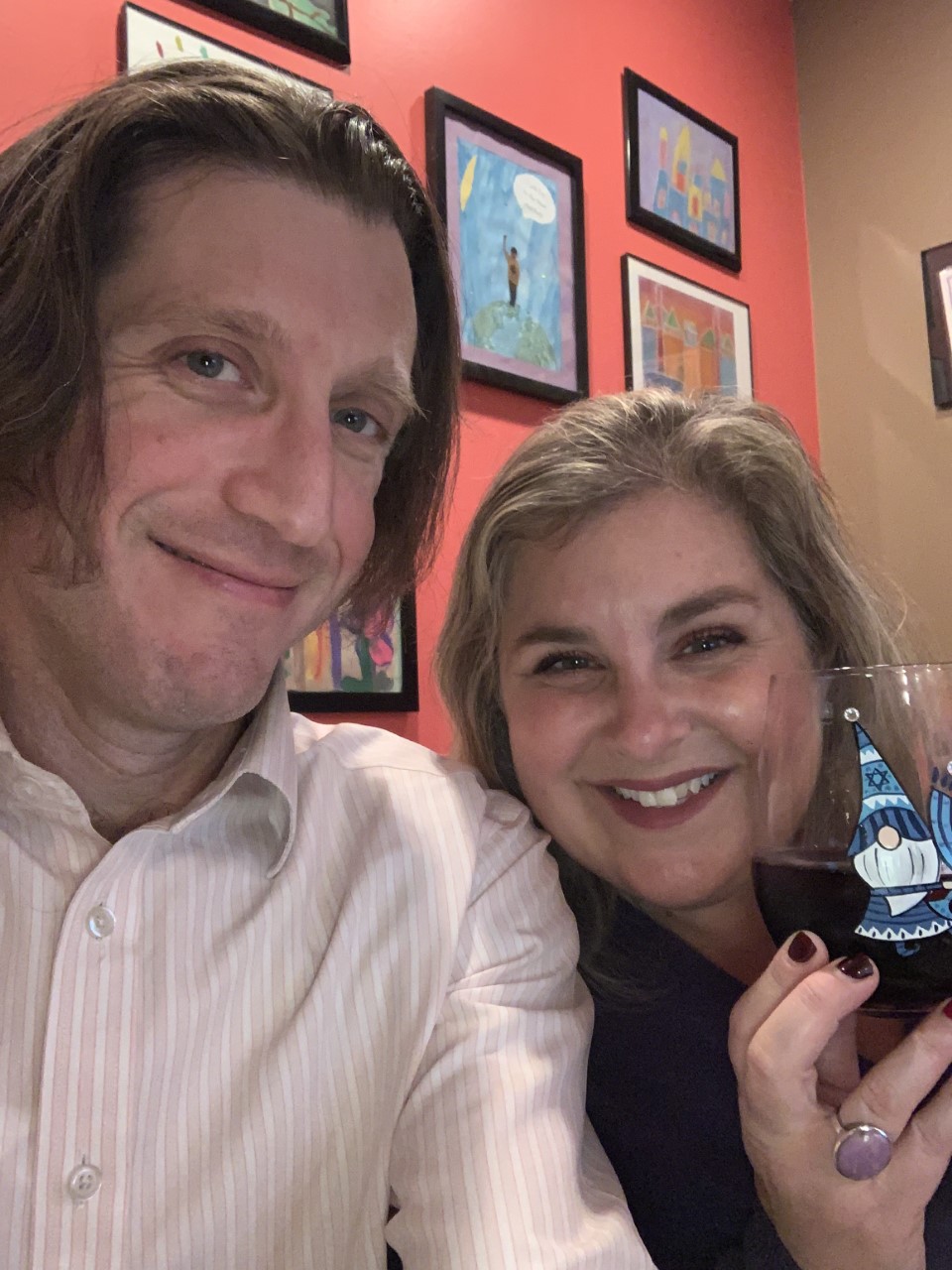 Spend some time thinking about your own negative pattern. Become aware of how you feel physically when the pattern begins. Make a plan for what you want to do differently. Plan for it, execute it and then evaluate it. How did you do? What did you do successfully? What is still a challenge for you? Continuous awareness, planning, executing and evaluation over and over again in a loop is what brings us success. I also encourage you to involve a friend or spouse in this process with you to help.
I'm going to go take more deep breaths, slow my breathing and slow my thoughts. I wish you success on your own journey's to change your negative patterns.
Laughing, Learning, Loving,
Rebecca Greene, LCSW-R
Updates:
If you are looking for a supportive community, come join the Whinypaluza Mom Facebook group. I created this as I wanted us to have a place where we can talk about tips, strengths and challenges we are having.  It is another step I took to help everyone to know that you are not alone.  We just finished the December Light Up the World challenge. Come join us and bring a friend with you! I love to give away prizes! I love women uplifting women. Let me know if you have an idea for the December challenge. Let me know if you have any prize ideas that you would like to win. If you have a business that you would like to advertise, I am more than happy to give away a prize from your business in support of you.
https://www.facebook.com/groups/whinypaluzamoms
The Whinypaluza Schedule:
Whinypaluza Wednesdays: My weekly blog comes out every Wednesday.  I am always open to your topic requests.  A new Vlog (video blog) also comes out every Wednesday night on Facebook and You Tube live at 9:00 PM to discuss the blog.  If you would rather listen to a podcast than watch a Vlog, you can wait for the following Wednesday and the Vlog is released on my Podcast.
Family Fridays: Every Friday morning a new Podcast is released.  Most of my episodes on Fridays are my discussing parenting and marriage with experts on the topic.  If you would rather watch the Podcast instead of listen, you can watch it on Facebook or You Tube.  If you would like to be on my Podcast or know someone who would like to please message me on Facebook or Instagram or at whinypaluzamom@gmail.com
I would so greatly appreciate it if you would subscribe, rate my Podcast and leave me a five star review.  This leads to it being shown to more people that we can help. I would also love for you to share my blogs, vlogs and podcasts with a friend so that we can build our community and help people one mama at a time.  xoxo