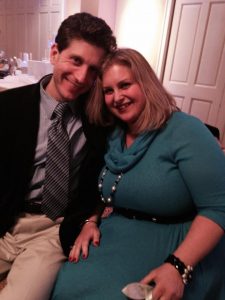 One night get away
Seth's brother is getting married in June. We get an invitation to an engagement party and decide to leave the kids with my parents and fly to the party for one night. Sounds simple right? Oh how I crack myself up!
Fast forward to a week before the party and Ella comes down with a fever! Couple days later Seth discovers a hair wrapped so tightly around Lillie's toe that he calls me to come home and help him. I think Seth is crazy but I rush home. I can't get anything under the hair to cut it off so I panic and kick Seth and Lillie out the door to urgent care. Seth knows the owner and I figure it will take 2 minutes. I told you that I crack myself up! It didn't take 2 minutes!
45 minutes later I drag Ella to the car and run to urgent care. (Max is thankfully with a friend.) I run in and throw a fit that Seth and Ella are still waiting! Yes, watch out, mama bear is on the scene and I am shaking with stress and anger!
A doctor comes in, takes a while, and determines that this is a job for the owner who needs to come in. A hair! Yes, a hair around a toe has led to hours at urgent care!
The owner comes in, they sedate Lillie and get her all prepped and the doctor is able to successfully remove the hair! We don't have to go to children's hospital, Lillie doesn't need surgery…I take a breath of huge relief!
I forgot to mention the huge fit I made at the poor nurse trying to put an IV into Lillie! My baby! Just another day as a parent! You never know what crazy shit will happen? This was a new one for us!
We are home, Lillie is ok and Ella is feeling better! Two days later now Lillie has a fever! Good lord! Does it ever end? How am I going to go away?! Is winter over? Let the madness end!
Lillie's fever passes and we decide to go to the party! Do you know what this means? There is clean and dirty laundry everywhere (sick children make it harder to keep up with crazy insane amounts of laundry that my family makes for me). I now become laundry superwoman and fold and organize and wash about 5 loads of laundry in order to get organized and pack for all five of us. Yes Seth I know, you did pack for yourself! I am sure it was easier with all the clean organized laundry!
For ONE night I packed clothes, diapers, snacks, movies, a game, stuffed animals, a blanket, binkies, a sippy cup….and that is just for the children! I unloaded about four bags to my parents house for my kids to do an overnight! I then had to begin packing my own bag!!
So here I am, flying to Virginia! Somehow I made it here! Two fevers, a hurt toe, tons of laundry and packing, but I did it! Damn it, I am going to go and have a good time!