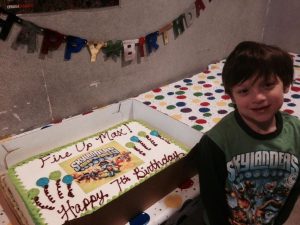 Months before my kids birthdays they start getting off the wall excited!! The problem is I was so busy moving that I waited too long to book Max's party!
First Max decided he wanted to have it at the roller rink so we could rent out the rink and invite as many kids as he wanted! When we found out it would have to be in February Max said no way! He wanted the party ON his birthday and he wasn't budging!
I know what you are thinking….Yes, I am the parent. Yes, I am in charge. However, as a parent, you learn to pick your battles. This was not one of those battles I felt it was worth fighting. Safety issues I don't budge on but a birthday party is not so important to me.
After the same issue with the YMCA adventure room we settled on the Niagara Climbing Center! Max and Seth were thrilled to have it there and I was thrilled to finally have something booked! Step one accomplished!
Moving on to the guest list. Why does it seem every step with Max is a big process! Somehow we make a list and send invitations out in waves of me finding everyone's address!
Max is talking about his birthday every day. He can't think of anything else! Make it stop!
The funny thing is my friends start saying – he has so much is there anything he wants! That just cracks me up because my spoiled children always have a list of stuff they want!
It is now a week before Max's kid party and Max can't contain himself! I email his teacher apologizing for sending my crazy son to school for her to deal with all day! I explain that his birthday is Friday and he can't handle the excitement! I also ask to bake cupcakes to send in for his birthday snack at school! Just add it to my list!
Kid party booked – check!
Invitations sent out – check!
Talked to teacher about cupcakes – check
Talked to family about family party Saturday – check
Bought wicked tickets to take Max on Sunday to end his bday weekend with a bang – check check
Holy cow do we have a weekend coming up!
Max was thrilled with his kid party! Forget that all the adults were cold or that it wasn't the cleanest place! The kids had a ball climbing and Max had an awesome party! Forget my cleaning compulsions I tucked them aside and watched all the kids have fun! Max barreled his way to the top and was beaming with pride! My husband Seth got in on the climbing fun too! We put all the parents to work helping their kids climb! Sorry about that parents!
I decide to let Max open his presents at the party! What on earth was I thinking! The kids all surrounded him and I could barely see what he got through the craziness! Somehow I managed to write down what he got!
We made it home to collapse! Ella woke up the next day with a fever but what is new! My kids have decided to be sick all winter!
The family members all decide to come over despite Ella's fever and Max gets to have another birthday party with his family! He is loving all of the attention but Ella is not so happy and is asking when we will start planning her party!!
Kid party a success – check
Family party a success – check
Moving on to Wicked!
We drop Ella and Lillie off at my parents house and venture off with Max to see Wicked at Shea's. Ella isn't feeling well and spends the day sleeping on my parents couch!
We get to Wicked and it is packed! It is dark and loud and I am reassuring myself that not only is Ella sick but she would hate that it is dark and loud (have to take a minute to tame some of my mommy guilt).
The first half of the musical is awesome but Max is done. "What do u mean there is more?" My 7 year old is asking me annoyed that he has to stay! This is not looking good!
For the second half of the play Max hung on me, whined, complained and tossed and turned in his seat! I guess Seth and I should have gone by ourselves! The musical was awesome but I can't wait to get out of there so Max stops complaining! He is now not feeling well and wakes up Monday morning with a fever as does Seth! Three family members down and two still standing!
Happy Birthday Max!
Happy Winter everyone!
Is it Spring yet?