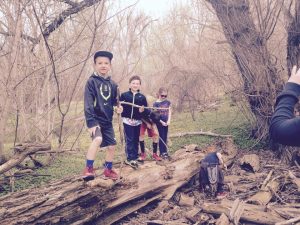 My Drama king
It is May 1 and an absolutely beautiful day outside! I am up early and gearing up to get all the kids ready and get to school to go on Max's spring walk with him. Ella is bummed she can't come but Lillie is excited to walk with Max!
All the second graders in the school start heading to the bike path with tons of parents and all the second grade teachers. Max is full of energy and curiosity and is investigating everywhere we walk. He has the magnifying glass out and is looking at everything! Max is climbing and driving me absolutely nuts because he is not listening and staying with me.
Lillie is behaving and staying in the stroller and I am doing my best to keep up with Max. There are tons of kids everywhere.
I am walking on the path, Max is running off the path and I hear him scream: "It's in me it's in me." I run full speed ahead and my mama bear adrenalin rips the stick out of Max's foot without a thought. The stick went through his sneaker into his foot. I am very thankful Max's teacher put the first aid kit in my stroller! I rip off the sneaker and bloody sock, grab some gauze and stop the gushing blood. What am I gonna do?
My friend comes up to me and takes Lillie and tells me to go ahead and bring Max to the nurse. I push 72 lbs of Max all the way to the nurses office full speed ahead in Lillie's stroller. Max whined the whole time I ran back to school. I checked his foot. The blood had stopped. I told Max I didn't even think he needed stitches and it could be so much worse! Mr. Drama continues to cry and whine and the nurse cleans him up. Max is telling me he needs to go home and lay down. The nurse says Max is ok and we can go meet everyone. Max looks at me like the nurse has five heads!
I race back to find Lillie who seems confused when I find her. She keeps asking me what happened and why did I take her stroller? She continues to ask me the same questions ten times! She happily gets back in her stroller and Max limps back to school!
I leave Max at school and say a prayer that he is ok and doesn't drive his teacher totally nuts today. Max's teacher was so concerned. He gave Max a big hug when we came back to the walk! Mr V is a dad and I can see that he gets it. He tells me that it is just always something! Yup! Excellent way to sum up parenthood!
I leave Max and go for lunch and to get Lillie a very needed nap! I head back to school holding my breath of what Max will be like. Max and Ella head to the playground and Max isn't playing. Now I know it is real that he is truly in pain!
We head home for dinner and then back to school for the ice cream social / arts fest night! The kids are so excited to show me their art work. I push Max and Lillie in a stroller while Ella tells me it isn't fair that she has to walk! My kids are too much!
Everyone is running up to Max asking him about his foot! News travels fast through school! My friend tells me Max is a celebrity (not how I wanted my child to be a celebrity lol).
We happily head home and I text yell at my husband that he needs to face time his children now! He has been away for days and Ella is having major daddy withdrawal and Max wants to make sure he can tell Seth about his day!
The kids are asleep and I don't think I can go to my bed quick enough! Two more days til daddy gets home! Here's hoping for a boring uneventful weekend! Wish me luck!
Max missed his first Spring soccer game, baseball practice, a birthday party and a communion party. Max checked out for the weekend. Saturday he refused to walk despite my telling him his little hole in his foot was not a big deal! Such a nice mom! Just trying to calm down my drama king – I mean sweet sensitive boy!
It is Monday and Max asked me to sign him out of gym! I pick him up from school and he is now running on the playground! Hey! This from the kid who said he couldn't do gym!
Looks like someone is feeling better!
Always eventful! Daddy is home and exhausted from his trip! Maybe just maybe a needed break is in sight! I am happy Seth is home! I am happy Max feels better! Here's to a good calm boring normal week ahead!!!
Lessons:
Hiking boots for the next walk (or better sneakers)!!
First aid kit necessary!
Take action – protect – be mama bear!
Go on field trips lol!
Stay in shape! You never know when running will come in handy!!