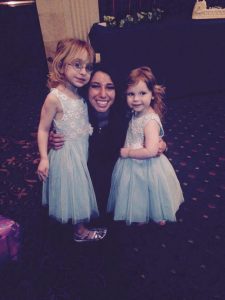 Shoe Shenanigans
Ella had been home for four days from school with the flu. She didn't have a fever today but was weak. She told me she was bored and wanted to get out of the house! I couldn't believe it and I quickly put her in the car. Four days at home was making me stir crazy!
We are heading to a Bat Mitzvah soon so I bought Ella and Lillie adorable matching dresses. I searched and searched for shoes in our house but nothing fit them. These children are constantly growing! What nerve they have being in a bigger shoe size!
We head to Target and Ella and Lillie are thrilled to be out of the house and they love Target!
We head to the shoe section as Lillie screams for the toy section. I get Lillie involved in picking out shoes! Silver Hello Kitty flats, clear Cinderella shoes, blue sparkly Elsa shoes and silver Frozen sandals. I start trying them all on Lillie. One pair of shoes and she is done and running away from me. I am now pinning down my two year old to see which shoes fit her. The sweat is pouring down my face and Lillie is screaming and crying. I am sure we were quite the sight!
Lillie loves the Frozen silver sandals and they actually fit! She is now running up and down the aisle giggling she is so happy with her new shoes! She starts showing everyone who walks by her beautiful new shoes! She is refusing to put her sneakers back on and quite frankly I don't think it is a battle worth choosing!
Ella refuses to get out of the cart at this point. I try the same Frozen silver sandals on Ella and they fit. She is thrilled that they are Frozen sandals and smiles and goes to sleep in the cart!
Lillie and I walk through the store and she starts randomly grabbing Barbies and Lalaloopsy dolls. She then grabs a kids shopping cart and starts pushing it through the store. We have about three kids shopping carts at home! I need to start bringing one with us when we shop so she can push it through the store!
I grab new Hello Kitty toothbrushes (I always change toothbrushes when they get sick.) Lillie throws some Easter candy in the cart! Ella is now whining to go home and Lillie is screaming as I put back every toy she grabbed!
We get to the checkout and I see Lillie opening up a Frozen Easter egg filled with candy! The kid is obsessed with eggs! She watches surprise eggs on you tube and watches people open up eggs and find toys inside!
I grab and throw the egg away from Lillie. She is having a meltdown but I don't even care. Sure, I feel bad for everyone around me but I am so used to it that it doesn't phase me.
The sweet checkout lady engages Lillie in a conversation, Lillie calms down and we get through the line.
I am almost home free but Lillie is now taking her sandals off, chucking them in the cart, and screaming for me to put her socks and sneakers on now! With patience of steel I tell Lillie that she cannot talk to me like that and she apologizes. I put on her socks and sneakers and we head to the car. Thankfully the shoe shenanigans are over and we can go home!
My Lessons:
Pick your battles!!!
Bring Lillie a shopping cart!
Buy new toothbrushes often!
Have patience of steel!