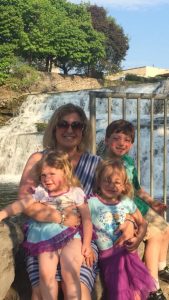 I wake up and look at the clock and see that it is 9 am! I smile knowing Seth let me sleep in! I wander downstairs and my three kids attack me screaming Happy Mothers day! Max and Ella made me beautiful homemade presents and they are so excited to give them to me!
Seth hands me a box of chocolates and I am perplexed! Max said that he wanted to buy me a mom necklace earlier in the week and Seth quickly told him to be quiet! I was waiting to see this necklace all week! Seth said he forgot about that! Max said he wanted to go buy me a necklace and Seth didn't reinforce it! I am not amused and my mood shifts down!
Seth then tells me Dicamillo's is closed (where I wanted breakfast) so I am bummed further. Seth heads to Panera to get us all breakfast and I attempt to relax on the couch.
We eat breakfast and Max completely melts down. His knee is bothering him and he is on the floor whining and crying! "Hey, it's mothers Day! Aren't you supposed to behave?" I ask Max. Then I look at Seth pleading for him to deal with Max!
I disappear into the basement to work out and regain some sanity! I am growing annoyed that there is no plan for the day. I am annoyed that there is no necklace. I am annoyed that Seth isn't handling Max!
My parents bring over a new steam mop for me and I am off the wall excited! I know you are probably confused but I really could use a steam mop! I am super excited to clean my floors! I know! I am nuts!
We get in the car and head to Glen Falls. We pull in and park and it starts raining and thundering. I laugh and quickly get back in the car.
Seth wants to go look at million dollar houses (he dreams big) in the hopes that driving around will get Lillie to take a nap. It sounds good to me but Max and Ella have a fit so we go home. I know I shouldn't let them win but I just could not deal with anymore complaining!!!
We watch a Hallmark movie and head to dinner to meet all of our parents. Seth's parents are divorced so there are three sets of parents!
We have a nice dinner with our family! Seth's mom and stepdad give me a beautiful card and necklace that says Love. I look at Seth and I know he knows what I am thinking: "you are so lucky Mr Greene that your mom bought me a beautiful necklace and now got you off the hook!"
Seth is determined to take me back to Glen Falls. It is beautiful outside now and we have a nice time with the kids (when we are not protecting Lillie from herself). I got some great pictures and the kids were thrilled to see a ton of ducklings!
I don't dare tell Seth I want to go to Yotality for Frozen yogurt! I can tell he is done and it is time to go home! It wasn't the day I imagined in my head but it was surrounded by a ton of love (and chaos). My kids aren't perfect. They cry and whine and complain and have tantrums! Happy Mother's Day!
My Lessons:
Have no expectations = no disappointment!
Be specific with what I would like to do!
Know that kids will be kids – even on Mothers day!