June 14, 2020 was my parents 50th wedding anniversary.I wanted to help to make it as special as I could for them. Huge kudos to my brother and his family for flying here to celebrate my parent's anniversary and their son's 8th birthday. We hadn't all been together for 6 months so there was nothing that could be better than this for them. Having your children and grandchildren all together is the greatest gift. So much love together in one house to celebrate my parent's marriage. I did my best to make it extra special with a sign out front of their house for them, a photo shoot of their whole family, a cake that resembled a wedding cake and a golden anniversary picture frame.   My amazing friend Meggan was our photographer that day. That was so special having her there to help us capture such an amazing day. Nothing could have topped having us all together. I think my brother and I gave them a very special weekend. My spoiled son is now asking me to grill him some lobster after Uncle Corey served all of us an amazing grilled meal of steak, lobster and shrimp.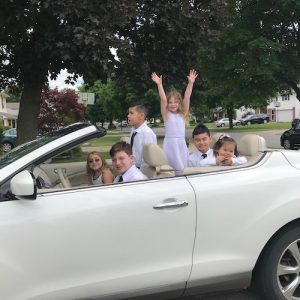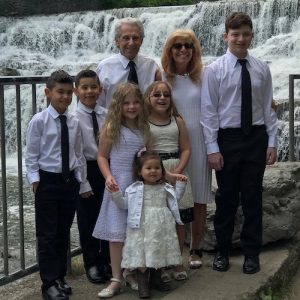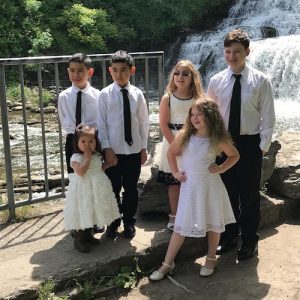 Their 50th wedding anniversary emotionally moved me. I would find myself crying because I was so touched that we were celebrating such a special day. My parents got married 50 years ago in the year 1970. I appreciate them choosing such an easy year to remember. My mom said it feels like her wedding day was yesterday. That is proof that it goes by so quickly and that we should try to cherish every day and every moment.
As I sat at the pool this morning watching my girls swim with their cousins (Max my teenager was home asleep), I started to ask my parents about their marital lessons. Who better to teach us about marriage than my parents who have been married for fifty years? I would love to share with you what they shared with me today. Ladies first…..
My mom says: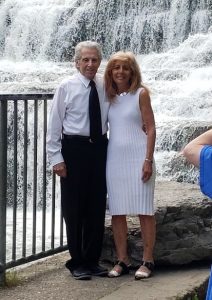 Stay Focused on the love because you will go through times of resentment, anger, tragedy and other difficult emotions. All of those negative emotions are only a moment in time. Focus on the love that originally brought you together. Your love is the foundation of creating a healthy relationship and family.   My mom said it well today when she said she doesn't always like my dad, but she always loves him. He is her family.  Together they created quite the family. They raised my brother and I, we both got married to wonderful spouses, and now we each have three children. Their family of two has expanded to 12.
My dad says:
You need to be considerate of your spouse. You need to be able to compromise. When you get angry at your spouse, count to ten before you speak. Remember that you are speaking to the person that you love. Talk it out and never yell or call your spouse names. It is important to be nice and loving. Always speak your mind and encourage your spouse to do the same. Don't go to bed angry. Talk it over with your spouse before you make any major decisions. Be thoughtful and do things for your spouse to show them how much you love them. Do things together. Have fun together. Make your spouse the most important person in your life. Always strive to please them.
Those are all the lessons that they shared with me today. I have learned a lot being present for almost 44 years of their 50 year marriage. I would like to share with you the observations I have made watching them.
Marriage is not perfect. You will have good days and bad days. You will have good times and bad times. You are in it together. Opposites attract and balance each other out. Forgiveness is an important part of marriage. No one is perfect. We are all human and make mistakes both big and small. My parents are always looking out for each other. My parents showed me how to work as a team. I'm not going to say that there were no bumps. When my father opened his pharmacy, my mother ended up opening a health food store in the front of his pharmacy. When my dad sold his pharmacy, they opened up a health food store together. They created two successful businesses. They taught me how to work as a team with my husband. I write my blogs and do my vlogs and Seth and his Market Domination team do the graphic design work and marketing. I wrote a book and Market Domination brought it to life and continue to market it for me. We have more ventures together that we are discussing too. I like working with my husband. We play off each other's strengths. He runs a few businesses and comes to me for social work or human resource support and guidance. We both have our spouse cheering us on and working with us. My parents are a solid foundation and they have always been there for their children and their grandchildren. I am so thankful for them. I hope I can provide the same foundation for my children.
Lessons I've learned being married for almost 15 years: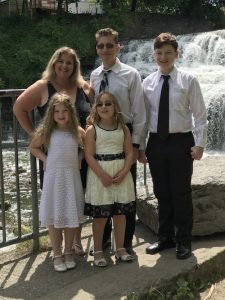 My parents taught me so much, but I learned a lot along the way myself too. Aside from the social work classes, counseling couples and families, and marital trainings I have under my belt, I also learn a lot every day of my marriage. My mom said it well when she said that you should always remember the love you share and why you were attracted to your spouse. Sometimes I find my head wandering off to the first dates we had. I'll remember our wedding day, the births of our children, and how our love grows stronger every day. I thought I couldn't love Seth more when I married him, and I was completely and totally wrong. Each child's birth brought us closer and each milestone and event brings us closer. We just shared in our son's Bar Mitzvah and that was so special to us.
I think it's important to be friends with your spouse, to enjoy doing things together and to like each other. I'm always happy when Seth is home. I had him working at home for three months. Yesterday he went back to the office and I felt sadness as he left for work. I missed him and was so happy to see him walk through the door. I remind myself all the time that Seth and I are different and that it's a good thing. We balance each other out and both have such different strengths and weaknesses.
My recent theme playing out in my life is self control. When my dad said to count to ten before you speak, he is so right. When he said to remember you are talking to someone you love he is so right. Seth and my kids hate when I get angry. My kids ask me not to yell. No one in my family likes when I raise my voice. You all know the frustration that you feel sometimes and how it builds and can explode out of you. I can say something to Seth or the kids without yelling. My mom always said it isn't what you say but how you say it. The kids and Seth are only hearing anger and they all shut down and don't even listen to whatever point I want to make. Being responsive and not reactive is the goal. Being present and mindful of what I say is so important in my marriage.
I have also learned that I compliment Seth a lot in my head and don't share it with him. Or I will share it with someone else and not with him. How does that help my marriage? He wants to hear the compliments out loud and feel appreciated and loved. He wants to go on regular dates with me and have time alone. Our time alone lately has been taking walks. We laugh that our hot date is walking the neighborhood. Staying connected, making time for each other and making each other feel loved and important. Seth told me last night that I was his favorite person and I felt like I was ten feet tall. Go make your spouse feel ten feet tall. I will check in with Seth and ask him how his marriage is going! Sometimes your marriage is going better or worse than your spouse's marriage and it's good to check in with each other. Don't say or do anything that you wouldn't do in front of your spouse. Trust is number one to me. I want to know that I can completely trust Seth and he feels the same way. I will continue to learn and grow in my marriage. Marriage is such a fascinating topic to me.
Lessons my spouse Seth has learned being married to me for almost 15 years:
Seth has made a checklist to quantitatively score how he is doing in his marriage. He has lots of systems at work that he would like to apply to his home life too. His checklist includes making me feel appreciated, understood and important every day. Try not to take things your spouse says personally. Try to separate the action from the person. Seth says that just because someone may do something you think is stupid, does not make them a stupid person. The action maybe was stupid. Find out your partner's love language. Seth wants to feel important, appreciated and desired. I want to feel important, appreciated, understood and helped. Make your apologies as intense as your criticisms.
Our most recent fight was about rocks. You heard it correctly. I said rocks. I told Seth to order gray rocks from the landscaper. The landscaper sent us a picture, Seth showed me the picture and we both approved it. The picture looked like gray rocks to both of us. The landscaper and his crew show up with rocks and start putting them down. I freak out and tell Seth that they are brown. I run outside and ask the landscaper if they are brown. He said they were dirty and were gray. I go back inside and let them proceed with their work. They leave and I am convinced the rocks are brown. I clean the rocks and notice that it's not only brown but multi colored. The rocks are gray, white and brown. There are a whole mix of colors. How hard is it to get the color right that I ordered? Seth and I look at the email the landscaper sent, and it said that he was doing a gray and brown mix. How did Seth miss this email? Seth said that he just looked at the picture. I couldn't believe it. My blood was boiling, and I was so frustrated with him. This was Seth not paying attention to details and this was me overreacting. The bottom line is that I was feeling unimportant. I felt like Seth didn't care about the color rocks I wanted. I felt like I should have handled it myself so that it was right. I was pissed. Seth apologized profusely and I tried to calm down. He kept asking me what I wanted him to do about it. I don't know is the answer to that question!
What did I do wrong?
I completely and totally overreacted. I couldn't give him an answer as to how to fix it as I was too stressed out to even think. I could have stayed calm and handled that whole conflict differently.
What did Seth do wrong?
He didn't read his email. He missed details. He could have actually read the email and told the landscaper that wasn't what we ordered.
How to solve the conflict?
We don't know yet. I don't want them to have to remove all the rocks. I may have them add more gray rocks. Who knows? Silly fight right! Most fights are silly. We tend to feel badly after we fight with our spouse. It's important to keep ourselves in check and think about what we are going to differently next time. I am going to try very hard not to sweat the small stuff and to be more flexible.
It was much more challenging to have time with Seth when our children were babies. As they get older it gets easier and easier. The kids grow up and leave and make their own lives. Your spouse is in it with you for the long haul. If we focus as much on our marriage as we do on other things in our lives, we will have a happy and successful marriage. I would love to hear from all of you the lessons you have learned being married. I hope you will go make your spouse feel special and important.
Happy 50th anniversary to my wonderful parents. It was a very special weekend. I hope I get to celebrate 50 years with my husband in 35 years.
Laughing, Learning, Loving,
Rebecca Greene, LCSW-R