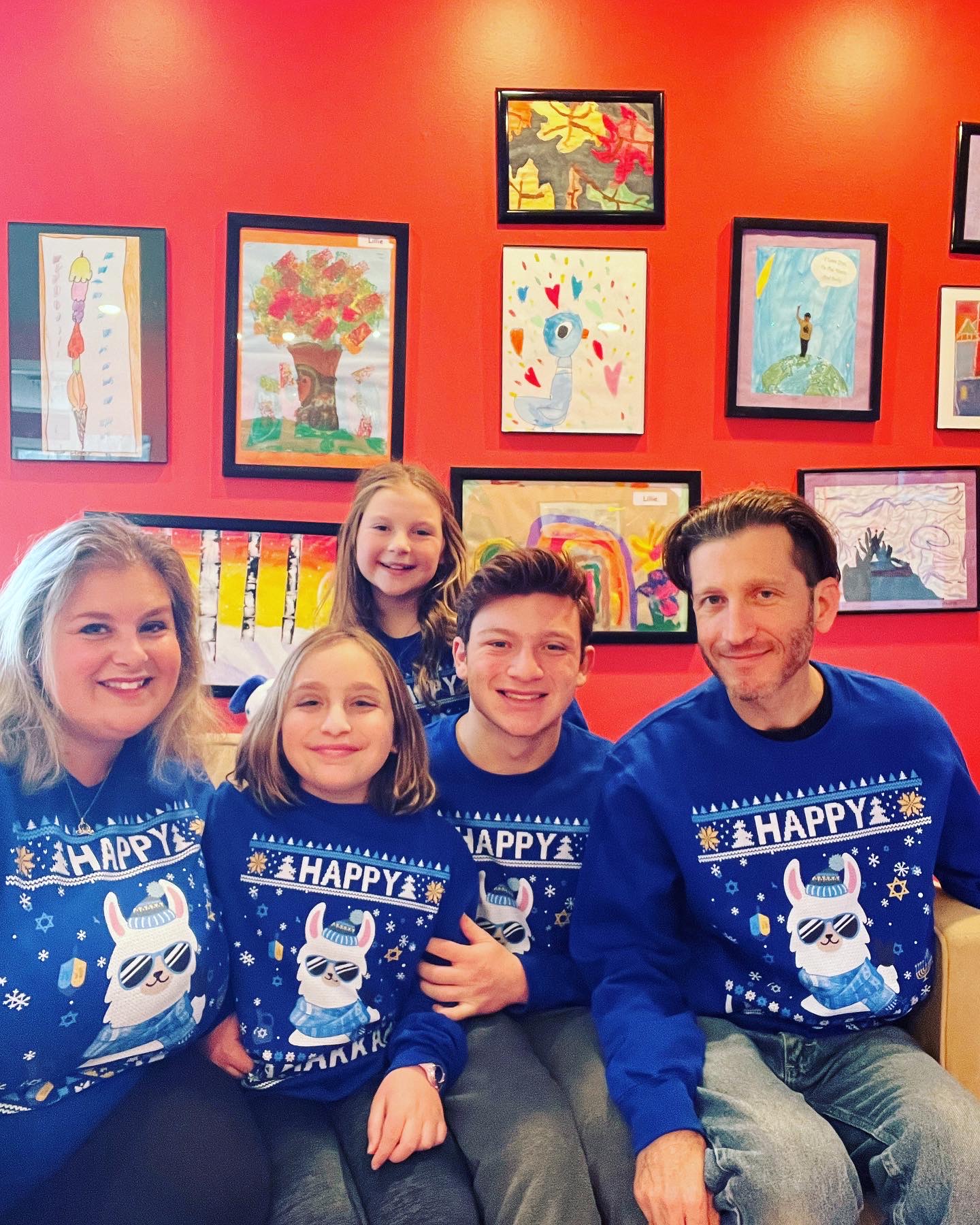 I was hearing rumblings of a winter blizzard heading our way in Buffalo. It was headed to town the weekend of Christmas Eve and Christmas Day. I was feeling bad already wondering if all the weekend celebrations were going to have to be put on hold. Nuclear families could be together but being with extended family was not looking good.
The last day of school before winter break was Friday. My son was convinced school was going to be canceled for a snow day. Here is the thing about waiting for a snow day – snow days are great but there doesn't have to be a snow day to keep your kids home from school. I wasn't planning on sending my kids regardless, but school was canceled due to the impending blizzard.
The weather people were actually right this time. A blizzard did come, and it was the worst blizzard I have ever seen. There are pictures all over the news and social media about all the abandoned cars on the street. Can you imagine being stuck in your car and no one being able to get to you? My heart went out to all these people.
It was Friday and we were all home together. My husband didn't go to work and school was canceled so this was day one of the blizzard. Thankfully I had gone shopping on Thursday, and we had a lot of food to get us through being stuck at home.
The snow kept pouring down and the intense wind was shaking the houses. Every time there is a weather issue my side of the street loses power, so I was holding my breath. I was hearing about all these friends who had lost their power for days. Then a friend posted that a pipe burst in her home. I just kept praying for everyone. Praying for my home. Praying for my power. Praying for everyone's safety.
My friend just asked in the Whinypaluza Mom Facebook group what our word of the year will be for 2023. My word is gratitude. I live in this word and will be even more conscious of it in 2023. Gratitude makes me feel so happy. I was feeling thankful for my family. Thankful for my home. Thankful for our food. Thankful for everyone who was out working. Essential workers were stuck at their jobs for days. Seth and I saw a fire from our backyard. When I texted my friend, she assured me that her firefighter husband was on the scene helping. I was feeling thankful for the police, firefighters, medical personnel, electric workers and all the first responders and essential workers. I was filled with gratitude.
The snow didn't stop, and we didn't see a plow for days. Everyone was stuck at home. There was a travel ban and no one was going anywhere, but even if the travel ban was lifted, we were stuck. The driveway wasn't plowed, and the street wasn't plowed. I started to worry for safety. My friend just told me she saw the police running down her street from a main road to an emergency. They couldn't even get to her street because the street wasn't plowed.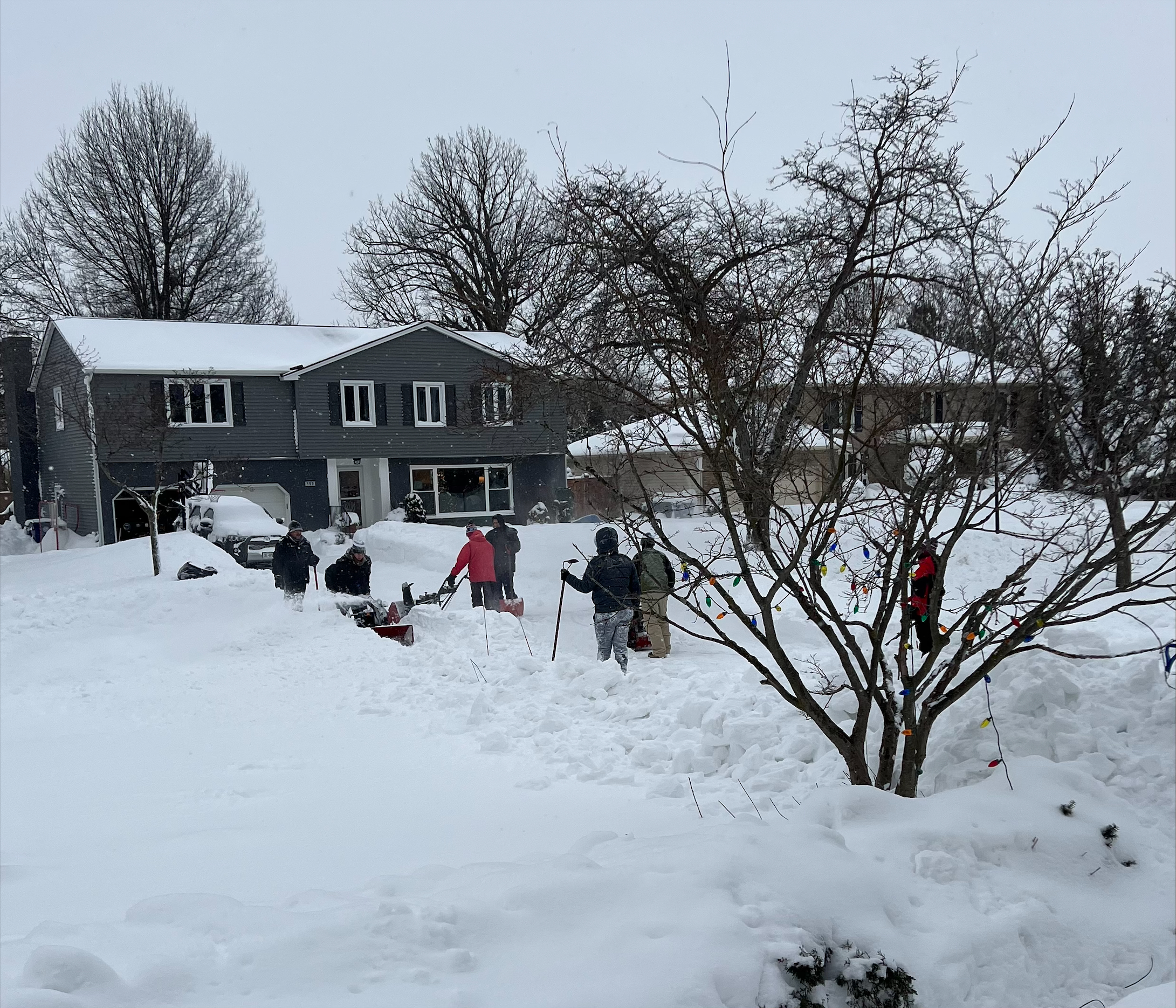 Our plow guy told us he couldn't come plow our driveway because he blew his transmission. Seth, Max and I were taking shifts trying to shovel out our driveway. There was a huge drift onto our garage and a huge iced barricade at the end of the driveway from the street plow finally showing up on Monday. We shoveled, and shoveled some more, and our neighbor came across the street with his snowblower and two sons. All five of us were working hard on my driveway when I saw an army of neighbors walking towards our driveway with shovels and rakes and two more snowblowers. My eyes filled with tears. They say that Buffalo is the city of good neighbors. I couldn't agree with this title more. We all worked on my driveway and cleared it out. It was the heaviest snow I had ever shoveled and the biggest drifts I had ever seen. We had to dig out my front door three times during this storm. They are calling it Winter Storm Elliott. I think that Buffalo has seen enough snow to last us the rest of the winter. Have I mentioned that I don't like winter? My 15 year old son loves the winter and just kept saying that he has never seen anything like this. I told him there was an October storm when I was pregnant with him, and his dad and I were without power for ten days. That was crazy too. However, I have never seen clean up take as long as it did with this storm.
The storm started on Friday, and we didn't see a plow until Monday at 2 pm. I kept watching for them to come. I have never been so happy to see a plow as I was when I saw them headed down my street. It sounds like they were super focused on the main roads and the main roads had a ton of abandoned cars slowing them down. I know there always tends to be a reason.
I have never cooked and eaten so much food at home before. I am missing take out. I was saying today that I have never been so thankful as to keep our power as I was during this storm and then we lost power at 12:30 pm. During the storm it would go off and come right back on. I was waiting for it to come back, and it didn't. We left to go help my parents find their front door under the snow, and my neighbors said the power came back on four hours later. I'll take four hours over the days our friends were without power. I hope that everyone has had their power restored.
The grocery stores opened back up today, and we ventured over to get a few things. Life was slowly opening back up. The streets aren't great and we drove really slowly. Winter has certainly come on strong. As it snowed today, we all cursed more snow. We have seen enough snow. The snow can go take a hike now.
As a person who hates the winter you are probably asking yourselves why I live here. Well, our parents are here. Our friends are here. Work is here. I grew up here. Buffalo is a city of good neighbors. I don't know if you will find people like you find them in Buffalo. Watching everyone come together and help each other was a beautiful thing. People were opening their doors to strangers. My friend opened her home to a family from Canada who got stuck in front of her house. This is just one of many stories like this.
I will stay in Buffalo and deal with the snow. I will drive slow. I will shovel. I will wear a lot of layers. I will be thankful every day for my family, my home, my power, my heat, my food and essential workers. I live in a place of gratitude and that's a happy place to live in whether we are in 80 degree weather or 10 degree weather.
I hope you are safe. I hope you are warm. Now go thank an essential worker and let me know if you have any ideas of how I can thank my amazing neighbors for helping with my driveway. Go be a good neighbor. Go spread kindness. We have the power to do so much good. There is nothing like seeing people come together. We can all do great things.
Laughing, Loving, Learning,
Rebecca Greene, LCSW-R
Whinypaluza Notes:
Whinypaluza Mom Group:
If you are looking for a supportive community, come join the free Whinypaluza Mom Facebook group.  I created this as I wanted us to have a place where we can talk about tips, strengths and challenges we are having.  It is another step I took to help everyone to know that you are not alone. We will start the January challenge soon. Come join us and bring a friend with you! I love to give away prizes!
https://www.facebook.com/groups/whinypaluzamoms
The Whinypaluza Schedule:
Whinypaluza Wednesdays: My weekly blog comes out every Wednesday.  I am always open to your topic requests.  A new Vlog (video blog) also comes out every Wednesday night on Facebook and You Tube live at 9:00 PM to discuss the blog.  If you would rather listen to a podcast than watch a Vlog, you can wait for the following Wednesday and the Vlog is released on my Podcast.
Family Fridays: Every Friday morning a new Podcast is released.  Most of my episodes on Fridays are me discussing parenting and marriage with experts on the topic.  If you would rather watch the Podcast instead of listen, you can watch it on You Tube.  If you would like to be on my Podcast or know someone who would like to please message me on Facebook or Instagram or at whinypaluzamom@gmail.com
I would so greatly appreciate it if you would subscribe, rate my Podcast and leave me a five star review.  This leads to it being shown to more people that we can help. I so appreciate when you share my blogs, vlogs and podcasts with a friend so that we can build our community and help people one mama at a time. Every time you like and/or comment on a post it helps Whinypaluza!
Please feel free to email me with suggestions for topics that you would like for me to cover. I would also love to hear about any lessons or takeaways that you learned from blogs, vlogs or podcasts that Whinypaluza releases. This is all for you (it helps me too), and I hope that you are finding it helpful and seeing that you are never alone. We are in this parenting and marriage thing together. xoxo