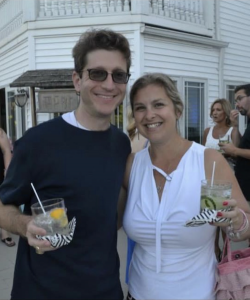 If you read my blog or watched my vlog about "My Yo Yo Weight," you know that I have lost weight many, many times. The most weight I have ever lost was over 80 pounds. When I eventually get myself to get back on the scale after I've gained weight, I get very down on myself. There are times where it has been very eye opening and motivating. There are times that it is not motivating at all. I think shame is a good word to describe the feeling when you see a very bad number on the scale. I tend to not let myself wallow. That doesn't get the job done. I saw the bad weight on the scale, and I started on another journey to lose the weight. Again!
I asked myself what was going to be different this time? That is a very important question to ask myself. This time, I was going to work more on my brain. I started journaling every night. I started to put positive messages about myself from pen to paper and worked on embedding good stuff into my subconscious. Now I could go to sleep and let my subconscious do some work on me while I was sleeping.
For my birthday, my friend Tetan gave me an awesome journal and pen. I recommend buying yourself a nice journal and a nice pen to give you some joy in doing your journaling before bed every night. Think about your goals and start writing them down. Write them down as if you have achieved them. "I weigh X pounds," for example. Make it a nightly habit before bed and spend some time envisioning your goals. End your day on a positive note. I have heard that you should start your day this way too. I should try that next.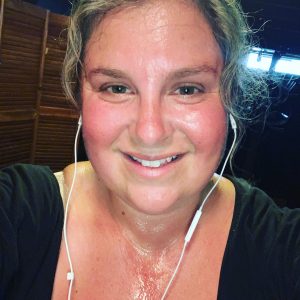 The scale started to move. I started to do an attempt at intermittent fasting (I was doing it wrong), started eating better (but not perfectly), and started jogging again. There is nothing like the deep sweat I get from a good jog. Jogging makes me feel like I'm getting the job done. The scale started to move in the right direction. That's what we want to see!
I kept seeing the scale say I had lost 16 lbs and I was feeling the frustration brewing. "Never give up," I heard the message in my head. I won't let myself give up. I'm not going to let this silly number stop me. I will keep going no matter what the scale says. I will experiment and do the work and I will get there. I had to give myself many pep talks but the consistent message that I was telling myself was that I was going to keep going. I'm never giving up! I got this! I can do this! I am doing this!
Then my husband Seth handed me a book. He hands me a lot of books. We pass them back and forth to each other. I love when we read the same books and can discuss them. However, I am thankful for my book club because it is much more fun to talk about books with my friends than with my husband (no offense Seth). I try my hardest to get detailed responses out of him and it doesn't always go well. I'm getting off topic. Let's get back to this book he handed me. It is called The Traveler's Gift, by Andy Andrews. The right book was handed to me at the right time. If you haven't read it, I strongly encourage you to go get it. I may have to read it again and pick it for my book club pick.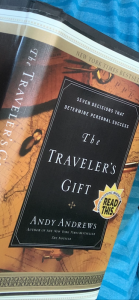 I'm going to start by telling you the lesson in the book that stood out to me and was exactly what I needed to hear. The right message coming to me at the right time. It was the last lesson of the book. Andy Andrews wrote the 7th lesson that "I will persist without exception." He goes on to talk about how it is our choice to keep going. It is our choice not to quit. We need to keep going. He says most people will quit. I will not quit. If I keep going – If I persist – I will succeed. My two favorite words that I learned as a therapist are persistent and consistent. Two keys to our success. I keep my eyes on the prize. I have faith in myself. I can do this. There are a bunch of other amazing lessons in the book. I needed it. It steered me in the right direction and gave me the pep talk I truly needed. I could go on and on about all the lessons. I should do a blog post just about the book. For now, I wanted you to hear my favorite lesson in the book.
Now I am telling you: go make your goals. Whether it is a personal, professional or a spiritual goal, make your goals, write them out, make a step by step plan of action and make it happen. You are in charge of your life course. You can steer your life in whatever direction that you want it to go. I am choosing to steer my life in a healthier direction.
I was writing in my journal on a nightly basis, I was doing visualization exercises, I was eating better, and I was exercising. I was going in the right direction. If we can visualize the prize, it tends to be easier to achieve. We can train our brains to think a certain way. I can train my brain to have positive thinking. I can train my brain to visualize a healthy me. I was doing it different this time. I wasn't just using will power and exercise, I was using my brain this time. This is the year. I could feel it in my bones.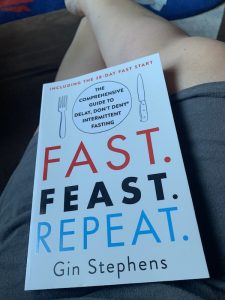 Then my brother texts me and tells me he is sending me a book. I have talked about divine intervention many times in my blogs and I am going to talk about it again right now. Not only was the book The Traveler's Gift handed to me, now another book was being handed to me out of the blue. This is not a coincidence. My men were taking care of me. This new book is called Fast, Feast, Repeat and is all about intermittent fasting. If my brother Corey was going to send me this book, then I was going to read it.
First, I want to tell you that if you think you are doing intermittent fasting, it doesn't mean you are doing it correctly. I definitely recommend reading this book to help you. It was eye opening for me. I also learned how much fasting is good for our health. My husband is even giving it a go for the health benefits. If you know my husband, you know he is very thin. He has difficulty gaining weight (not fair). However, forget about weight, the health benefits are amazing, and he is giving it a whirl with me. I'll keep you posted on how this goes! We are both already feeling better!
A bunch of you have asked me for a current update. I will tell you that I am typing this 20 pounds lighter than when I began. I can get overwhelmed thinking about how much more I want to lose. I am staying positive and giving myself a pat on the back for where I am today. It's 20 pounds healthier! Moving on to the next 20 pounds! "I will persist without exception," as Andy Andrews says.
Never Give up On Yourself!
Buy yourself a nice journal and pen and start journaling your goals every night before bed (and in the morning – I need to add this part). Write your goals as if you have already achieved them.
Spend time visualizing your goal. Make a vision board if that will help you get a better picture.
Focus on your thoughts – the mind is very powerful. What we think is what we make happen. Practice makes perfect.
Read! Find good books to read to help you achieve your goals. I gave you one of my very favorite titles The Traveler's Gift!
Don't ever let yourself give up. Keep going. Persist!
Remember my two favorite words: persistent and consistent.
I know you can achieve your goals. I know I can achieve mine. We are in this together.
Laughing, Learning, Loving,
Rebecca Greene, LCSW-R
P.S. This was my update from "My Yo-Yo Weight" blog. There will be future updates as I move along!